Editor's note: Charisse's baby had successful heart surgery earlier this week but still has plenty of healing to do. Join us as we continue to pray for this precious little one as she heals and grows, and for her family and medical team. --Lisa
Sometimes I run my fingers over her smooth, new skin, wondering how it will look after the surgeons have pierced it. I don't want her to have such a defining scar at the tender age of four months. She will forever be changed. She will forever be branded with a reminder of our fear that her heart might ultimately be irreparable, or that she might not survive the attempts to correct her faulty valve.
It's easy to slip into doubt, despair, and denial of the promise of Easter joy when we have a child who is suffering. Their pain and their wounds can sometimes seem like the threshold of death to a mother's heart.
Yet even in the midst of Easter joy, of the Resurrection, Jesus Himself reminds us of His wounds. "By His stripes we were healed." (Is 53:5) And it was His wounds that caused a doubting Thomas to exclaim with joy and awe "My Lord and my God!" (Jn 20:28) Jesus' wounds remind us how much we can gain through loss, that pain can have a beautiful purpose, and that even death brings new life.
It was through His very marks of humanity that His divinity shone the brightest. It was by His wounds that He restored faith, inspired hope, and reminded us to believe in miracles.
[tweet "By His wounds Christ reminded us to believe in miracles."]
And so, when my baby girl is handed back to me after her heart surgery and I see her wound for the first time, I hope that I, like Thomas, can exclaim (or at least think) "My Lord and my God!" and be reminded of the miracle of her condition--that she has inspired so many to pray for her; that she has prompted others to gift our family with outpourings of kindness and generosity; and that she challenges me every day to grow in my faith, to hide myself in her wounds, and discover Christ within them.
Copyright 2017 Charisse Tierney
About the Author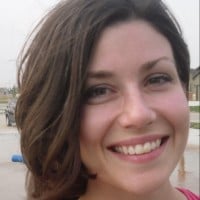 Charisse Tierney lives in Wichita, Kansas, with her husband Rob and seven children. Charisse is a stay-at-home mom, musician, NFP teacher, and a Catechesis of the Good Shepherd catechist. She is also a contributing author to The Catholic Mom's Prayer Companion and Family Foundations magazine. Charisse blogs at Paving the Path to Purity and can be found on Facebook.