August 8 is the feast of Saint Dominic, founder of the Order of Preachers. Before he was born his mother, Blessed Jane of Aza, had a dream that a little dog was running about with a torch in his mouth. It wasn't long after that dream when Dominic was born in the year 1170. Saint Dominic's family was somewhat well-to-do (his father was Castilian, from a fort on the border of Christian Spain), and he had two older brothers who were studying for the priesthood by the time he came into the world. Dominic, too, would study for the priesthood at the University of Palencia and was eventually invited by Don Diego of Osma to join the Augustinian Canons shortly after his ordination to the priesthood. Don Diego saw something in Dominic, and knew that in the role of a Canon, he would be able to enrich people's faith.
At this time, it was actually rare for mere priests to preach. Such lofty activities were left mainly to bishops, which was probably for the best, since the average priest had little in-depth theological formation that we are so used to priests having today. Canons, though, were tasked with preaching on a regular basis, and Dominic's love for learning benefited not only him, but those who heard him preach, as well.
Later, when he founded his religious order, Dominic would make learning an important part of his community. We can never learn everything there is to know about God, and Dominic knew this. But we can always grow closer to God by learning about Him through study of Scripture, as well as the writings of the Church Fathers and great saints. When we learn more about God, it draws us closer to Him. When studying for this purpose, you are also drawn into great awe at God's majesty, mystery, and unending mercy.
Perhaps because of his successful preaching, Dominic was asked by his bishop to accompany him on a diplomatic mission. As the pair travelled through France, they came into an area of France where Albigensianism had spread, luring people away from the Church. Albegensinanism is a heresy that teaches that the material world is evil, and so all material things (including our bodies) are also evil. The Albeginsians promoted suicide and infanticide, discouraged people from marrying or having children, and taught that there was a good god who created the spiritual realm and an evil one who created the physical realm. They believed in severe asceticism, partly in a reaction against the well-to-do lifestyle of too many of the clergy. They taught that the good god sent Jesus, Who they said was only a created creature, to save us from our physical form. Since the physical body is evil, they said, Jesus only had a spiritual body.
Dominic couldn't leave these people (who had good intentions and wanted to follow God) to these heresies. He spent the entire night talking to the owner of the inn where he and his bishop were staying, discussing the errors in Albegensianism and showing the innkeeper the truth and beauty of the Catholic Church. By morning, the innkeeper was converted.
Dominic and his bishop stayed there in southern France, preaching the good news of the True Gospel, dispelling the myths of heresies, and leading people back to the True Church. He believed that none of these people were beyond God's reach and that he could be an instrument to reach them with the True Gospel. Because part of the lure of Albegensianism was the austerity of those who preached it, Dominic and the bishop sent their retinue away and lived as beggars among the people. This showed people that they were serious about Christ's admonition to leave everything behind for Him. They were kind and charitable, but never wavered from the Truth, and they made great headway. Because of this, Dominic was inspired to seek permission to begin a new religious order, based on prayer, contemplation, preaching the gospel, and living in community. He began by establishing a cloister of nuns whose task it would be to pray for the success of the new order; the first cloister in Prouille was made up of nine women who had converted from Albegensianism. Dominic sought approval from the Holy See, and after several years and many trips back and forth to Rome, finally gained approval in December 1216. Sixteen men from all over had joined his mission, and he soon sent them out in pairs to preach the gospel everywhere. In addition, there were lay people who wished to follow his example and preach in their lay states of life.
And this is another lesson Saint Dominic can teach us: to love. Dominic loved everyone – he saw Christ in every person he saw. When he was a student, he sold his textbooks to feed the poor, and this at a time when it was probably worth a year's salary for his hand-written texts on vellum. It would take up to 9,000 sheep to make enough vellum to create a single Bible, and then two to three years for someone to write it out by hand. His decision to leave the Canons in order to preach to the world was rooted in that love. He met people where they were. He listened to them. He made sure he understood what they believed and why, and only then, when they knew he'd been listening to them, he would lead them to the Truth. Without this love, he never would have been so successful at preaching the gospel.
Though study and preaching of the Faith is what the order is known for – it is, after all, called the Order of Preachers – prayer is one of the four pillars of Dominican life. Legend has it that Our Lady gave Saint Dominic the Rosary, and he spread love of this devotion to everyone he met. It is also said of Saint Dominic that he only spoke of God and with God. The Order of Preachers is actually considered a contemplative order: they pray and contemplate, then bring the fruits of that contemplation to the world through their preaching. And while Dominic created a Rule for his new order that wasn't binding under pain of sin, he set it up so that prayer was the center of the Preachers' lives: Mass, Divine Office, Rosary, and private contemplative prayer. All of the study in the world and all the preaching in the world will not do any good without supporting it with prayerful communion with the Lord. In fact, if we look back to his first action as head of a new order, we can recall that it was the establishment of the cloister of nine nuns that began the great Dominican order.
This is the next lesson of Saint Dominic: support all you do with prayer. Often, we want to be out and changing the world. We want to make a difference! But too often we want to jump into action, and we forget to pray. (Okay, maybe you don't, but I know I have that tendency!) In our GO ALL THE TIME! Western culture, it's all to easy to forget to first take the time to pray – to bring your intentions to the Lord and see what He thinks of it. Beginning with prayer doesn't waste time or delay our action, but concentrates it and makes it better. And sometimes, when we are listening to God's side of things, we might discover that He has an idea that will work better than our own idea.
When he established his Order of Preachers, Saint Dominic was revolutionary. The idea that the Rule wasn't binding under pain of sin was different. If a friar was out preaching and was delayed enough that he missed Vespers with his brothers, it wasn't considered a sin as it might be in other Rules. This holds to this day. Dominic once said that he'd rather tear up the Rule completely than see it bind in that way! Another revolutionary idea he had was to democratically elect the leadership within the order, as well as have term limits. Each prior is elected by his brethren and holds his position for a limited time, allowing for more flexibility and change within the order. Even the Master General of the Order of Preachers is elected for a term! Because of this guaranteed turnover of leadership, the Dominican order has been able to hold its own without the need for major reform for 800 years.
And so here is another lesson Saint Dominic gives us: change is okay, and we should not be afraid of it. Every monastery and even every lay chapter has elections to select their leadership. This means that no one can get too comfortable in a position and no position is held for life. We, too, should know that sometimes we need to change what we're doing and go in a new direction. No one likes change (except maybe a wet baby), but we need it periodically in our lives. And sometimes that change can bring about pleasant surprises for us – real benefits we might have missed.
On this feast of Saint Dominic, may we learn what we can from the great saint, and grow closer to Christ through his intercession.
For more on the Lay Fraternity of Saint Dominic (Lay Dominicans), you can read this post on my blog. I talked about why I became a Lay Dominican in this post.
©2015 Christine Johnson
All images ©2015 Christine Johnson
About the Author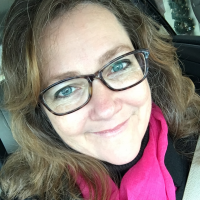 Christine Johnson has been married to Nathan since 1993 and is the mother of two homeschool graduates. She and Nathan live in the Blue Ridge Mountains of Southwest Virginia, where she tries to fit in as a transplanted Yank. She blogs at Domestic Vocation about her life as a wife, mother, and Lay Dominican.