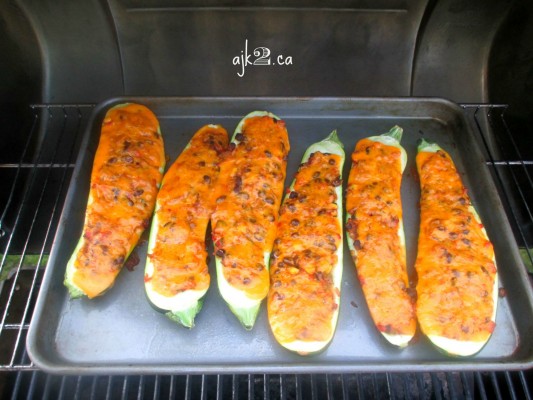 We traveled to my mom's house for the majority of August. I haven't been at the 'Let's experiment' phase of cooking for quite some time, due to no dishwasher and crowded counters. It's amazing what can pile up with 5 in the family! However, my mom keeps her place very tidy. And she has much, much more counter space to tempt me. Within the first week I was baking flatbreads and looking up recipes to experiment for us.
Are you familiar with Pinterest? It's a haven for the person I would love to be. Too often I forget how little time I have to devote to such cool things, but I sifted through my pinterest board on vegetarian meals and, as it was August, settled on a zucchini recipe with which to experiment. You can find the originating recipe here.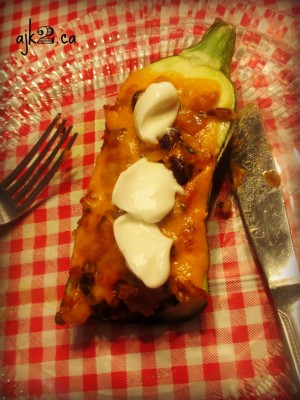 Mexican Zucchini Burrito Boats
Ingredients:
3 large zucchini
1 (15 ounce) can black beans, drained and rinsed
1 cup cooked rice
1 cup salsa (use your preferred level of spiciness)
1 red bell pepper, cored and diced
1/2 onion, diced
1/2 cup corn kernels
1 tablespoon + 1 teaspoon olive oil
2 teaspoons cumin
1 teaspoon chili powder
1/2 cup fresh cilantro, finely chopped
salt to taste
1 cup shredded cheddar cheese
Sour cream for serving
Instructions:
Start by greasing a 9 x 13" casserole dish, or as I used, a baking pan then set aside. Slice each zucchini in half lengthwise. Using a melon baller or metal teaspoon, scrape out the center of each zucchini. Lightly brush Use your fingers and spread the tops with one teaspoon of olive oil then place them skin side down in the casserole dish.

Next locate your red pepper and onion and dice. I did a fine dice for both so that it would be harder for my kids to attempt to notice or pick them out.

Locate also a forgotten stash of beer that your mom bought when her brother was in town. Can you tell it's Canadian? Of course, this will help you on the next stages of the recipe.

Warm the tablespoon of olive oil in a large skillet over medium heat. Add the onion and the peppers and cook for 2-3 minutes.

Frantically remember you forgot to prep anything else and find the beans, rice, corn, and after about 5 minutes, the jar of salsa. Proceed to measure out then add the rice, corn, and beans along with the salsa, chili powder and cumin to the pan.

Don't forget your beer! Better take a good swig in case that happens again.

Stir everything together and continue to cook for about 5 minutes then remove the skillet from the heat and set aside.
Stir in 1/4 cup of the cilantro and salt to taste to the filling. Appreciate a child who has a marvelous gift to anticipate your needs:

Spoon the filling inside of each zucchini until they are all full.

Sprinkle each half with cheese then arrange them in the dish and cover with foil. Forget the foil. Who needs that kind of stress, anyway? And forget the shredded cheese, 'cause apparently my mother doesn't own a cheese shredder. But if you have one, by all means, shred and sprinkle away.

Bake in the oven for 25 minutes then remove the foil and set the oven to broil. Cook them for 5 more minutes, until the cheese is bubbly and golden brown. BBQ the suckers. It's too hot in the house to turn the oven on. Keep the BBQ at about the 400F mark and bake them 25 minutes. If you have two levels in the BBQ, use the upper level. No broiling, but no hot house to complain about. Totally a win.

Better finish up that beer now that they're cooking. How else will all the cleaning get done?

Allow them to cool for 5-10 minutes then top with fresh cilantro and sour cream & serve. Store leftovers in an airtight container for up to 3 days.
All the kids were happy to eat them, meaning it was a great success in our family! Hope your family enjoys them as much as ours!
You can find all our Meatless Friday featured recipes here.
---
Copyright 2015 Jane Korvemaker.
Images copyright Jane Korvemaker. All rights reserved.
About the Author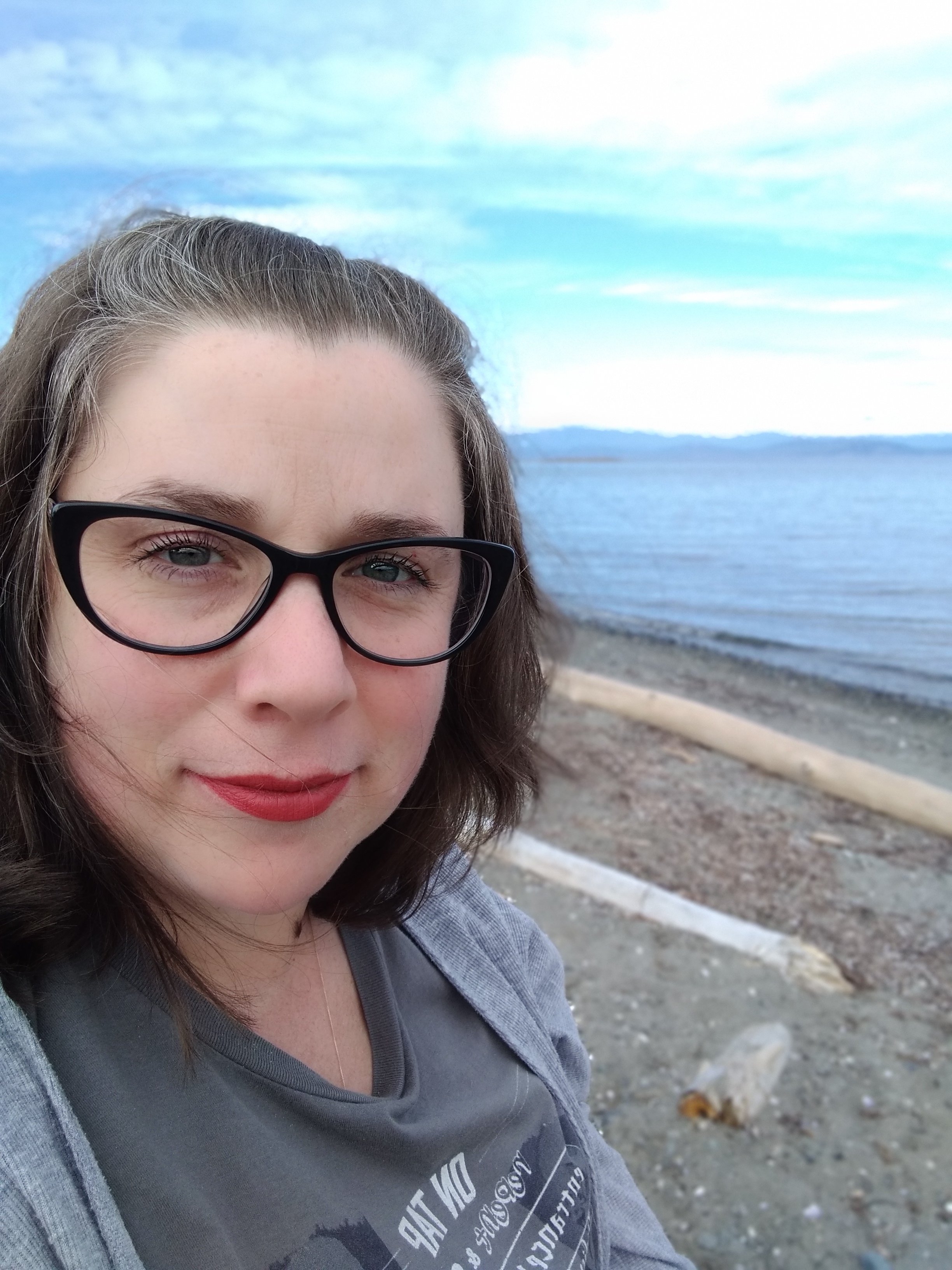 Jane Korvemaker loves food, family, wine, and God (perhaps not in that order). She holds a Certificate in Culinary Arts, which pairs perfectly with her Bachelor in Theology. A former Coordinator of Youth Ministry, she writes from the beautiful and cold province of Saskatchewan, Canada. She works from home and takes care of her three very hard-working children. Jane regularly blogs at AJK2.ca.