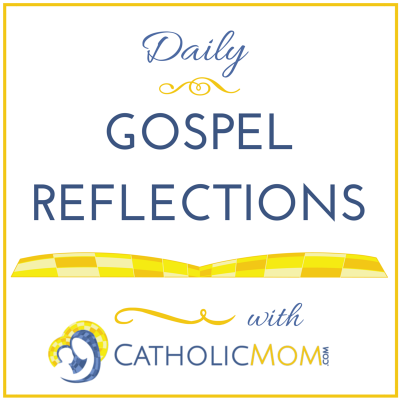 Today's Gospel: Mark 8:27-35
Who do you say that I am?
Often times when I am reading scripture, I place myself as a character in the verse I am reading. In this case, I put myself in Peter's place, but then, to my surprise, this question stumped me. I sat there staring at the words for a long time unable to accurately answer it. Am I confident, like Peter, to say, "You are the Christ"? I've come so far in my personal journey in responding to this question, yet it always makes me pause when presented with it. Who do I say that Jesus is?
I guess I first have to decide who I want Christ to be. Am I able to let him define that himself, through the Holy Spirit, as Peter did, or do I seek to set the parameters? My spiritual director has told me, on more than one occasion, that I am willing to love Jesus completely and surrender my life to him, but first I want a prenuptial agreement. That is partly my struggle with anxiety, and partly due to the fact that identifying who Christ was personally to me was so foreign for so much of life. Christ was on the cross, and I appreciated his salvific work, but he was not in my heart. I could see, yet did I believe? Did I really know what I was believing? In addition, Jesus did not have to worry about me telling people who he was; not only was I not really clear myself, back then, but also I was of the 'faith is private' mindset.
What changed all that uncertainty and closed-lippedness to where I am today—blogging, speaking, radio broadcasting, yelling from the rooftops that Jesus is THE Christ? Three simple things: prayer, scripture, and embracing a sacramental life. Scripture came first; the other two naturally followed as I got to know Christ more. The more I read and learned about the greatness of God and His Only Son, the more I wanted to be in communication; therefore my prayer life grew. As my time in prayer with Christ grew, I wanted to be in even closer communion and could only find that in the sacraments—particularly in the Eucharist (received in the liturgy and adored in the Blessed Sacrament) and Reconciliation.
Like St. Peter, I could never know on my own that Jesus is Christ, "the anointed one of God." I needed to spend time with Jesus, getting to know him, to make the statement. In the participation of prayer, scripture, and sacraments, I continue to redefine who Jesus is to me. It is not that He changes, but the change comes within me because with every encounter more is revealed. The more I know, the more I love, and the more I am able to say, along with Peter, "You are the Christ."
Ponder:
Now it is your turn. If you had to answer Jesus' question, just as the Apostles did, what would you say? How would you respond? Who do you say Jesus is?
Pray:
In this prayer, I will boldly ask to know you better, Jesus. In this prayer, I will confidently ask for the Holy Spirit to reveal the truth of who you are to me. In this prayer, I will beg for the grace to seek all means to grow in relationship with you. Finally, in this prayer, I will acknowledge that although I have fears and doubts, my heart cannot deny that you are the Christ.
We thank our friends at The Word Among Us for providing our gospel reflection team with copies of Abide In My Word 2015: Mass Readings at Your Fingertips. To pray the daily gospels with this wonderful resource, visit The Word Among Us.
Copyright 2015 Allison Gingras
About the Author