I'm determined to share this wonderful opportunity to be at the World Meeting of Families with our readers. It's been such an amazing journey so far, and I'll I've done is travel! But tonight, Pat Gohn and I arrived at our rental digs in Philadelphia and even the trip getting here was a blessing.
The day started at Pat's home near Boston as we packed our goodies into her MINI. (And you wonder why we're friends?!)
#Instagram: Have @MINI will travel! Mass then #popeinphilly! Road tripping w @patgohn #popeinus #goodiswinning pic.twitter.com/Cv3bJ2dLi5

— Lisa Hendey (@LisaHendey) September 20, 2015
...and posed for a photo that showed the I was clearly on California time (sleepy face!)
#Instagram: Hooray! We're ready for @wmf2015! Leaving from Boston w @patgohn #popeinus pic.twitter.com/wxI7xuyo6U — Lisa Hendey (@LisaHendey) September 20, 2015
Next was Mass at Pat's awesome parish, where her pastor gave us a special blessing for our pilgrimage. Then it was time to hit the road. We actually traveled through FIVE states on our way to Philadelphia. As we traveled, we prayed the first Rosary of this trip together, invoking God's protection for all of those who will be traveling and for Pope Francis and the families of Cuba.
One of my favorite things about being with Pat is that she's a tremendous listener and a terrific mentor whose known me for years, so miles passed as we caught up with one another on career, family and spiritual developments. Pat did all the driving, and I did most of the talking! Next, we made an important pit stop at Rein's Deli. While there, I took a temporary reprieve from my health regimen to eat a single (and my very first) ruggalach.
#Instagram: First pilgrimage stop!! @wmf2015 Ruggalach at Rein's Deli Vernon CT pic.twitter.com/DGi9CbfFED

— Lisa Hendey (@LisaHendey) September 20, 2015
Our next stop afforded us a fantastic view of Manhattan. Even though we were in New Jersey, we could see the Freedom Tower and the Empire State Building. We also saw some pretty impressive Papal swag. I'm now having a lot of remorse over the fact that I did NOT buy one of the cool T-shirts. Pat assures me that I'll have other opportunities this week... I hope so!
#Instagram: Pope Francis @pontifex rest stop swag in NJ!! #popeinus #goodiswinning We love him too! pic.twitter.com/8LYDhokilN

— Lisa Hendey (@LisaHendey) September 20, 2015
Before we knew it, we were crossing the river into Philadelphia. We spotted numerous very awesome Pope Francis themed billboards. They seem to be very ready to welcome the Holy Father!
#Instagram: Pope Francis billboards welcome #popeinus #popeinphilly #wmf2015 pic.twitter.com/RwRqq4LHYk

— Lisa Hendey (@LisaHendey) September 20, 2015
We're now all settled into our wonderful apartment for the week. My private chef (aka Pat!) whipped up salmon and steamed veggies for dinner... I could get used to this. And though we won't be allowed to use it this weekend when Pope Francis is in town, we busted out the selfie stick to mark our first night in Philadelphia.
#Instagram: First #wmf2015 #popeinus selfie stick masterpiece w @patgohn in our awesome Philadelphia apartment pic.twitter.com/QcYFV9rQH8

— Lisa Hendey (@LisaHendey) September 21, 2015
It's time for bed now... I'm not tired, but tomorrow holds lots of fun so it's time to sign off. Please know that we are praying for each of you along this pilgrimage. For those of you who will be in Philadelphia, please say hello if you see us! For those of you who aren't, you are with us in spirit!
Follow my World Meeting of Families pilgrimage on Facebook, Twitter or Instagram.
Copyright 2015 Lisa M. Hendey
About the Author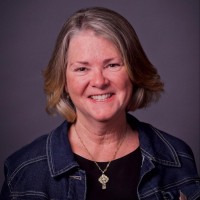 Lisa M. Hendey is the founder of CatholicMom.com, a bestselling author and an international speaker. A frequent radio and television guest, Hendey travels internationally giving workshops on faith, family, and communications. Visit Lisa at LisaHendey.com or on social media @LisaHendey for information on her speaking schedule or to invite her to visit your group, parish, school or organization. Visit Lisa's author page on Amazon.com.