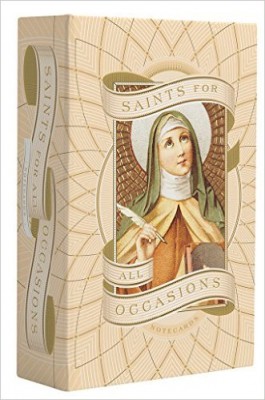 There's something about a handwritten note. I don't send them as often as I should, but I definitely love to receive one in the mail. With all the email we send and receive, it's extra special when someone takes the time to write out a note or card, address an envelope, find a stamp and mail the card.
Religious cards are hard to come by, since my nearest local Catholic gift shop is almost half an hour's drive from here. Yes, I can sometimes find a generic Christian card in the supermarket's greeting-card section, but there are times when I'd like to send a Catholic card along with my prayers and good wishes.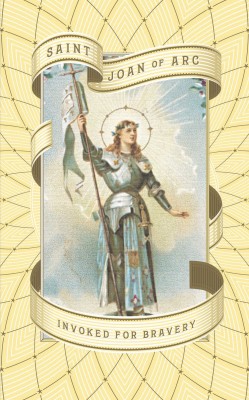 I'm very impressed by this boxed set of Saints for All Occasions cards. Even the box is a work of art evoking the art deco era--and the notecards inside are as gorgeous as the box. The set includes 20 cards, all different, with the portrait of a saint on the front, a brief bio of the saint on the back, and the inside blank for your own message.
The inside of the box lid lists several greeting-card occasions, such as weddings, graduations, baptisms and housewarmings, and matches these occasions with the cards included in the set.
The saints depicted on the cards range from the familiar (St. Gabriel the Archangel, St. Jude, St. Anthony) to the new-to-me (St. Adelaide, St. Calista, St. Julian the Hospitaller).
These 3 3/4" x 6" note cards are printed on high-quality stock and come with 20 patterned mailing envelopes. They're a lovely way to introduce your family and friends to a new saint or share your devotion as you share your prayers.
Support the work we do at CatholicMom.com by purchasing Saints for All Occasions cards through our affiliate link! You pay nothing extra!
Copyright 2015 Barb Szyszkiewicz, OFS.
About the Author