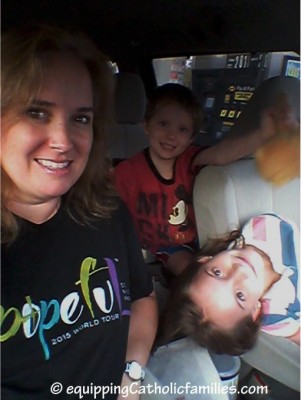 With three of our five kids in high school or University(!), we decided to take only the two youngest to the World Meeting of Families in Philadelphia...and we had a great time!
While we thoroughly enjoyed tracking Pope Francis and getting to know him better through his translated talks and homilies...and eagerly watching the news coverage of him kissing babies and meeting so many people,
I think my favorite part of #WorldMeetingofFamilies
...was meeting families!
We were so thankful to meet up with wonderful Catholic families...being hosted by them, sharing a booth with them, meeting them in our booth and getting reacquainted with them in our travels!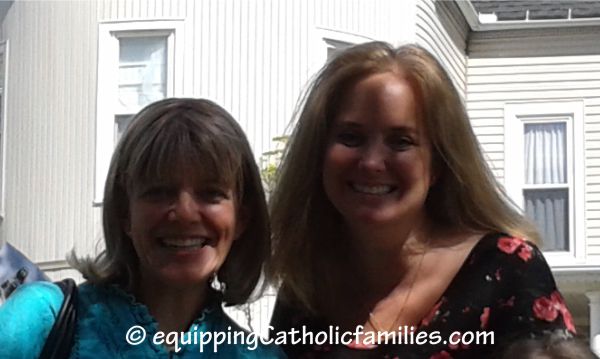 It was a pleasure meeting up with Xhonane of Familia Católica. She graciously hosted us and took us to Mass with her family!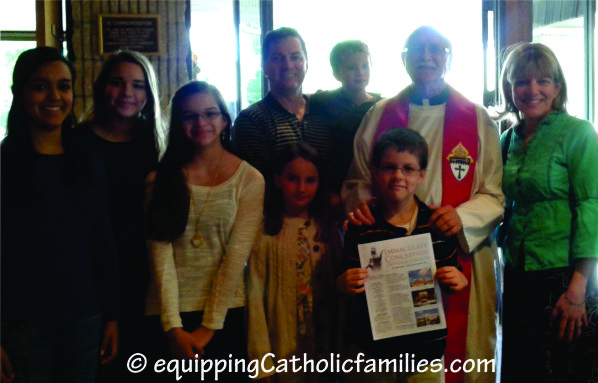 We then met up with another one of our favorite families! Paola and Larry of Emmanuel Books hosted us, helped us and encouraged us as we began setting up at the World Meeting of Families!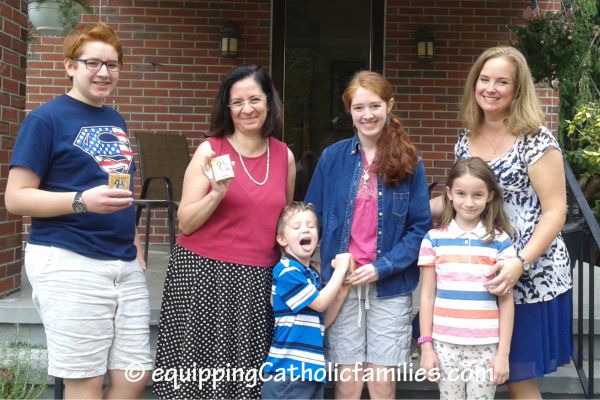 Incidentally...we played the Super Saints with their awesome family as well! Yes, I think Bridget won again.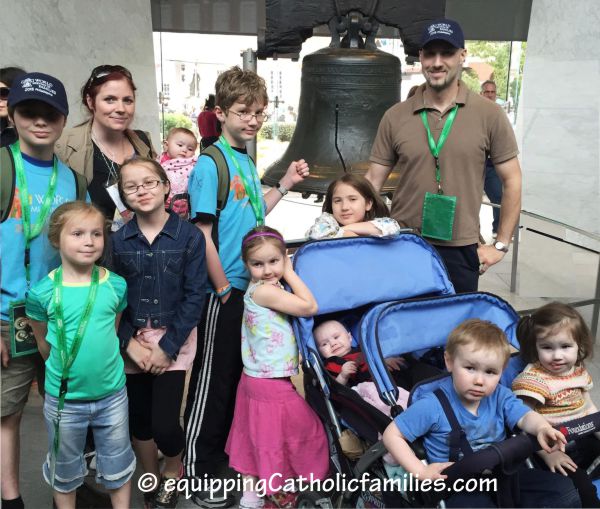 We were delighted to get to know the Douglas family... as we shared a booth in the Expo Hall of #WorldMeetingofFamilies. Their awesome family with 10 kids 12 and under joyfully inspires everyone they meet!
Did you see their awesome Little Douglings books?
Here are some great people we met in our booth at the World Meeting of Families...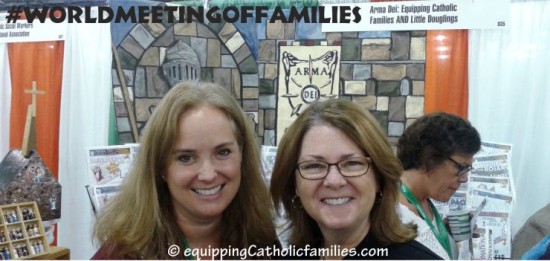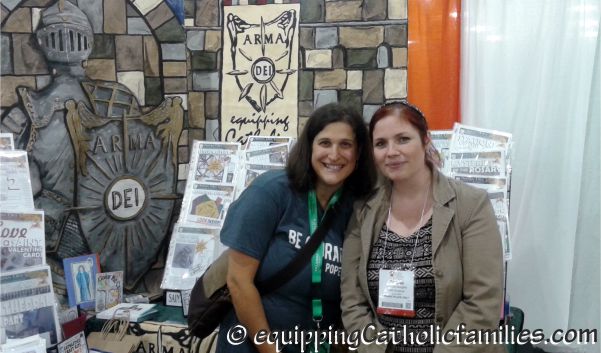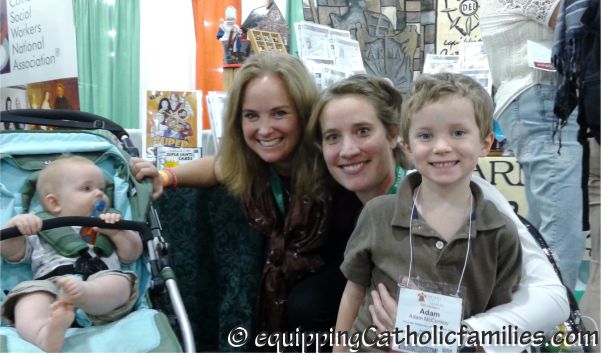 and here's a picture of Bill and the kids acting goofy behind our booth at the World Meeting of Families.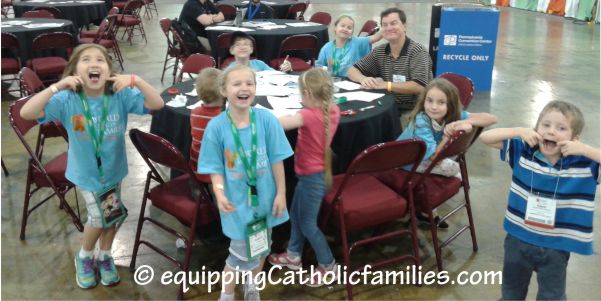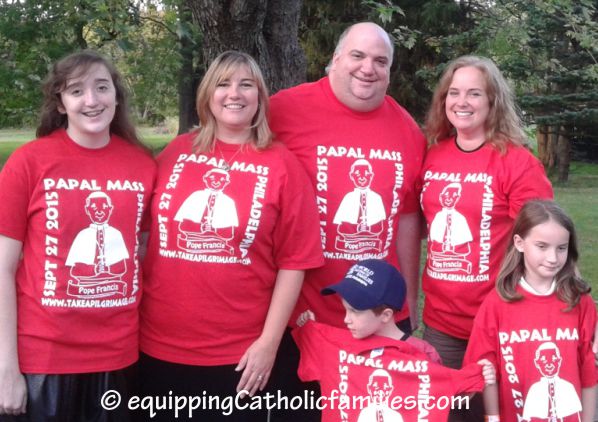 On our way home, we managed to catch the Denz family before they left to attend the Papal Mass with St Gemma's Catholic Pilgrimages! We are wearing the shirts Kelly and I designed...featuring Kelly's Pope Francis! Close to 180 people were wearing these shirts at the Papal Mass!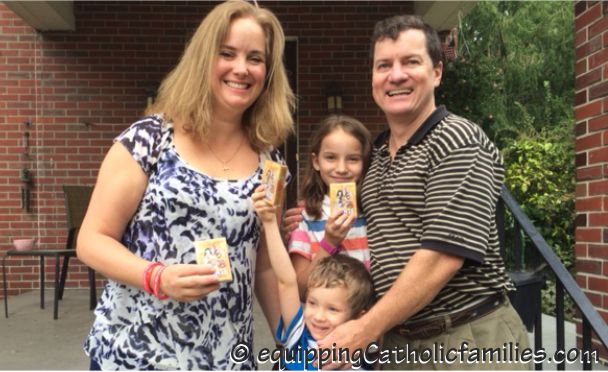 While we were disappointed that the World Meeting of Families Expo was closed a day early...and we were also unable to stick around for the Festival of Families and the Papal Mass...we were delighted to watch the coverage on TV (and follow Lisa Hendey on her adventures!)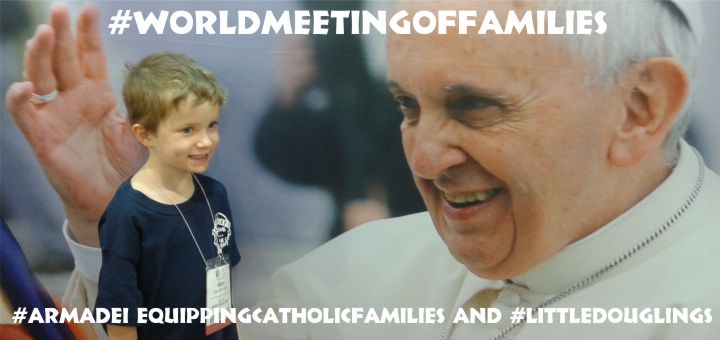 The closest we got to Pope Francis on this trip was this awesome booth banner...but I feel blessed to relive the special Papal Audience I attended last year while on my Rome Pilgrimage!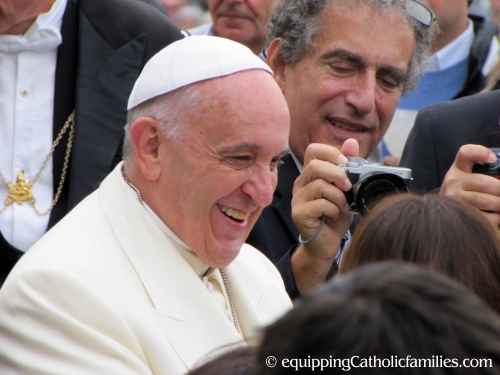 ...and sneak in my favorite shot of Pope Francis.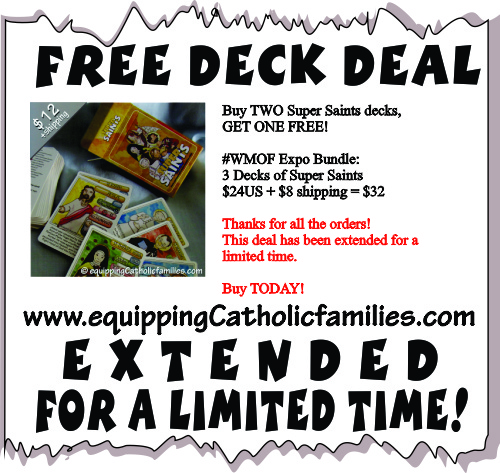 (Check out our e-x-t-e-n-d-e-d Super Saints deck SALE...
in honor of the World Meeting of Families!
Copyright 2015 Monica McConkey.
Images copyright 2015 Monica McConkey. All rights reserved.
About the Author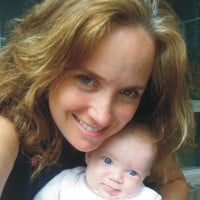 Monica, mom of 5, blogs about Catholic crafts and family traditions at EquippingCatholicfamilies.com. She is an author and creator of Super Saints quizzing cards and over 45 Saint, Sacrament, Catechism and Prayer-packed Craft Kits to help teach the Catholic Faith. The Catholic teaching tools and gifts are available through Arma Dei, the Catholic family publishing company founded with her husband Bill.