This fall, as my children returned to school, I sat in front of my calendar and began imputing important dates, events and activities. After I filled it in, I looked through the months of September and October, and I was surprised by how many days were filled with one or more obligations and how few days were not. I noticed how many weeks in a row were chock-full of volleyball practices, volleyball games, Troops of St. George meetings, and other fall activities.
I knew this fall was going to be a busy season for my family. But in order for me to realize the extent of the busyness, I had to see it spelled out on the pages of my calendar. "Whoa!" I thought to myself. "How is this going to work?"
Well, it didn't work very well at first, but it wasn't because we were too busy. Rather, it was because I didn't transition very smoothly. During the first two weeks of living out this busy schedule, my thoughts turned negative. I complained, "This is too much driving for one mom!" Or, "I am so behind on my to-do list, because volleyball is taking over my life."
True, I was behind on my to-do list. The laundry pile looked more like a mountain; the pantry looked a little more bare than usual; and the house looked a bit disheveled. But did it merit so much complaining?
Then, I saw a quote from St. Francis de Sales that made me reevaluate my negative attitude toward this busy season. "Everyone of us needs half an hour of prayer each day, except when we are busy—then we need an hour."
As I read that quote, I realized that I was focusing on this busy season in the wrong way. I wasn't praying more; in fact I was praying less! My bad attitude led to poor habits, such as idly checking Facebook rather than enjoying a good book or going through the drive-thru instead of utilizing my slow cooker.
In the 17th chapter of Jeremiah, it says that those who dwell in parched places are those who trust in anyone other than God. Their world is dry, and they thirst. But those who trust in the Lord, "whose trust is the Lord," live by a stream and even when there is a drought, they are never anxious. (5-8, emphasis mine)
This busy season was a type of drought. It was taking everything out of me, but it was my choice to remain in a tired, parched and thirsty state. I needed to move toward the life-giving stream. So, I took my exhausted self to the Lord and poured my heart out to Him. My prayer became the words of Jeremiah, found a little later in chapter 17:
"Heal me, O Lord, and I shall be healed; save me, and I shall be saved; for you are my praise." (14)
As I moved toward the stream, my attitude toward this busy season began to change. My trust in God's plan increased, and my anxiety lifted.
This busy fall season was only a season, after all, and there was even a clear end in sight, marked on my calendar.
My desire to make the most of these two months grew, as I changed my attitude, my poor choices, and my parched state. My to-do list could wait! God wanted me in the game, along with my children.
I discovered five specific ways to make the most of this busy fall season:
1) Pray. I recommitted to prayer: family prayer on the way to school, Sunday night Rosary, and more extensive prayer and Scripture reading three times per week. Prayer drew me closer to God, increased my peace, and confirmed my purpose in this season of life. Prayer also reunited my family, after running in different directions.
2) Simplify. I revised my to-do list to only include the essentials: grocery shopping, meal prep, laundry, and quick tidying. The organizing projects, the fall cleaning, and the swapping of seasonal clothing could wait.
3) Rest. The extra running around was wearing me out. The added stress coupled with some health issues wrecked havoc on my body. But checking Facebook or watching late-night TV didn't refresh my body or soul. So, I switched out those activities for sleep, sipping tea and reading good books.
4) Cheer. Sitting at one of my daughter's games, cheering her team along, I recognized a change in my overall being. I realized that being present at the games, celebrating each point and applauding good efforts, was a stress reliever for me. Just like exercise relieves stress, so did focusing all of my energy, rooting, clapping and smiling for my daughters' teams to win their games.
5) Engage. Another blessing I gained from sitting in the bleachers was good conversation with other moms. These women were busy, too. They also felt overwhelmed and wondered how they were going to be in three places at once. But during game time, we focused on our children as well as our common place in life. Smiles and kindness were exchanged, and friendships were formed. I wouldn't have experienced that, if it wasn't for this busy fall season.
Are you experiencing a busy season? How do you make the most of it?
Copyright 2015 Sarah Damm.
About the Author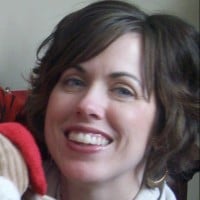 Sarah Damm is a Catholic wife and mother of six children, living in Minnesota. She spends her days running errands, helping with homework, and keeping up with laundry and the family schedule. Sarah loves her faith, coffee, and good books. You can find out more about her at SarahDamm.com.