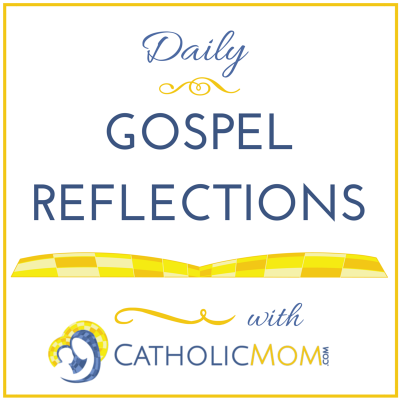 Today's Gospel: Luke 11:37-41
Pharisee (for me, anyway) is kinda synonymous with hypocrite--which I am way more than I care to admit. "You fools!" Oh yeah, that describes me, again way more often than I care to admit. How foolish because I'm showing a false shiny outside while hiding the true me inside, again more often then I . . . well, you get the picture.
I hide that part of me that actually needs a Savior and gives legitimacy to my witness as one who is saved because of my pride. I pretend that my life is a shiny clean cup and dish, while really it is slightly tarnished or just a rinsed out cup still waiting for a good cycle through the dishwasher. When I hide behind a shiny facade I miss that opportunity to be a true witness of what Christ can do in a person's life. I fail to help people realize that Jesus did not come seeking the well but the sick, and most of the time—okay, more than most of the time—I am spiritually under the weather.
One of my favorite saints is St. Bartholomew (aka St. Nathaniel). Jesus described him as a man with no duplicity found in him. Jesus valued this character trait; therefore so should each of us. One of my prized possessions is an icon of St. Bartholomew painted for me by dear friend's son, Nathaniel. Many years ago I started calling this sweet boy "Bart," a play on his biblical counterpart, and it became a special bond between us. Therefore, when given an art assignment to create an icon, he chose to make St. Bart just for me. This gift came just in a time in my life when I was being convicted of my own duplicity, which became very apparent after an Easter Sunday Mass experience that I am fairly sure most mothers can relate to.
We had agreed to host Easter dinner, but I was too busy on Saturday preparing, shopping, and cleaning, to make the Easter vigil. Plus, who wants to lug two rambunctious little boys to a 3-hour liturgy? Though it is one of my favorite services of the year, the Easter vigil is definitely not toddler/preschool-friendly. So that meant early Easter morning Mass, and, of course, I had to be sure we were all wearing our very best Easter best for the occasion. On the outside, we looked adorable – all spiffy and clean. However, if anyone had watched on hidden camera, you would have seen us fighting all the way. Stressed and unnecessarily worried about outward appearances, I struggled to get two tired little boys up, showered, dressed, and out the door, while still primping and preparing myself. Failing to explain what help I needed to my loving husband, who sat in the car waiting and beeping the horn to hurry us along (because he was worried we'd not find a seat), led to a nice "conversation" the whole way to Mass. By time I did reach my seat and Mass began, I can guarantee my outside and inside were not the same!
My sure-fire cure for Pharisee-ism? The Sacrament of Reconciliation. Luckily for me, and the millions just like me, only one visit to Reconciliation and my inside and outside can resemble each other again. Nothing cleans the "evil" and "plunder" like a good confession. Then, when I decide to accept that it is better to let people see my imperfections than to be a fool, it helps me to prevent this duplicity from creeping back into my life!
Ponder:
How have I been a Pharisee recently? When have I failed to realize that what is on the inside needs to be as clean as on the outside, that I need to show both as they were designed and intended to be shown? Do I project a true image of who I am, or pretend to be something I am not? Is there no duplicity in me – whether it be behavior, motives, or speech?
Pray:
Maker of the inside and the outside, please send me the blessing of your grace to keep both in the condition you intended for them. Let me be a fool only for you.
We thank our friends at The Word Among Us for providing our gospel reflection team with copies of Abide In My Word 2015: Mass Readings at Your Fingertips. To pray the daily gospels with this wonderful resource, visit The Word Among Us.
Copyright 2015 Allison Gingras
About the Author