A few months ago, my daughter was working on her pincer grasp (the ability to pick things up with her thumb and pointer finger) which takes a lot of practice so watching her acquire the skill with tiny things like raisins could be pretty painful. She would stare at it, then reach out and plop her whole hand on top of it, clasping her chubby little fingers around it and on maybe every third or fourth try she would actually be successful in picking it up. That's just the first step, though. Keeping it in her hand and transferring it without dropping it or missing her mouth completely was a whole different process. Like I said, very frustrating to watch. I can't tell you how tempting it was to walk over, pick it up myself and stick it in her mouth. But I had to resist because otherwise she'd never develop the valuable dexterity.
Witnessing this one day made me think of the times that I've endured trials and gotten extremely fed up with God, thinking, "I know you can fix this. Why won't you? Why are you letting me suffer?" Well, the answer is that there was a greater purpose to the tribulation. God is always molding us into the best versions of ourselves and suffering is one of the most effective means of doing so. It takes patience and yes, sometimes (probably a lot more often than we realize) he will intervene and fix things just like every once in awhile I'd stick the raisin in Mia's mouth for her. But for those times when the Lord decides to let me sit in the pain for a while, it is always for a greater purpose and I have to have faith that the good it yields will far outweigh the struggle.
What I was most struck by was the fact that I'm the one who experienced the most frustration while watching Mia and her raisins. It is essential for us during our difficulties to remember that God is right there next to us, sorrowing over our sorrow, wishing he could endure the trial for us like he did on the cross. But ultimately, he allows us to undergo it for one reason and one reason only: Freedom. Ah, what a beautiful concept and yet so seldom do people associate it with suffering. But we're told in James 1:2-4 to, "Count it all joy, my brothers, when you meet trials of various kinds, for you know that the testing of your faith produces steadfastness. And let steadfastness have its full effect, that you may be perfect and complete, lacking in nothing." That last portion, lacking in nothing, is what echoes freedom to me. If I do not allow Mia to endure the trouble of fine-tuning her pincer grasp, she will be in bondage to her dependence on me for picking things up (whether it's raisins, dust bunnies, dead stinkbugs) for her to eat. Similarly, if God always swoops in to snatch away my suffering, I will never grow in strength and endurance, but instead will be in bondage to my own weakness and incapability of dealing with difficulty.
On the other hand, whenever Mia was successful in the transferal chain from tray to hand to mouth, I was the more ecstatic of the two of us, squealing with pride and repeatedly praising and encouraging her. I can only imagine the delight that God experiences when we finally emerge from the darkness of anguish as stronger, better individuals.
Food (or raisins) for thought: What circumstances in my life right now am I waiting for God to take away that might actually be necessary for the shedding of my weakness and the perfection of my strength? How can I change my perception of it from an inconvenience to an opportunity for growth?
Copyright 2015 Elizabeth Pardi
Photo copyright 2015 Elizabeth Pardi. All rights reserved.
About the Author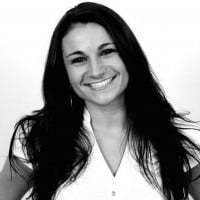 Elizabeth Pardi spends her days running, writing, and praying her way through this journey with her superstar spouse and their charming little ones, while occasionally sneaking espresso shots on the side. She shares the lessons she's learning that make life's loads a little lighter at LoveAlwaysLiz.com.