I received a merciful gift this past summer. My brother sent me on a pilgrimage to Poland with the Cor Project and Christopher West. The pilgrimage was called The Footsteps of St John Paul II.
We had the privilege of meeting St John Paul II's personal secretary Cardinal Dziwisz in the archbishop's palace in Krakow.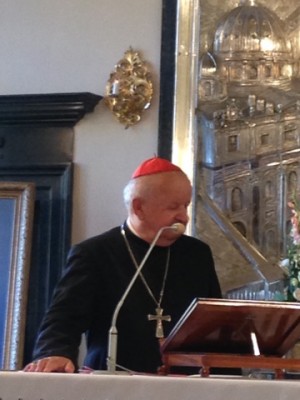 As we knelt to pray before mass, I spent time gazing around the chapel. This was the place where St John Paul II was ordained. This was the place where he wrote the Theology of the Body, as he contemplated God and his beautiful plan for the human person.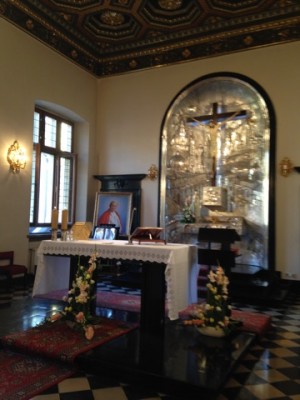 And then I gazed upon the large crucifix behind the altar and above the tabernacle.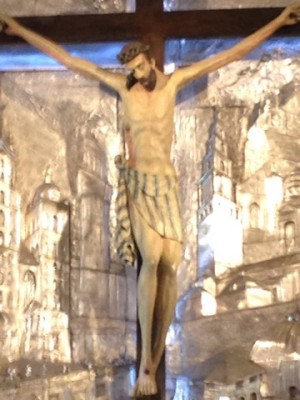 This crucifix was unique. Jesus' loincloth had stripes. Blue, vertical stripes. Having been struck to the heart the day before as we visited the horrible Auschwitz, where every shred of human dignity was stripped away from every prisoner, I remembered a similar stripe. Yes, the striped loincloth on Jesus' body was the same striped material worn by the prisoners of Auschwitz.
One prisoner is perhaps better known. A son of Poland, St Maximillian Kolbe, a Franciscan priest and lover of Mary Immaculate, offered his life in place of another prisoner's. This man was a father with a wife and with children. St Maximillian Kolbe said, "Take me." That prisoner lived to be released from the prison camp. That prisoner went home to his family.
I prayed. And all I could think of were the words from Scripture,
"The Spirit of the Lord GOD is upon me,
Because the LORD has anointed me
To bring good news to the afflicted;
He has sent me to bind up the brokenhearted,
To proclaim liberty to captives and freedom to prisoners; (Isaiah 61:1)
I thought of all the sexual sin. It is a loincloth! Jesus redeems every sin on the cross, and He proclaims through the Theology of His Body, that sexual sin, and every sin, is untwisted, and transformed into glory, because of His sacrificial gift of being nailed to a cross.
And saints follow Him. Saints are willing to join Him there on the cross. They come with their sins and their wounds, and they find a place of union and communion with God. Pain is inevitable, but never the last word. We know what happens on the third day.
He's alive! He is resurrected first, so that we may follow! Once enslaved to sin, now we are set free!
Poland is a holy place- a place that has suffered, but has also given us many saints. These saints teach us the way to follow Christ humbly, even unto death of self. They remind us of the glory that is to come.
Copyright 2015 Cindy Costello
Photos copyright 2015Cindy Costello. All rights reserved.
About the Author

Cindy Costello is a praying wife and mom who is settling into her empty nest. More than fall trees and caramel lattes, she loves a pen hitting paper to create something unique and beautiful for God. Cindy is challenging herself intellectually and getting ready for Career #2 by pursuing a MA in Theology. And on the side she gives parish talks and retreats , specializing in Theology of the Body and all things Catholic! Visit her website at CindyACostello.com.