Who doesn't love a good book? Several years ago, I came upon the amazing work of Jason Kotecki, author of the new book Penguins Can't Fly: +39 Other Rules That Don't Exist. Since then, I've learned so much from Jason and his lovely wife Kim. As you'll discover in our conversation here, there are definitely some rules which are made to be broken!
Q: Jason, congratulations on your new book Penguins Can't Fly: +39 Other Rules That Don't Exist! Please briefly introduce yourself and your family to our readers.
Sure thing! I am an artist, author and professional speaker. My wife Kim and I are best friends, parents of three weird kids under seven, business partners, retro t-shirt wearers, and partners in crime on a crusade to annihilate Adultitis in ourselves and the world! Besides running a business together, we also homeschool, so obviously, we are insane.
We've come to the conclusion that kids have more answers about life than the rest of us, and believe that Jesus wasn't joking when he said we needed to become more like children if we wanted to enter the Kingdom of Heaven.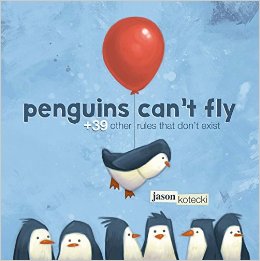 Q: This book builds beautiful on your previous work! Describe the book to our readers and share what motivated THIS book at this time in your life.
Thank you! So a few years ago, I began noticing that throughout our lives, starting at the very beginning, we are bombarded with rules that don't exist. Not things like speed limits or the Ten Commandments, but rather "rules" like "Thou shalt not eat dessert first" or "Thou shalt act thine age." Following rules is an excellent way to fit in and avoid being questioned, laughed at, or scorned. But it's not a particularly effective way of living an amazing story or making a difference in the world.
I speak to all kinds of audiences — from faith communities to educators to healthcare workers to corporations — and I regularly talk about this concept along with some examples of these so-called "rules." I had many people ask me if I had a book with all of these rules in it. It's funny to think that something like that would even be possible, as the number of rules borders on infinity, but it seemed like a good concept to develop.
Ultimately, the book is not about telling people which rules to break, but to inspire them to start noticing some rules in their own life that might be worth breaking.
Q: What are just a few of the rules you recommend breaking?
The book covers a lot of ground, from silly ones like "Thou Shalt Not Eat Breakfast for Dinner" or "Spouses Shalt Not Swap Sides of the Bed" to deeper, more challenging ones like "Thou Shalt Hate Monday" or "Thou Shalt Wait for Permission." At the end of the book, I invite readers to share rules that I missed, and the submissions I've received remind me that there really are more of these rules than stars in the sky!
Q: While the book isn't only for people of faith, it has a strong message for believers. How did your personal faith inspire what you wrote in this book?
Everything Kim and I do is grounded in our faith. Our desire is to use our talents for the glory of God, and we strongly resonate with St. Francis of Assisi's advice to "preach the gospel always, and if necessary, use words." Our Catholic faith is filled with great examples of heroic and holy rule breakers, from St. Francis to Pope Francis.
A few years ago, Kim and I consecrated ourselves to Mary. Then interesting things started to happen. Exactly two months later, we discovered Kim was pregnant with our third child. In May of that year (Mary's month!), a book agent came out of nowhere and asked if she could represent me. A year later, also in May, was when we officially secured a deal with a major New York publisher to bring "Penguins Can't Fly" to the world. And the editor at St. Martin's Press who I'd be working with was named…Rose. Meanwhile, our daughter was born a few days before Christmas in 2013, and we named her Virginia Rose, the first names of our paternal grandmothers, and two names with links to the Virgin Mary.
Shortly after we signed the book deal, Kim and I decided we officially wanted to shoot for the New York Times Bestseller list. We both knew there was no way we could do it on our own, so we turned to someone we thought could help. I dedicated the book to Mary. Starting on Father's Day in 2014, we have each said a Rosary every single day, asking Mary to help us in this quest.
We publicly declared our hope to make "The List" on our blog, and our best shot to do so was launch week. Alas, we didn't make it. Although terribly disappointing, it inspired me to write about Mary's involvement in the book and share how our faith has shaped our response. I was nervous about putting it all out there, but it was incredibly well-received, and I believe it turned out to be a neat way to "preach the gospel" with words. (You can read the whole post here: http://escapeadulthood.com/blog/2015-07-02/to-be-continued.html )
Q: The art is a huge part of this book. Do you find that your illustrations lead your writing or is the opposite true?
Although this book is my fifth, it's definitely a departure from my previous books because it is the first one to fully incorporate my artwork. It's full-color, hardcover, and really beautiful. More than anything I've ever done, this one really feels like a complete representation of who I am, and in many ways, is a culmination of the first fifteen years of my career.
Interestingly, with regard to your question, I find that it's a little bit of both. Sometimes I make art that inspires me to write, and sometimes I write something that inspires an image. Sometimes a sketch lingers in my sketchbook for a long time, before I discover what it means. The penguin on the cover is a perfect example. A quick doodle I had done a year earlier ultimately became the perfect metaphor for the whole book.
Q: What are readers saying about the book?
I have been fortunate to receive very positive, heartfelt, and personal responses from this book. For instance, one woman received it as a gift after her daughter died, and she said it was like a life preserver for her, keeping her afloat. Stuff like that is incredibly humbling, but for me, it's an example of what God can do with our gifts if we offer them up. I think most people see the whimsical illustrations and assume it will be a simple, lighthearted book. And it is. But when they actually sit down to read it, they are often surprised by what's hiding under the surface, and it speaks to them in a profound way. We've been hearing a lot of stories of folks who read the book and then immediately order a bunch more to give to friends, clients, or their teams at work. I can tell Mary is behind this, particularly in ways I can't see and may never know.
Q: How does this book compliment the rest of the work you do? Where can readers learn more about you?
For fifteen years, Kim and I have been all about helping people recapture their childlike spirit to defeat Adultitis and live more abundant, joyful, and fulfilling lives. We try to remind people what's most important in life, which is very hard to do in today's fast-paced consumer-driven culture. Escape Adulthood is our brand and our rallying cry. We're not calling for anyone to ditch their responsibilities and we're not advocating strict diets of chicken nuggets and macaroni & cheese. The "Adulthood" we encourage people to escape from is the one with all the stupid rules, the one that demands we always do the safe and prudent thing, that we earn play through hard work, and that we must always, without exception, take ourselves way too seriously.
Everything we do, from my art to books to speaking programs to live events, is tied together in this mission. Anyone interested in learning more about everything we have going on can visit http://EscapeAdulthood.com.
Q: Are there any additional thoughts or comments you would like to share?
Yes! If you'd like weekly reminders about how to create a life that is less stressful and more fun, sign up for our few newsletter (http://escapeadulthood.com/newsletter), which is like milk and cookies for your inbox.
And one more thing: Living life abiding by rules that don't exist is the equivalent of signing up for an average life. Dear reader, you we created for more than that. You are awesome and you deserve a life to match, one filled with magic and meaning and wonder and love. Your life is a story, and a short one at that. Make it a good one.
Order Penguins Can't Fly: +39 Other Rules That Don't Exist and support CatholicMom.com with your purchase
Copyright 2015 Lisa M. Hendey
About the Author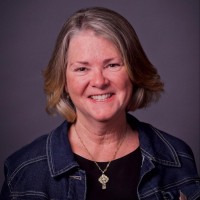 Lisa M. Hendey is the founder of CatholicMom.com, a bestselling author and an international speaker. A frequent radio and television guest, Hendey travels internationally giving workshops on faith, family, and communications. Visit Lisa at LisaHendey.com or on social media @LisaHendey for information on her speaking schedule or to invite her to visit your group, parish, school or organization. Visit Lisa's author page on Amazon.com.