When I began the project of looking closer at the Hail Mary on my blog many years ago, I never dreamed it would be a book. That project inspired a whole new way of praying for me, and it made me slow down.
The book inspired by the blog series, Word by Word: Slowing Down with the Hail Mary, is now available, and I'm excited to share more with you from some of the contributors who have agreed to be interviewed here.
In Word by Word, each contributor wrote a brief reflection about every word of the Hail Mary. The idea was that, in reflecting on the prayer one word at a time, we would all slow down and pray it differently, more meaningfully, and closer to Jesus.
Today, another of my favorite fiction authors, Michelle Buckman, is here to share her thoughts. I think I first met Michelle through the Catholic Writers Guild, moderating a chat at their online writers conference. I was so intrigued by Michelle's presentation that I think I ordered one of her novels that day.
In the years since, I've read and shared all but one of her books (though I just found the one I haven't read and shall have to hunt it down!). Michelle writes in a way that brings people to life off the page and there are times I catch myself quoting her books to myself years later.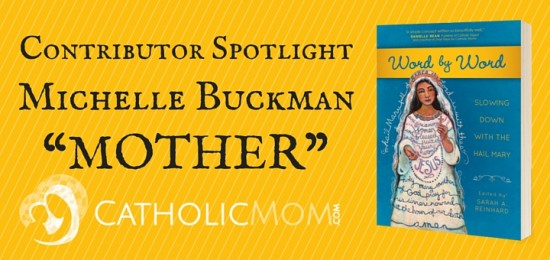 Michelle, what's your relationship with the Hail Mary as a prayer? How does it help you grow closer to Mary and, through her, Jesus?
Besides the rosary and morning prayers, I tend to recite Hail Marys randomly throughout the day while doing chores.
Meditating on her life with Jesus and on her appearances around the world creates a close bond with her.
Your reflection was on the word MOTHER. Tell us a bit about what this word means to you in the context of the Hail Mary.
I like to think of Mary in her role as an earthly mother doing all the things that mothers have done since the beginning of time. For example, I always smile when I recite the fifth Joyful mystery—finding Jesus in the temple. Envisioning Mary and Joseph rushing around searching for Jesus makes me feel like I have company in this challenge of motherhood.
At this juncture in life with most of my children grown to adulthood, I ponder Mary urging Jesus to change the water into wine at the wedding in Cana. I feel certain she knew where that miracle would lead, and yet she not only stepped aside for him to walk the path intended for his life, but waved him towards it. I think letting my children go forward to walk their own paths, to make their own decisions, is probably the most difficult part of motherhood so far. Aiming them in the right direction, encouraging their college studies and special interests was only natural, but even Jesus was tempted by Satan, and when children reach adulthood, we can no longer control their choices. We are left on the sidelines watching them follow that path like Mary watching Jesus on the Via Dolorosa. As a mother, I've known joy and suffering, though nothing equal to watching my son suffer a crucifixion, and so Mary gives me strength.
I cherish the joys of the precious lives endowed to me. There is nothing in life equal to being a mother.
What's your top tip for slowing down as you pray the Hail Mary...or any prayer, for that matter?
Reading this book, of course. :)
*
You can find Michelle at her website, on Twitter (@AuthorMBuckman), or on Facebook.
If you're interested in purchasing Word by Word, consider stopping in at your local Catholic bookstore first. It's also available online, and if you use our Amazon link, CatholicMom.com gets a small percentage of the sales.
Copyright 2015 Sarah Reinhard
About the Author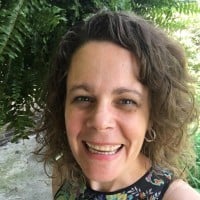 When she's not chasing kids, chugging coffee, or juggling work, Sarah Reinhard's usually trying to stay up read just one…more…chapter. She writes and works in the midst of rural farm life with little ones underfoot. She is part of the team for the award-winning Catholic Mom's Prayer Companion, as well as the author of a number of books. You can join her for a weekday take on Catholic life by subscribing to Three Shots and follow her writing at Snoring Scholar.