When I began the project of looking closer at the Hail Mary on my blog many years ago, I never dreamed it would be a book. That project inspired a whole new way of praying for me, and it made me slow down.
The book inspired by the blog series, Word by Word: Slowing Down with the Hail Mary, is now available, and I'm excited to share more from some of the contributors who have agreed to be interviewed here.
In Word by Word, each contributor wrote a brief reflection about every word of the Hail Mary. The idea was that, in reflecting on the prayer one word at a time, we would all slow down and pray it differently, more meaningfully, and closer to Jesus.
Though I have never had the pleasure of meeting Barb Szyszkiewicz in person, she has earned the distinction granted to few: when I am granted the great grace and pleasure, she will get a VERY LOUD squee, a leaping hug, and at least five huge mugs of coffee while I talk nonstop.
I guess you could say I'm a fan. I've been reading her blog since she was SFO Mom (which is not, as I first thought, the same as UFO Mom, though when Little Brother was younger, it might have been closer to accurate) and she was one of the first regular commenters at my blog.
It was natural for me to want Barb to be part of the Word by Word project, back before it was a book, because she was so inspiring to me. As a mom who was in farther along the adventure than I was, she offered hope and wisdom; as a mom who had been there before and survived, she offered encouragement; as a mom who knew the power of prayer and coffee, she offered some of both without judging which I chose first.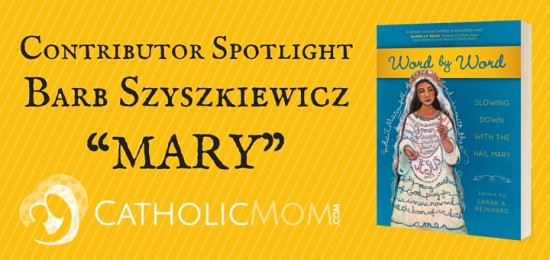 Barb, what's your relationship with the Hail Mary as a prayer? How does it help you grow closer to Mary and, through her, Jesus?
The Hail Mary is a go-to prayer for me. My favorite part is "pray for us" because we all sure do need Mary in our corner. And everything Mary ever did leads us to Jesus. The last thing we hear her say in the Bible is the best advice ever: "Do whatever He tells you."
While I'll spontaneously offer Hail Marys, the rosary does not come very naturally to me. I have to make an effort with that--but when I do, I find that it brings me peace. I actually don't even know all the mysteries of the rosary, because I usually pray the
Franciscan Crown Rosary, which focuses on the Seven Joys of Mary
.
Your reflection was on the word MARY. Tell us a bit about what this word means to you in the context of the Hail Mary.
As a young adult in the 1980s, I had a conflicted relationship with the Blessed Mother. It took years, and becoming a mother myself, for me to learn and truly appreciate what Mary's motherhood is all about.
Mary is also my grandmother's name, and that's the jumping-off point for my reflection in the book. My grandmother's devotion to the Blessed Mother was a wonderful example for me.
What's your top tip for slowing down as you pray the Hail Mary...or any prayer, for that matter?
SING IT. Seriously. There's no rushing when you sing, and there's no better way to put your whole self into the prayer. We used to have a priest at our parish who would take the congregation to task for barreling through the Lord's Prayer during Mass. He encouraged everyone to slow down and really think about the words we were praying. And he was happy when we musicians would sing the Lord's Prayer, because it does slow the prayer down.
*
In addition to her writing at Franciscan Mom, Barb's here at CatholicMom.com quite a bit (yay for us!) and she also maintains a cooking blog, emphasizing family-friendly recipes and information on cooking for Type 1 Diabetics. You'll also find her on Twitter as @franciscanmom.
If you're interested in purchasing Word by Word, consider stopping in at your local Catholic bookstore first. It's also available online, and if you use our Amazon link, CatholicMom.com gets a small percentage of the sales.
Copyright 2015 Sarah Reinhard
About the Author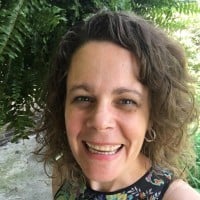 When she's not chasing kids, chugging coffee, or juggling work, Sarah Reinhard's usually trying to stay up read just one … more … chapter. She writes and works in the midst of rural farm life with little ones underfoot. She is part of the team for the award-winning Catholic Mom's Prayer Companion, as well as the author of a number of books. Follow her writing at Snoring Scholar.