Kristjana has run away from her life in London, leaving her landlady, her boss, and, more disturbingly, her boyfriend in the dark about her motives for doing so. On what seems like a whim, she dresses for travel instead of work, packs a small bag, withdraws some cash, and texts her boss ("I resign") before dropping her cell phone into the river and flying to Tel Aviv, the furthest point from London she had ever been in her life. Even Kristjana doesn't seem to fully understand why she's running or have any idea of when she might go back to her former life, if ever. This intriguing scene is how we are brought into We'll Never Tell Them, a novel by Fiorella De Maria.
Looking to disappear in a city of strangers from all over the world, Kristjana seeks work at a hospital and winds up caring for Leo, a man in his last days with no family to tend to him. Her task is to take care of his few physical needs while keeping him company, for Leo fears dying alone. In their time together, Kristjana and Leo develop a relationship based on their shared heritage: Kristjana, like Leo's beloved mother, is from Malta. As he tells her about his mother Liljana's life, beginning with her desperate poverty in Malta and her abusive, mentally unstable mother, Leo draws his young nurse deep into his family's history — so deep that Kristjana feels as if it's partially her own story. Through Liljana's story of perseverance in adversity, Kristjana must learn about her own life and make decisions about what she should do next: return to her old life or continue running from it.
Fiorella De Maria has written a beautiful story within a story, carrying both Kristjana and the reader back to the beginning of the twentieth century, drawing us all into Liljana's world. Her narrative is immediately engaging, and she describes the scenes and history so vividly that you can't help but feel like you're right there with Liljana. As Leo tells his tale to Kristjana, the characters become fully formed and believable. The story of Liljana's life and how she overcame her childhood situation drew me in as easily as it drew in Kristjana within the book. My only complaint about the character development was that I felt like Kristjana's story was never given much attention, as if she was a stand-in for the reader, and her purpose was be there to have a history imposed upon her by whoever was reading the book. As engaging as the opening was, we learn little of Kristjana, for Liljana and her family are the center of the story. The title of the book comes from an old soldiers' song from World War I, but can apply equally to Liljana's life: as much as she shared with her son, she probably never told him all of the difficulties she faced as a child and young woman.
Ignatius Press is the publisher of We'll Never Tell Them, so I had some expectations of this novel when I received it. I expected to encounter Catholic and Christian characters throughout the book, but what I didn't expect was the complexity of those characters' faith. Each person's faith was completely believable, since each character had their own struggles within their faith. No one seemed to have all the answers, and several of the people readers will meet in this book have periods when it's harder to be engaged as a Christian than it is to walk away for a time. That kind of believability helps to create characters that are even more human. Like most people, the characters' faith — in their various states — is merely a part of their story rather than the point of it. Never did I feel as if the point of the story was Christianity; rather, it was a deep part of the characters and influenced their actions without having to discuss it. To me, this is how Christians with a deep faith tend to be: heavily influenced by their faith in God, people of action more than words.
I thoroughly enjoyed We'll Never Tell Them, and would definitely recommend it for teens and up. (I plan on passing it on to my two high school daughters.) You can find it on Amazon, in both paperback and Kindle format, as well as through Ignatius Press.
Note: I received a complimentary copy of this book for the purposes of providing an unbiased review.
Be sure to check out our Book Notes archive.
When you purchase this book through any of the Amazon affiliate links in this post, you support the work we do at CatholicMom.com at no extra cost to you!
Copyright 2015 Christine Johnson
About the Author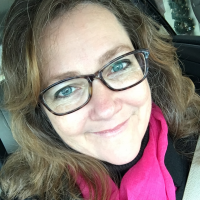 Christine Johnson has been married to Nathan since 1993 and is the mother of two homeschool graduates. She and Nathan live in the Blue Ridge Mountains of Southwest Virginia, where she tries to fit in as a transplanted Yank. She blogs at Domestic Vocation about her life as a wife, mother, and Lay Dominican.