If you want to improve your prayer life but find yourself in a constant rush, Practicing Catholic Devotions by noted author Danielle Bean is the perfect booklet for you. This handy devotional is part of Twenty-Third Publications' "The Busy Person's Guide" series. As a result, it is tailor-made for people whose "to-do" lists are longer than the lines at the local Bureau of Motor Vehicles.
Even though I am a lifelong Catholic, I found much to learn in Practicing Catholic Devotions. For instance, I was unfamiliar with The Little Office of the Blessed Virgin Mary, which is a simpler, less complex version of the Great Office, or Liturgy of the Hours. I also appreciated a refresher course on devotions such as Divine Mercy, the Sacred Heart of Jesus, the Holy Face of Jesus, the Five Holy Wounds, and the Jesus Prayer. As Bean states,
Devotions are meaningful ways we can engage in prayer to Jesus, Mary, and the saints—beyond how we honor God with our words and actions throughout our busy days. They are not meant to replace the liturgy but to extend it into our daily lives.
The variety of devotions offered will be especially welcomed by those who would like to try different methods of prayer. Bean writes,
One of the most wonderful things about our Catholic faith is the fact that we have so many diverse devotions and traditional practices. There is no one-size-fits-all approach to Catholic devotions. There truly is something for everyone!
I especially enjoyed Bean's inclusion of the Examen, which is an end-of-day prayer popularized by St. Ignatius. The Examen consists of five steps:
Becoming aware of God's presence
Reviewing the day with gratitude in mind
Paying close attention to one's emotions
Selecting one aspect of the day and praying about it
Looking ahead to tomorrow.
Bean summarizes well the need for a booklet such as Practicing Catholic Devotions:
Throughout our busy days, filled with chores, diversions, and distractions, we can connect with God in small but meaningful ways through daily devotions.
So, whether you're waiting in the grocery line or the school drop-off line, Practicing Catholic Devotions can enrich your waiting time, leading you ever closer to God.
---
Copyright 2019 Maria V. Gallagher
About the Author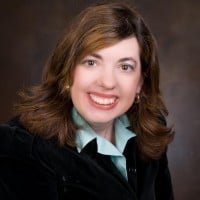 Maria V. Gallagher spends her days advocating for women, children, and families. She is the mother of a beautiful ballerina and a member of the worldwide Cursillo movement. In her spare time, Maria likes to blog, walk, sing, dance, and fill the room with laughter. Read her work at MariaVGallagher.com.