When I began the project of looking closer at the Hail Mary on my blog many years ago, I never dreamed it would be a book. That project inspired a whole new way of praying for me, and it made me slow down.
The book inspired by the blog series, Word by Word: Slowing Down with the Hail Mary, is now available, and I'm excited to share more from some of the contributors who have agreed to be interviewed here.
In Word by Word, each contributor wrote a brief reflection about every word of the Hail Mary. The idea was that, in reflecting on the prayer one word at a time, we would all slow down and pray it differently, more meaningfully, and closer to Jesus.
Today I bring you a woman I would've never known but for this wonderful Catholic internet. Shelly Kelly blogs with her sister, Lisa, at Of Sound Mind and Spirit. I had the joy and pleasure of meeting Shelly once upon a time, and the click was as audible as if I was a native Texan or she was a Buckeye. Someday, I hope and pray to hug Shelly in person again.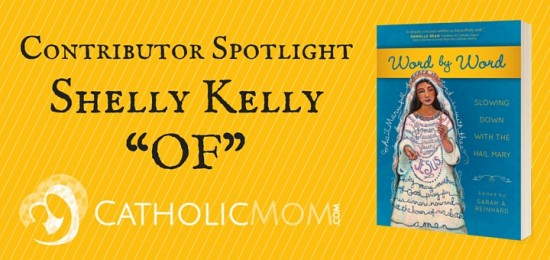 Shelly, what's your relationship with the Hail Mary as a prayer? How does it help you grow closer to Mary and, through her, Jesus?
Growing up as a cradle Catholic catechized during the post-Vatican II late 1970s/early 1980s, I'll admit the Hail Mary was often seen as a complement prayer to the Our Father in which you honor both your parents. However, as a child, teen, young adult, there often wasn't a lot of thought put into saying the words. And the Rosary? That was only said at funerals or by grandmotherly women.
I learned how to pray the Rosary and always felt restful, calm, in its meditative rhythm, but I didn't begin to develop a sincere love for it until I discovered that my maternal grandmother said it every day of her adult life in memory of her own mother, who died when my mother was an infant. Suddenly that knowledge transformed the Rosary into more than a repetitive meditation; it connected me in a deeply personal way not only to my own grandmother, but also to Our Lady.
While I don't pray it every day, the Rosary is my prayer when I'm struggling with faith or when my life tries to spiral out of control. Who better to intercede for me with Christ than his own perfect mother, who not so gently directed him to perform his first miracle at Cana. Mothers are powerful people. Somehow, things seem to work out for the better when I'm putting the effort into praying the Rosary.
Your reflection was on the word OF. Tell us a bit about what this word means to you in the context of the Hail Mary.
Well, to be honest, I was pretty intimidated by the word "OF" Seriously, Sarah? You gave me OF? I prayed for days, begging for inspiration before attempting to put my own words around it.
And the Lord works in such mysterious ways. Sarah, you gave me the "of" from "hour OF our death." Within eight months of praying over that phrase, resting on that word, and writing that post, my beloved grandmother who prayed the rosary every day until dementia robbed her of the words came into her final days and the hour of her death.
The night before our grandmother's death, Lisa (my sister) and I took a turn sitting at her bedside so our mother could eat dinner with her brother. As we sat there, silently holding Granny's fragile hands, we began praying the Rosary together, for her and on her behalf for her mother, the great-grandmother we never knew. The next morning, in that hour of her death, there were four people - four mothers - in that room: my grandmother, my mother, myself, and Mary holding onto all of us.
What's your top tip for slowing down as you pray the Hail Mary...or any prayer, for that matter?
Five or six years ago, a lady at my parish introduced me to the Lectio Divina and since then I've found a lot of value in slowing down, being still, listening to the both scripture and prayer. One phrase, one word, one breath at a time. Sometimes you just listen for that one word to get stuck in your mind, get stuck in your heart. You hold onto that one word; savor its place in the greater scheme of everything whirling around.
Since participating in this reflection project with you, I've often prayed not just the Hail Mary, but other daily prayers with a slow deliberateness, allowing myself to rest in just one word at a time.
*
Be sure to visit Shelly at Of Sound Mind and Spirit, where she's part of the Amazing Blogging Catholic Sisters (my term, not theirs). If you want a place to start, I suggest "Mary in the Front Seat" or "Glory awaits us at the end of a difficult journey." If you want to read more about Shelly's grandmother's passing, her sister Lisa wrote a lovely post here.
If you're interested in purchasing Word by Word, consider stopping in at your local Catholic bookstore first. It's also available online, and if you use our Amazon link, CatholicMom.com gets a small percentage of the sales.
Copyright 2015 Sarah Reinhard
About the Author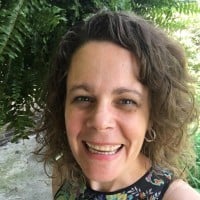 When she's not chasing kids, chugging coffee, or juggling work, Sarah Reinhard's usually trying to stay up read just one … more … chapter. She writes and works in the midst of rural farm life with little ones underfoot. She is part of the team for the award-winning Catholic Mom's Prayer Companion, as well as the author of a number of books. Follow her writing at Snoring Scholar.