When I began the project of looking closer at the Hail Mary on my blog many years ago, I never dreamed it would be a book. That project inspired a whole new way of praying for me, and it made me slow down.
The book inspired by the blog series, Word by Word: Slowing Down with the Hail Mary, is now available, and I'm excited to share more from some of the contributors who have agreed to be interviewed here.
In Word by Word, each contributor wrote a brief reflection about every word of the Hail Mary. The idea was that, in reflecting on the prayer one word at a time, we would all slow down and pray it differently, more meaningfully, and closer to Jesus.
Karen Edmisten's no stranger to the rosary. She is, in fact, the author of one of my favorite books about the rosary, The Rosary: Keeping Company with Jesus and Mary. In addition to being an author (she has a few other books too!), Karen's been blogging since 2005, and as near as I can tell, she's as fun to read now as she was then. :)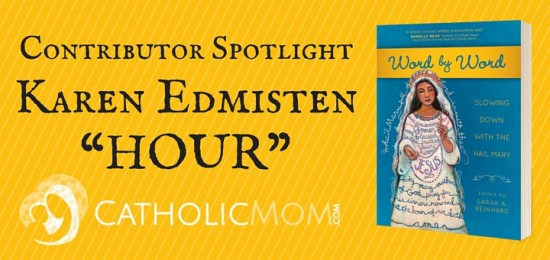 Karen, what's your relationship with the Hail Mary as a prayer? How does it help you grow closer to Mary and, through her, Jesus?
The Hail Mary seems to always be with me in one way or another. As a convert from atheism to "mere Christianity" to Catholicism, for a long time I had no real relationship with the Hail Mary (or with the Blessed Mother) at all. But, once I became a Catholic, I tried praying the Rosary. I was tentative at first, not sure that I liked it or that it "did anything." But bit by bit, I not only grew more comfortable with the prayer, I grew to love it, because I grew to love Mary.
The Hail Mary draws me closer to Mary because when I pray it, I feel as if I'm simply talking to her. It's a friendship, a mother-daughter relationship, an intimacy. That feeling in turn draws me closer to Jesus because it feels as if Mary is always whispering in my ear, "Yes, I will pray for you ... He hears me, and He hears you."
Your reflection was on the word HOUR. Tell us a bit about what this word means to you in the context of the Hail Mary.
Life, though often beautiful, joyful, and delightful, is also challenging, difficult, and sometimes painful. The best approach to life for me is to take it a moment -- an hour, a day -- at a time.
I loved reflecting on the word "hour" partly because of that -- I often remind myself that I need only handle the next hour the Lord has put in front of me. I don't have to figure out the rest of my life (or my family's) at this very moment, I just have to give Him my "now."
But I also wanted to reflect on the word "hour" in the context of "the hour of our death." When I pray those words, I am also asking Mary to pray that I make the best possible use of every hour of my life, to pray that I will truly turn every hour over to Jesus.
What's your top tip for slowing down as you pray the Hail Mary...or any prayer, for that matter?
First, I remind myself that I won't always pray it slowly, and that's okay. :) But the value in slowing down is that meditative, contemplative prayer is like an in-depth conversation with a loved one. It deepens and strengthens the relationship, and it's worth the time and commitment it takes.
My top tip is to do just what you've done, Sarah, with Word by Word: choose one word to focus on for a given amount of time (a week, a month, whatever you choose), and every time you pray the Hail Mary, reflect on that word, as you pray, and throughout the day, whenever you think of it. Ask the Lord what He wants to convey to you through that word. He always surprises and amazes me.
*
Karen's blog is an endless source of amusement and good reading, as are her books. Spend an hour or so poking around and see if you don't walk away with a smile!
If you're interested in purchasing Word by Word, consider stopping in at your local Catholic bookstore first. It's also available online, and if you use our Amazon link, CatholicMom.com gets a small percentage of the sales.
Copyright 2015 Sarah Reinhard
About the Author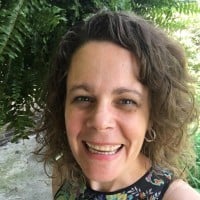 When she's not chasing kids, chugging coffee, or juggling work, Sarah Reinhard's usually trying to stay up read just one … more … chapter. She writes and works in the midst of rural farm life with little ones underfoot. She is part of the team for the award-winning Catholic Mom's Prayer Companion, as well as the author of a number of books. Follow her writing at Snoring Scholar.