"Seventeen ninety-five," a voice crackled over the intercom. Seconds later, a familiar face greeted me as I pulled around to the window. "Hey, Michele, how are you doing? Long time no see," the drive-thru attendant quipped as I handed him my credit card.
"Hey, Lino," I replied. "It's good to see you."
The Wendy's was practically across the street from my subdivision and my go-to place for a quick lunch on the go.
"Where have you been?" Lino asked.
"Oh, just trying not to eat so much fast food," I replied, a little embarrassed to be recognized as a frequent flier.
"Don't lie to me," he replied. "I know you've been going over to McDonald's instead."
"I promise I haven't been cheating on you!" I assured him sarcastically.
Although the exchange was lighthearted, as I pulled away from the restaurant and looked down at my receipt, a weighty guilt nagged at me. To feed two small kids and myself, I had spent almost enough to provide a child with meals for an entire year in places like Africa, India or Haiti through a relief organization called Mary's Meals. I'd recently been reading and learning more about this amazing organization, which was named after Mary, the mother of Jesus, who brought up her own child in poverty. What began as a small effort in a shed in Scotland now provides over a million meals a day to children in third world countries for about ten cents a meal. An in-depth story of the organization is contained in the video Child 31.
While there may be nothing wrong with an occasional visit to a fast-food joint, being on a first-name basis with the drive-thru attendant was certainly a telling sign that I needed to re-evaluate my spending and be more sacrificial in giving to the less fortunate. I decided to revive a tradition that I'd implemented a few Lenten seasons earlier and started a "Year of Mercy Jar" to do something special for the Extraordinary Year of Mercy declared by Pope Francis. I got this idea from Fr. Michale Gaitley's book You Did It to Me, in which he recommends making some sort of sacrifice and saving the money in the jar to help those in need.
To reinforce the idea at home, I pulled out a large glass jar, filled it with rice and beans and placed it on the kitchen table. I labeled it our "Year of Mercy Jar" and put the Mary's Meals website on it. It's there as a reminder to all of us, as we fill our bellies at least three times a day, that many children in the world are hungry and if they get the opportunity to eat, it's a very simple meal of beans and rice. I took a second jar to collect money from small sacrifices we will make this year and placed it on my kitchen window next to my Divine Mercy Image and the Prayer of Divine Transformation from the Diary of St. Faustina.
To appreciate this point even more, I tried making a simple rice and beans meal for our family lunch this weekend. I have to say, I was shocked at not only the difficulty in reconstituting dried beans but also the amount of work required to make a very below-average-tasting meal! Even adding olive oil, garlic, butter, salt and pepper (all ingredients I am sure are not readily available in third world countries) didn't make it fantastic, especially for something that I had to start making the night before. It really helped me appreciate the comfort and ease of the lifestyle I am afforded here in the United States.
This December, we will begin to celebrate the Year of Mercy. I plan to sincerely reflect upon and rediscover the call of Pope Francis contained in the papal bull of Indiction, "Misericordiae Vultus." In it, our Holy Father asks us to open our eyes to the misery and suffering of the world and to reach out and help support them. He writes, "May their cry become our own, and together may we break down the barriers of indifference that too often reign supreme and mask our hypocrisy and egoism."
I pray that our families' little sacrifices this year may help change our hearts and that we do them with great love. As St. Faustina Kowalska writes in her Diary, Divine Mercy in My Soul, "Love is the measure of our deeds. Only love gives value to what we do. I can change little, inconspicuous things into great things in the eyes of God. The purer one's love, the greater its disinterestedness and readiness to make sacrifices for others." (146)
What is your family planning on doing for the Year of Mercy?
If you are interested in participating in this project, you can do this at home with any recycled jar and download and print your own Year of Mercy Jar Labels.
May love and mercy reign in all our homes this year and always.
Copyright 2015 Michele Faehnle
About the Author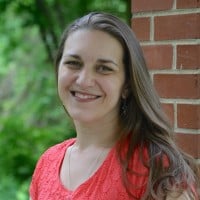 Michele Faehnle is a wife, mother of 4 and a school nurse. In her free time she enjoys volunteering for the church and is the co-chair of the Columbus Catholic Women's Conference. She is also the co-author of The Friendship Project, Divine Mercy For Moms, Our Friend Faustina and Pray Fully; Simple Steps to Becoming a Woman of Prayer. Read more of her work at InspireTheFaith.com.