Welcome to our 33 day Marian Consecration Retreat as we prayerfully anticipate the commencement of the Year of Mercy. Join us as we share the book 33 Days to Morning Glory: A Do-It-Yourself Retreat In Preparation for Marian Consecration by Fr. Michael E. Gaitley, MIC.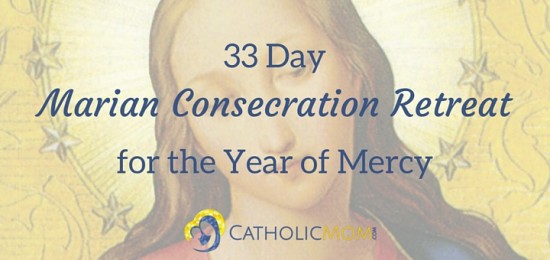 Today's Reflection:
While waiting to bring our daughter home from China, I had one very troubling thought. Would I be able to love this little girl in the same way as I loved my two biological sons? Remarkably, that concern was immediately erased the moment they brought Faith into the room and I met her for the first time. A mother's heart can not help but love.
In today's reflection, "which concludes the three days of 'Mary's spiritual motherhood retreat," Fr. Gaitley reminds us that Mary was not given to us by Jesus from the cross collectively but individually. Mary is YOUR mother. If I, lacking the fullness of God's grace, can manage to love my adopted daughter so thoroughly, how much more so can Mary, who is full of grace. As Fr. Gaitley eloquently states, "she doesn't lose us in the crowd."
To Ponder:
How does seeing Mary as YOUR mother impact your relationship with her?
Let Us Pray:
Hail Mary, full of grace, thank you for accepting me as your child. Thank you for loving me and guiding me heavenward by leading me to your Son.
Copyright 2015 Allison Gingras
About the Author