One of my favorite parts of Christmas is receiving Christmas cards. It is so nice to get something other than bills or junk in the mail. People who are dear to me but that I do not see anymore, I hear from at Christmas with a card and often a picture. I decorate the hallway with the greetings we collect.
But after Christmas, I always hated just throwing all those holiday wishes and Christmas blessings into the recycle bin.
So, a few years ago, we began a new tradition. As I took the Christmas cards down, I placed them in a basket. Every night, one of the children would draw a card or two from the basket. Then, during family prayers, we would say an extra prayer for the persons/families who sent us those cards.
The added bonus for us is that the Christmas season gets extended to at least Candlemas, which celebrates the Presentation of our Lord at the Temple 40 days after his birth. Though all the other decorations have be longed packed up and the Christmas tree has become kindling, we leave one Nativity scene up until then. Thus, we celebrate Christmas for as long as we prepare for Easter during the season of Lent. It makes for a nice balance of liturgical life.
I receive many pictures either in cards or as cards. I enjoy seeing how much other children have grown in a year and wonder if others are looking at our family picture with the same awe. All the pictures I receive, I place in a photo collage in my room to remind me to pray for those who are dear to me all year long.
One last thing, cards with religious images I cut in half along the fold, place the picture part in a lunch bag, and store the bag away. Then, during Advent the following year, the children can use them to make cards for people in nursing homes, shut-ins, or our soldiers. It's a great way to recycle Christmas cards, and encourage the children to remember others during this season.
How about you? What do you do with your Christmas cards?
Copyright 2015 Kelly Guest.
About the Author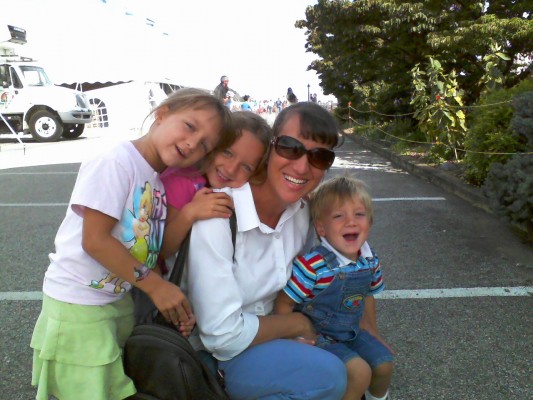 God has given Kelly lots of wonderful opportunities to follow Him. She was a Dominican Sister of St. Cecilia in Nashville, an education coordinator for a Catholic Charities' program for pregnant teens, a middle school teacher, a director of religious education and is now a youth minister. Her most challenging and rewarding calling, though, is wife and mother of ten children. What she has learned, she blogs at CatholicMom.com.