December 8 began the Year of Mercy, and indeed as we read the Old Testament Mass readings during Advent so many of them remind us of all that God will do for us. The world that is described is one of peace, justice and mercy. A world overflowing with God. All that is needed for this to happen is the coming of the Messiah.
And yet, he has come and possibly, we are not paying attention. God sent many prophets and then John the Baptist, but we kept missing Jesus. Even as he walked in our midst, we missed him!
During this Advent season, are we missing Jesus? Since September stores have been filled with Christmas, the consumer Christmas that focuses on buying as the main way to prepare for Christmas. We know that buying is not how to prepare for Christmas. We prepare, as the Sisters taught us in elementary school, by making room in our hearts for the little baby Jesus. And he is going to give us the greatest gift ever, our salvation. We cannot buy our salvation at the mall. But we can prepare for it, by taking the time to focus on the Incarnation of Christ. Not only does the Incarnation lead, ultimately to our salvation, it also reminds us that in that moment of God becoming man the human and the divine meet. And the world is forever changed.
Advent is a time of preparing to be changed. Preparing to be awed and amazed by the greatest gift. Look for John the Baptist in your life and listen to him. Do as John says and prepare. However, the way to do that is the opposite of what the world tells us. We must be still, not scurry around. We must listen, not talk. We must expect something extraordinary will happen on Christmas and that it's not what you bought at the mall.
Let us pray that we spend our Advent season in prayerful anticipation of the Incarnation, the gift of our Savior.
Copyright 2015 Deanna Bartalini.
About the Author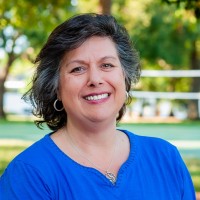 Deanna G. Bartalini, MEd, MPS, is a Catholic writer, speaker, and educator. Her Bible study, invite the Holy Spirit into Your Life, is published by Our Sunday Visitor. Her website, DeannaBartalini.com, is for the Every Day Catholic. There you can find Deanna's writing, free webinars on Catholicism, her podcast and social media services, and invite her to speak to your group, in person or virtually.