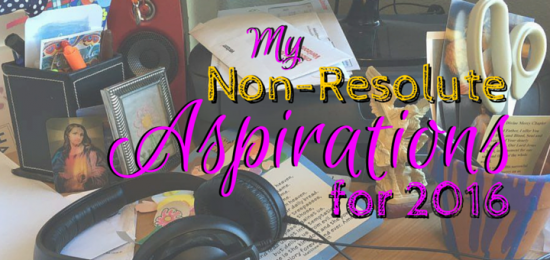 I'm not a big "New Year's Resolutions" girl, mostly because I refuse to set myself up for discouragement, disappointment, and disaster. In an effort to avoid full-on failure and embarrassment, I've comprised, in no particular order, nine reasonable aspirations that I'd like to attempt in the new year. So, without further ado, in 2016, I aspire to:
Mail our family's Christmas letters before the end of the Christmas season. I've got six more days until the Baptism of the Lord, folks. I know I can do it! Speaking of correspondence, I would really like to write more cards, notes, and letters than email, texts, and private messages this year. While it might not be a practical notion, I have a feeling sending snail mail to friends and family will be infinitely more fulfilling.
Keep doing the things that work. If it ain't broke, for the love of God, may I not inadvertently complicate things to the point where I – or someone else – must fix them. In our household, we've got systems down for (among other things): getting ready for school the night before, family prayer, meal-planning, grocery shopping, kids' chores (mostly), regular reception of the Sacraments, and I'm getting closer to nailing down a regular routine for laundry. These are all good things. Let me, please, Blessed Mother, keep them that way.
Try to stop doing the things that don't work. I consume too much sugar and not enough fruit and vegetables. I don't get enough exercise. I don't schedule enough time to recreate and rejuvenate. I have too much clutter in my office area and my bedroom and my kitchen counters and my garage. I spend too much time in the minivan. I don't get to Adoration nearly as often as I need. These things are not, not, not working for me. Through the grace of God and the intercession of all the angels and saints and blesseds, I will try to do something about them in 2016.
Sing, dance, and count my blessings more than I yell, idle, and complain. In other words, I aspire to cultivate joy and gratitude in my thoughts, words, and actions while leaving any angry, out-of-control, or negative feelings and behaviors behind.
Soak up complete and utter silence for at least 15 gloriously peace-filled minutes each day. I would love to aspire to 60, or even 20, but that's not a reasonable expectation at this season in our family's life. So, 15 anointed minutes it is. And if I get more, hallelujah for me and my kin!
Have as much mercy upon myself as I have on others. I went to Confession three times before Christmas Day this year; don't worry – this doesn't mean I'm holier than you – actually, it's likely quite the opposite. Anyway, as my penance, one priest told me that I was to work on being more merciful with myself. I am still trying to determine exactly what that means in practical terms, but since Pope Francis has us celebrating the Jubilee Year of Mercy, I plan on giving it a go. Perhaps creating this list of reasonable aspirations versus unattainable resolutions is step number one?
Spend more one-on-one time with each of my kids and my spouse. We got better at doing this last year, but I think we need a more formalized plan. I aspire to work with my husband to make this happen; we would appreciate your prayers!
Read and write and hang out with people more just for fun. As a recovering Type A / perfectionist, I struggle with doing stuff just for kicks, especially when my to-do list is constantly birthing more lists. And yet, as fulfilling as crossing items off my list du jour can be, there's nothing like devouring a deliciously written book, pouring myself out onto a blank page without a looming deadline, and spending time with friendly faces just because it's enjoyable. Let's have a little more fun in 2016, shall we?

Not go more crazy this year than I did in 2015

. In fact, if we could keep the "crazy" to a dull roar in 2016, I would be able to count it as a success. Achieving this, I think, will have something to do with praying first, committing less, and loving more. We shall see. Ready or not, 2016 – I'm comin' for ya.
How about you? What are the things you're aspiring to in the new year? I'd love to hear your ideas in the comments below!
Copyright 2016 Heather Renshaw.
About the Author

Heather Anderson Renshaw is a wife, Mama (x5) and on-fire Catholic revert. She's a national speaker, author/writer ( Death By Minivan, Real Catholic Mom, All Things Girl: Truth For Teens, Take Up And Read), nap-craver, kitchen dancer, minivan singer, coconut milk latte drinker, and laundry avoider. Heather prays all may experience the healing power of Divine Mercy so they can rejoice and be free.