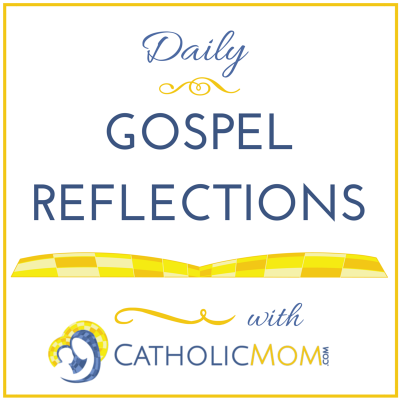 Today's Gospel: Luke 4, 14-22
Imagine, just for a moment, that you are in your own past on your darkest day. Imagine that the doubt, anxiety, loneliness or grief of that day is, instead, fog. The cold, misty air and dire uncertainty surround you. You long so desperately for warmth and clarity that you expect, because it appears so distant, that perhaps it might never come. You long to be redeemed.
Then, a promise cuts through the fog—a promise from the voice of redemption you have longed for. It says, "He has anointed me to bring glad tidings to the poor." You.
Or is it?
You've waited so long, can you be sure the message is for you? Perhaps it is for someone else? The voice promises to proclaim liberty to captives, recover sight to the blind, and free the oppressed. As that cold, misty air disperses with every word, you see Christ. But He looks different than you expected, perhaps from what you wanted.
"These promises are nice," you think, "but My Savior, He was supposed to be something else."
Today, how often do we approach Jesus's words to us in this way, as incomplete for us not because we truly need something else, but because we wanted or expected something else? This is not unlike the people in today's Gospel, who hear but reject because Jesus was all too familiar to them as a carpenter's son.
"Today this scripture passage is fulfilled in your hearing." What a shock it must have been to those listening! They were impressed certainly, but not open. Christ desires to fulfill every one of our hopes, though He may not do that in the way we expect. To have them fulfilled, we must be open.
Ponder:
Have I truly opened my heart to all that Jesus desires to give me, or have I remained open to only what I expected or hoped He would give me?
Pray:
Lord Jesus, open our hearts to You and everything You offer us. Lead us past our presuppositions to what You desire to give us, and help us to use those gifts to fulfill Your holy will in our lives and in the world.
Copyright 2016 Jennifer Huerta
Jennifer Huerta lives in Fresno, CA with her husband, Stephen, and goofy, almost 2-year-old, Peter. She has worked in grant writing, public relations, and stewardship, but is currently focusing on her own Ecclesia Domestica. She is actively involved in her parish's mothers' group ministry and in baking to avoid housework. An NFP instructor-in-training, Jennifer sometimes remembers to blog at jenniferhuerta.blogspot.com.
About the Author