When our children were younger and in youth group, one of the leaders had this pat answer for all the teens' woes and groans: "offer it up!" The kids would just laugh and think about Jesus for a second and then go on groaning and complaining. The intentions were good, however, but I never thought that very many modern-day teens had the capacity to understand and really get the whole offering up thing in their young and very self-centered lives. Myself, included, with the surrendering of control and lifting up pains and tribulations to the invisible; it can be fairly daunting. A chosen, precious few can do this...they are gifts to society.
Recently, I completed the "33-day Marian Consecration Retreat" along with several here at Catholic mom.com and each day, I have been given a gift of new understanding about Mary with each read. The decision to dedicate myself to Mary means to be surrendering all, my whole self to her as the Theotokos, Mother of God. Surrendering my prayers, good works, thoughts and actions, emotions, even those around me that I love. As a mother myself, I understand how she would feel as one of us enduring a trial would go to her and know that as the mother, she would help....I know that what I pray for is not always in God's plan and will, so offering up my prayer to my heavenly mother makes sense. Letting Mary distribute my prayers to the most needy and for the purpose directly in God's plan. Different way of thinking of things, but it makes sense, surprisingly.
As of this year, I have been praying more urgently for our youngest daughter who is the "Girl in a War" during the past year or so, but especially exploding as she turned 18 last December. She has turned away from God, turned away from many other good choices in her life that her father and I had thought we instilled in her and her siblings' hearts. Almost every Mass is offered up for her and a rosary said every morning, a Divine Mercy chaplet prayed in the afternoon in the hour of 3 pm...nothing is happening yet; she isn't even softening...she is just still determined to refuse God. I'm sad, and losing hope.
During Mass last Sunday, I thought about how I receive the Eucharist for myself as food for my daily life and getting through life with His help. I wondered, Mary is the mediatrix between us and Jesus, her son. She bore him, took care of him, loved him and was the first to believe in Him, was His first disciple, if you will. We pray the rosary, ask Mary for her intercession, we rely on her to help us grow closer to her Son through prayer and I'm wondering...
As my daughter's mother, I nursed her for 18 months, what went into my mouth was later fed to her through my milk. I gave her nutrients that she needed to grow strong and healthy. I was thinking...If I am receiving the Eucharist into my body, and as her mother, continue to love and care for her, ...could I spiritually be giving her the Eucharist through my love and prayers? Could I receive the Eucharist into my body, and through my prayers and constant concern and love for my daughter's spiritual welfare be giving her Jesus from the Eucharist I receive?
Copyright 2016 Ebeth
About the Author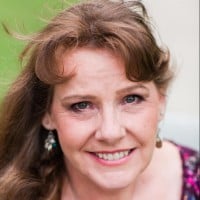 Ebeth Weidner, a Master Catechist and cradle Catholic who considers herself a Catholic information junkie, writes from her heart about the faith and hope she finds in the Catholic Church. She is the author of "A Catholic Mom Climbing the Pillars" blog. She is the wife of a research science Professor and mom to 3 great young adults people living on the coastal side of North Carolina.