These words were written for the musical Les Miserables: "God on high, hear my prayer." The character, Jean Valjean, is pleading through his prayer to please hear his plea to save the life of his adopted daughter's fiancé, Marius. I love how Herman Kretzmer chose to write this song in the form of a prayer. In the song Jean Valjean tells God that he is old and has lived his life and asks God to take his life in exchange for that of Marius. "In my need, you have always been there." He is telling God that he trusts that he will be there whatever happens. In other words, "Thy will be done."
Do we recognize the need for prayer in our lives? Do we try to putting our trust in prayer? Most important, do we add when we pray, "Thy will be done." The truest sign of love and trust is letting go.
Nowhere is there a more exact sign of trust than at the moment we are dying. It is the true definition of trusting in God. I read a story on one of the blogs about a woman who was fighting a cancer disease. She was leaving behind two children and a devoted husband. For two years she was devoted to fighting to live. Eventually, she learned she had only days left. On that final day she wrote a letter begging everyone to help her husband deal with her loss--and not just immediately, but going forward. She asked that her friends and family be there for her children whenever they saw them experience difficulties. To all the mothers she left behind, she asked that they please be mindful when around her children and help mother them, especially if they witnessed a moment of need. She thanked everyone for their help over the past couple of years. She said goodbye and wished everyone well. Essentially, she had to let go, and trust God.
I remember watching an old movie once that told the story of a young minister, Norman Vincent Peale. I specifically remember a scene where someone had suffered a loss from a death and he had to help them deal with death. He described death using the analogy of birth. The baby is safe within the mother's womb. The baby has to go through the birth canal and be delivered into the next world. It takes courage and trust to be born. The baby enters the world scared and alone and crying until the mother holds the baby surrounding them with unconditional love. Dying is the same. We fight to hold on to our safe world; the one we know and love. But then we have to die and let go to enter the next world. It is a powerful love of God that is there to greet us when we let go. It takes trust and love and courage to do this.
Prayer itself is a commitment based on trust, love and faith. My four-year-old granddaughter attends a Catholic preschool and she is learning about prayer. Every time I hear her say her prayers I can't help but feel how happy God must be to witness such trust from a four-year-old child.
It's hard to trust in God. We have all been witness to moments that we wonder where He was when a particular event happened such as the shootings and deaths at Sandy Hook Elementary School in Connecticut or the Aurora Colorado Theater or the community college in Oregon, for example. How do we find trust in God during these types of events? "Trust is not a passive state of mind. It's a vigorous act of the soul by which we choose to lay hold on the promises of God and cling to them despite the adversity that at times seeks to overwhelm us." Jerry Bridges (Trusting God: Even when Life Hurts)
I guess for me the one thing I am grateful for is being able to trust in God. I can't imagine getting through difficulties without relying on that trust. Perhaps that is why the song has meaning for me. "In my need, He has always been there!"
John 16:33 "I have told you these things so that in me you may find peace. In this world you will have difficulties, but be courageous. I have conquered the world."
Copyright 2016 Catherine Mendenhall-Baugh
About the Author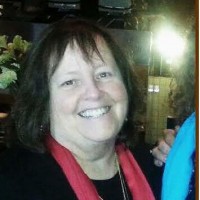 Catherine Mendenhall-Baugh (Cathy) completed her education in Special Education and English and now works as an Agent in the Insurance Industry. A mother and Grandmother, Cathy grew up in a large Catholic family and has spent the last 30 years as a caregiver for her husband, Jack. She is a cancer survivor which inspired her to begin writing six years ago.