She was my grandmother and her name was Ellen Marie LaPage Rasmussen; but those that knew and loved her called her "Nellie." She was born in March 1886. She did not live long enough to get to know her grandchildren, but perhaps together, we (and I mean you and I) will get to know her together while I tell her story.
She died on December 12th, 1932 after living with cancer for a year. Her youngest son Robert was two years old when she passed away. He is her only living child now; he will be 87 in December of this year. She also was not able to get to know him since she was still young when she died.
The first record I could find about her was when she was 14 years old. She had a brother named Edward who was a year older than her. He died from tuberculosis at the age 19. They apparently lived with their aunt and uncle, Edward and Margaret Geary. I am not sure why they had moved in with them, but her mother apparently was not a part of their lives. We did learn that the original place of origin for Nellie's mother's family was Ireland.
When she was 18, Nellie met and later married William Rasmussen. By the time she was 33 years old Nellie had seven children. My mother Dorothy was her sixth child. She ultimately would have a total of 13 children.
The few stories I learned about Nellie were limited. My mother, Dorothy, was only 17 years old when Nellie died. Their family mourned the death of Nellie and her father and exactly one year later, their father William, but it seems to me they likely internalized the hurt that these deaths caused and chose not to discuss them much. My mother did talk about Nellie's love for her children and her husband. She talked about how Nellie relied a great deal on her Catholic faith to give her strength. Nellie lost her son (Raymond) when he was a few days old from a respiratory illness. Another son, Charles, was born with hydrocephalus. Both of these situations were extremely difficult for Nellie. They added to the pressures of having so many children and keeping food on the table, making for some very difficult times while trying to keep it all together during the Depression.
Nellie's father, William LaPage who lived in Iowa, moved in with her and her growing family. He was a blacksmith and worked for the Drummond Murphy Company; they were carriage builders. William LaPage's mother, Mary Dillon LaPage, had another son named John Edward and a daughter named Mary. Mary Dillon was born in Ireland in 1845. They immigrated to Dubuque, Iowa in 1851. Mary's parents were Margaret Barry born in 1822 and married in 1844 to John Dillon, all from Limerick, Ireland. William's brother, (John) Edward, apparently died after overexerting himself while cranking his car. He passed away in 1916 at the age of 53. Nellie's father, William lost his leg in the big tornado of 1913. He was 71 years old when he died following a stroke on December 4, 1932; one week before the death of his daughter, Nellie.
One year later, suffering from depression over the death of his wife, William Rasmussen ended his own life by shooting himself twice in the head, leaving behind 12 living children.
I never got to know my grandparents. My grandmother "Nellie" died when she was only 46, remember. It was hard on the Rasmussen family after losing their mother and then dealing with the suicide of their father, so perhaps they couldn't bring themselves to talk about them much. My own mother, Dorothy had nine children. I suppose dealing with raising a large family and all the challenges that brought didn't allow a lot of time to discuss her parents or the subject surrounding them was hurtful. Still, as the month of March approaches, which includes the anniversary of Nellie's birthday and the anniversary of my own mother's death, I find myself drawn to wanting to write about this woman I never knew, but who must have left a small part of herself in all of her grandchildren and great grandchildren.
I do know my mother, Dorothy loved her mother, Nellie very dearly. I know she learned a great deal from her, especially about being strong and looking to God and her Catholic faith when things were hard. She remembered her mother always carrying a rosary. This seems to be the one consistent thing that my mother remembered and practiced herself. The few times she spoke of her, it was with a great deal of fondness. She called her "mama" and she called her father "papa."
[tweet "It's important to write about people who've contributed to your life, even if you never met them."]
Why is it important to write about people who contribute to your life in some meaningful way even though you never had the opportunity to know them? The primary reason I think is that we are all connected to each other in some way and we are all on that same journey we call life. Each life brings lessons. I know now, I want to thank Nellie for the gifts she gave our family and the faith she encouraged everyone to embrace. Maybe I can also appreciate that even though my grandparents lived through some very challenging times, they blessed all of their grandchildren and great grandchildren with their obvious devotion to each other. It's a legacy that was passed onto all of Nellie's family for which I am truly grateful!
Copyright 2017 Catherine Baugh
About the Author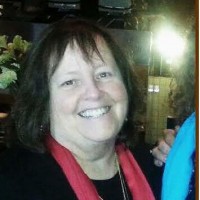 Catherine Mendenhall-Baugh (Cathy) completed her education in Special Education and English and now works as an Agent in the Insurance Industry. A mother and Grandmother, Cathy grew up in a large Catholic family and has spent the last 30 years as a caregiver for her husband, Jack. She is a cancer survivor which inspired her to begin writing six years ago.