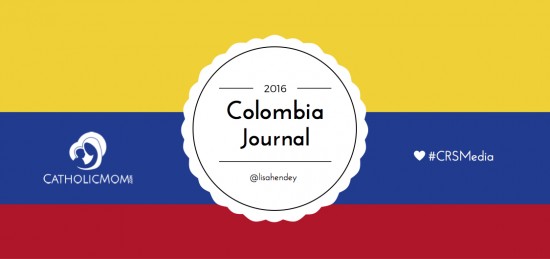 I find it astounding when I pray the daily gospel how often a day's scripture from the Liturgy of the Word will provide thematic blessings for wherever God plants me that day. This morning, when I read the first reading from 1 Samuel, I smiled, privately thanked God, and went about the busyness of getting ready for the day. The fun and activity started bright and early here in Pasto with a short interview on the Son Rise Morning Show. I can't say I gave the day's reading sufficient meditation time. This was one of those "pray on the go" kinds of mornings.
We were quickly bustled off to a meeting at Carcafe, a coffee organization which is in partnership with CRS's Borderlands coffee project. At Carcafe, we were given a very thorough overview of the dry mill. This is where the beans which are ready for sale are cleaned, quality assessed, processed, bagged and prepared for shipment. It was quite fun to see this process after meeting so many coffee producers. I could look at the huge bags of beans and mentally picture Fidencio, nurturing his coffee plants, harvesting the beans, and drying them on the patio outside his bright pink house in the mountains. I could picture Christian, who had "cupped" the beans on the front end. And then I could imagine my husband and myself, back in Fresno, sipping our morning coffee. Somehow, having this sense of the entire process truly connects a circle in my brain. No longer will I mindlessly down my morning fix. I believe it will now be impossible for me to drink coffee without smiling at the memory of the many hands and hearts that bring my favorite beverage to my home.
At Carcafe, we met a team of young engineers who are a part of the organization's process of working directly with farmers to improve not only their yields, but also their lives. Carcafe's various programming initiatives are a part of their partnership with CRS's Borderlands project. Again, we saw the direct connection between Rice Bowl funding (made possible through our Lenten almgiving) and support to these farmers to help them vastly improve their families' lives.
After our tour of the Carcafe dry mill, we moved quickly to our next location: Villa Loyola in Chachagüí. The drive was a bit of a blur because we were (as usual) a bit tardy. This was significant because today was my day to participate in a brief interview on EWTN's great News Nightly program. Host Brian Patrick has been a great mentor for me personally, and I was hoping to do my very best to capture a small bit of what we have experienced here in a way that would do justice to CRS's mission here in Colombia. Gratefully, Sherry Brownrigg, PR professional extraordinaire, was on hand to help me prepare mentally and physically. She helped me set up Skype, helped me avoid being nervous about the at least thirty active beehives over my head during filming, and even helped me by doing some basic makeup! The interview was brief, but a great blessing. I won't likely see it, but I hope some of you did and that it might inspire you to participate in Rice Bowl this year.
After the interview, the true fun at Villa Loyola began. We had a great (delicioso!) lunch with Fr. Joe and a tour of the amazing farm at Villa Loyola. I wish I could more accurately set the scene for you... Villa Loyola was a gift to the Jesuits 100 years ago. The Villa building where we dined includes a chapel, dormitories, meeting rooms and classrooms, and a beautiful sacred art collection. The building itself was constructed in 1925. It simply screams history...
Fifty families live in the area surrounding the Villa and work together to farm a variety of crops including avocados, bananas, corn, bamboo, and of course, coffee on the Villa Loyola properties! In fact, the coffee coming from this all-organic operation is highly rated and award winning. Fr. Joe gave us a personal tour and also a comprehensive overview of the organic fertilization process they use. I cannot even begin to explain the full process, but Padre trained us in the way that he trains coffee producers to employ volcanic rock dust, microorganisms, and other natural components to create a recipe which vastly improves coffee yield and quality. Fr. Joe, who is also the president of a 1,300 student K-12 Catholic school and the president of a foundation, took the entire afternoon with us. Clearly, this man is living the environmental principles Pope Francis wrote of in Laudato Si'. But more importantly he is teaching his neighbors and their families to farm and to live in union with God's creation in a way that is both sustainable and successful. Many in this area have turned away from coca trade to licit crop production with Fr. Joe's education, encouragement and example.
Our tour of the stunning grounds at Villa Loyola left me wishing for a weeklong retreat in this amazing place. My photos (which I plan to share next week when I have better wifi) won't do the majesty of the place justice. Let me just say that not only did Fr. Joe convince me of the effectiveness of the organic farming solutions he teaches. He also reminded me to look carefully at how I embrace my own vocation. Fr. Joe is a priest, an educator, a leader, a farmer, an award winning specialty coffee producer and a friend to many. He grows crops, but more importantly he helps people grow. And he does it with a joy, a passion, a mental curiosity, and an enthusiasm which are infectious.
At the end of our tour, it was a wonderful treat to have Mass celebrated by our own Fr. Rafael Capo in the Villa's very simple chapel. As Sherry Brownrigg professed that first reading and the Psalm, I realized with tears in my eyes that "Here am I, Lord; I come to do your will". Those words from today's Responsorial Psalm, now had an even deeper meaning for me. Fr. Joe is clearly a man who is following God's will for his life in a dramatic and creative way. But you and I are called to no less... God's capacity to amaze, to inspire, and to call us to adventures beyond our wildest imagination calls for our very best "Yes". Whether that unfolds in the mountains of Colombia or in my little suburban laundry room, God's call challenges us daily to be a part of loving this world and her people.
Please join me in praying through the intercession of Colombia's patrons Our Lady of Chiquinquirá, St. Louis Bertrand, and St. Peter Claver for the success and safety of our journey.
For more information:
Copyright 2016 Lisa M. Hendey
About the Author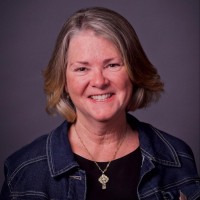 Lisa M. Hendey is the founder of CatholicMom.com, a bestselling author and an international speaker. A frequent radio and television guest, Hendey travels internationally giving workshops on faith, family, and communications. Visit Lisa at LisaHendey.com or on social media @LisaHendey for information on her speaking schedule or to invite her to visit your group, parish, school or organization. Visit Lisa's author page on Amazon.com.