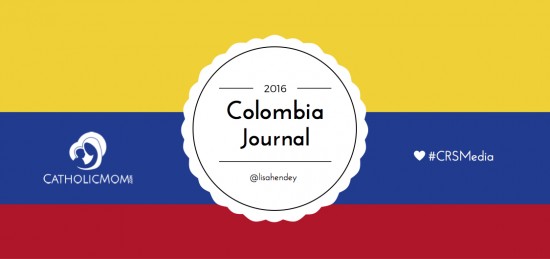 Do you ever daydream about what heaven will look like? I do... frequently! And when I have those daydreams from now on, paradise will look a lot like the places we visited today in Colombia. And there will definitely be coffee everywhere!
The first full day of our #CRSMedia trip began with a pre-dawn wake up call. It was very interesting to see the busy streets of Pasto (and her population of 300,000+) completely void of traffic! If you venture out at almost any hour of the day, the city streets are filled with folks walking from store to store, motorcycles zipping around (and the kids here learn to drive at around age 14!), and small businesses selling everything from pastries to cell phones (one guide told me today that 98% of Colombians carry them!)
We left early because our first destination was a long distance from Pasto. The first 90 minutes of the trip were along windy mountain roads with breathtaking views over steep cliffs. I thought that was exciting! Praise God for our driver Andreas, who knows these roads so well and took extra care in the misty weather! After a quick coffee break, I then learned that the roads we'd been on were mild! We turned on to a series of rocky dirt roads which led us up and up and up into the most amazing terrain I've seen in a long time: Coffeelands!
What we call "coffeelands" here is an almost rainforest like climate, an eco-system that is perfectly suited for growing the prizewinning coffee lots that come from this area. As we ascended, the vegetation along the side of the road grew more and more dense. We learned quickly about "panela", a sugar cane like substance which grows like a weed in these parts. We also had a close up look at some of the many other crops growing along those amazing mountains.
About ten minutes from our first stop in Lineras, we had to make an unscheduled stop for my fellow traveler Drew Mariani to take an interview call. The purpose of our trip here is to share the work of Catholic Relief Services in Colombia, so Drew's chance to share our stories is just one of many interviews we will all do this week. It felt perfectly fitting that we made this unscheduled stop at the home of "Socorro", a lovely lady who allowed us to plug a wifi hotspot into her electricity so Drew could skype into his call! There we were, standing on the side of a dirt road, staring off the edge of a cliff filled with panela, skyping! To pass the time, we chatted with Socorro. When we asked the name of her adorable collie puppy, she answered, "Lassie"! The front area of her home was filled with the gorgeous flowers she cultivates.
With Drew's call finished, we were soon at our first stop for the day: the coffee plantation of Fidencio Chamorro who is a shining star in CRS' "Borderlands" Coffee project. Before coming to Colombia, I had seen and shared a video of Fidencio and his award winning specialty coffees. As a result, I was a bit "star struck" when I met this amazing young coffee entrepreneur in person. Fidencio led us along the "commute" to one of his three plots of coffee plants, where he is growing beans that have won international awards and are now available for purchase through Intelligensia Coffee. There will be so much more to say about this project, for tonight I simply want to share that not only did Fidencio share his passion for his work, but also that he and his son Didier and lovely wife welcomed us into their home for a fantastic mango beverage. Standing on his property, looking at the crops and soaking in the amazing Colombian scenery, I felt a true sense of not only God's majesty but also of the vast potential for people of every circumstance to truly shine. Fidencio has benefited from the leadership of CRS' Borderlands Coffee Project. The dignity of the work he does each day not only provides a lovely home for his family, but also security and a bright future for his son.
All too soon, it was time to say goodbye to Fidencio. But the good news is that our next stop was equally as impactful. We were welcomed by the students of St. Francis of Assisi Catholic School. These students, ranging in age from ten through thirteen, came in voluntarily on a summer vacation day to tell us all about their "SILC" Savings and Internal Lending Community program. I've met "SILC" participants in Rwanda and Tanzania, but these participants were the first children I've met in this CRS program which trains participants in financial stewardship. The students of St. Francis are learning cutting edge agricultural techniques to foster a next generation of coffee producers. But they are also learning advanced academic subjects through the prism of agriculture. So math is an opportunity to learn about pricing, volume, area, and other tools that will help both them and their parents. These kids gave a presentation which would have wowed any agribusiness executive. They told us of their efforts to save money to purchase starter seeds to grow specialty coffee plant seedlings. Their initial investment has yielded over 2,500 young coffee tree saplings which they are planning to sell in their community. To say these students were impressive and faith-filled is the understatement of the day. After selfies and a chance to taste the "guama" which was their gift to us, they treated us to lunch in their cafeteria!
Our next stop on today's agenda was a lesson from "cupper" Christian, an 18 year old coffee quality control expert. It was noted from an early age that Christian has a gift for tasting coffee that would rival any of the sommeliers of California's wine region. He and his fellow cuppers gave us a lesson in tasting (but also smelling!) coffee beans from two distinct regions. I will definitely drink coffee more intentionally in the future after the remarks Christian shared about the correlations between aroma, fragrance, sweetness, and acidity. But to be honest, it all tasted great to me!
Soon, it was time to face the three hour winding road drive to our last stop for the day: a meeting with Bishop Julio Enrique Prado Bolaños of the Diocese of Pasto. What was expected to be a fifteen minute courtesy call turned into a ninety minute dialogue on the role of the Church in Colombia. Bishop Enrique was lavish in his praise of Catholic Relief Services' impact in Narino. But he was also quite honest about the many challenges faced by Colombia's people. I will definitely be sharing in greater detail his thoughts on how we living outside of Colombia can act in support of and solidarity with the flock he shepherds. A great treat at the end of our time with Bishop Enrique was the chance to pray in his chapel, where a statue of St. John the Baptist from 1573 stands amidst other sacred art. Bishop Enrique sent us on our way with his blessing. To be blessed in this way by a spiritual shepherd who has such compassion for those he serves makes me want to redouble my efforts to tell the stories of the new friends we met today in "Coffeelands", Colombia!
Please join me in praying through the intercession of Colombia's patrons Our Lady of Chiquinquirá, St. Louis Bertrand, and St. Peter Claver for the success and safety of our journey.
For more information:
Copyright 2016 Lisa M. Hendey
About the Author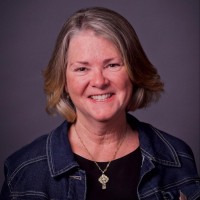 Lisa M. Hendey is the founder of CatholicMom.com, a bestselling author and an international speaker. A frequent radio and television guest, Hendey travels internationally giving workshops on faith, family, and communications. Visit Lisa at LisaHendey.com or on social media @LisaHendey for information on her speaking schedule or to invite her to visit your group, parish, school or organization. Visit Lisa's author page on Amazon.com.