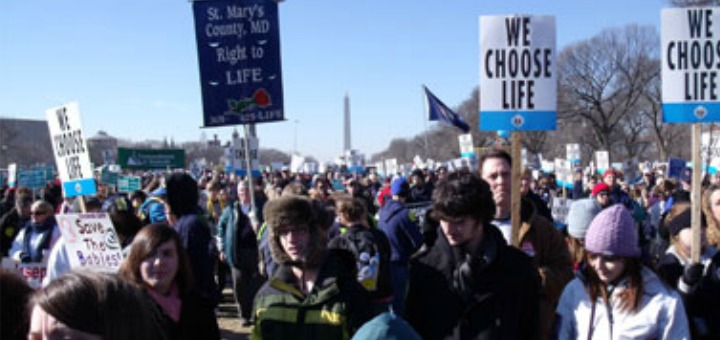 I've made the trip to Washington, D.C. many times for the March for Life with a handful of children in tow. Usually with a stoller and baby backpack. It's been raining, snowing, ice storming, and once even mild through many of these trips. One year, because of severe weather and snow, we were stuck in traffic on the highway and never made in for the march. Bathrooms are scarce. You usually have to bring your own food sources for your entire family for the duration of the march. You are also paranoid about losing a kid or two. After all, there are over hundreds of thousands of people there. And don't let me get started about parking.
Am I crazy? Yes, probably, but there is method to my madness. I think if you ever have experienced it, you will know what I mean. Here is why I go:
Primarily, I think all the suffering and sacrifices that are made for the march and its cause add weight to our prayer petitions. This is what I remind my kids when we are freezing cold, or can't find a bathroom. They get it. In those circumstances surrounded by others united in cause, it's easy to pray and to unite our sufferings for the protection of the unborn.
I want my children to experience a part of the political process. We have freedom to assemble and protest peacefully. We can also lobby our congressmen.
I want my children to experience some history. We actually pray at the Supreme Court stairs. God willing, they can tell their children that "when abortion was legal, we'd gather every year in D. C. to protest."
I want my children (and I get this benefit as well) to be fortified in hope. You can't help it. You are surrounded by thousands and thousands of mostly young people standing up for life.
So this January 22, consider some way that you and your family can take part in the Day Of Prayer For The Legal Protection Of Unborn Children.
"In all the Dioceses of the United States of America, January 22 (or January 23, when January 22 falls on a Sunday) shall be observed as a particular day of prayer for the full restoration of the legal guarantee of the right to life and of penance for violations to the dignity of the human person committed through acts of abortion. The liturgical celebrations for this day may be the Mass 'For Giving Thanks to God for the Gift of Human Life'." From USCCB
This is the designated day because it is the anniversary of "Roe vs. Wade," the case which made abortion legal in the United States. And because of this, it is also the day that the March for Life in Washington, D. C. is held.
The USCCB is having a novena in anticipation of the Day of Prayer. It's called 9 Days for Life. It began January 16th. They are offering an app, text message, or email as a way for people to participate. Consider joining thousands of Catholics across the US to pray for a Culture of Life. Go to their website.
Here are some ways that your family can participate in the Day of Prayer.
1) Pray together:
Say the Rosary today. If you have an abortion clinic in your city stop by and say the rosary there. This could be a short "field trip" after dinner. This is a type of penance—giving up some of your evening. Are there other penances your family could do? Since it is the Year of Mercy and time might be short on a Friday evening, consider saying the Chaplet of Divine Mercy together for the cause of the unborn and forgiveness and healing for our nation for this great sin.
2) Discuss at Dinner:
Depending on the ages of the children, discuss this important case. Share the reasons you are pro-life. Talk about the reasons why someone would consider himself pro-choice and what we could say to him in response to this.
3) Other activities to do:
March. If you are anywhere near Washington, D.C. you should take your family to this peaceful and prayerful protest. It is a very moving experience. There are also other marches all over the country around this time. See if there is one closer to you.
Mass. If you are not marching, it is a good day to try and make it to Mass.
Write a check. Collect a little money from everyone in the family (a true penance) then write a check to a pro-life organization. I like: Priests for Life, National Right to Life, American Life League, Life Issues Institute, Forty Days for Life, our state's pro-life organization, and our local crisis pregnancy center. There are many others. This could be done after a dinner discussion appropriate for the ages of your children. Have a teenager research some of these organizations and choose which one you will send your money to (or pay online.)
Other pro-life activities. Decide if there is something your family could do—like participate in 40 Days for Life. Perhaps this is the time to discuss if and when you can do this. Our family gives one hour a week to this. Sometimes it's just me that goes, other times we have the whole family there.
Will we ever win the Pro-life battle? We must continue to pray and teach our children the importance of fighting for this cause.
Copyright 2016 Tami Kiser; photo courtesy of the author.
About the Author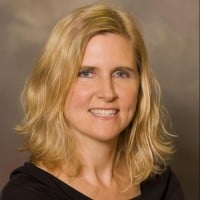 Tami Kiser is a wife, mother, teacher, author, and speaker. She runs a video production studio featuring Catholic speakers. These can be purchased or viewed on Formed. She also is the co-owner and host of a new Catholic Retreat and Cultural Center in the Carolina Mountains called Heart Ridge. She has taught everything from NFP, Zumba, cleaning toilets, Catholic crafting, the hula, bullet journaling, tap dancing, and liturgical living to Saxon Math 54 for the 10th time.