"When we draw close to the saints, we draw even closer to the Lord."
A friend of mine suffered a brain aneurysm recently. It's always a shock when something happens to someone so close to my age. My mortality is magnified. I question my priorities. I wonder if all of my efforts to be a "good person" will be enough to make me worthy of heaven, should the Lord suddenly decide to call me home.
And, of course, my heart aches for family members and friends affected by the sudden affliction of their loved one. I wish I could fix everything, but feel helpless to do anything.
So what do I do as I wait for God's plan to play out? How do I increase my trust in His care when all I want to do is ask Why?
I can cry out to God. I can offer a Rosary. But my friend's situation has inspired me to do more, and it has opened up avenues in my prayer life that I never knew existed. I've felt compelled to call in an army of saints to fight for my friend. And the weapon in which I've found the most strength and consolation is in the chaplets of the saints.
The book My Treasury of Chaplets by Patricia S. Quintiliani defines a chaplet as "a devotion of prayers centered around the recitation of a special type of rosary in honor of some member of the Holy Trinity, of Jesus Christ, of His Holy Mother, of the Angels and of the Saints." Some of the many chaplets included in our Catholic Tradition are: Chaplet of the Holy Infant Jesus, Rosary of the Holy Wounds, Chaplet of the Way of the Cross, Little Chaplet of the Holy Ghost, The Franciscan Crown, Chaplet of Our Lady of Guadelupe, Chaplet of St. Michael, Chaplet of St. Gerard, Little Flower Rosary, and St. Philomena Chaplet. Most chaplets contain various combinations of Hail Mary's, Our Father's, and/or Glory Be's, as well as special prayers of invocation related to the person for whom the chaplet is named.
I've been devoted to our Mother Mary and her Rosary for awhile now but the chaplets of the saints made me feel a bit uncomfortable when I first learned about them. Would they take the place of my daily Rosary? Should they? How do I choose which one to pray? Could I inadvertently elevate the holiness of these men and women above the holiness of Mary, or even her Son? I couldn't quite figure out where these saints and their devotions fit into my personal faith puzzle.
But, as the Catechism of the Catholic Church teaches us:
"When [the saints] entered into the joy of their Master, they were 'put in charge of many things.' (Mt 25:21) Their intercession is their most exalted service to God's plan. We can and should ask them to intercede for us and for the whole world." (CCC no. 2683)
I started to pray a Rosary of St. Anne in earnest for my sick friend. And my questions about the chaplets were answered. Most chaplets don't take much time to pray, so I never felt a saint's chaplet had to replace my beloved Rosary. As I learned more about the chaplets and who they were connected to, I naturally felt drawn to different ones for various reasons. And my fear of somehow becoming more devoted to a saint than to my Lord? I've come to realize that the saints won't allow this to happen. They are here to help us and to bring us closer to God whom they love. When we draw close to the saints, we draw even closer to the Lord.
Most of all, I find great consolation in these beautiful prayers. I feel more united to the Universal Church, I feel as if my prayer intentions have more purpose, and I feel surrounded and protected by my friends, the saints.
As I wait with patient hope for my friend to heal, I look with even greater hope to the communion of saints. They are here to pray for us and to obtain answers for our prayers--but, most of all, they are here to show us that the pain and suffering of this life is just waiting to be transformed into the joy and ecstasy of the next.
Resources
My Treasury of Chaplets by Patricia S. Quintiliani
Learn to make your own knotted twine chaplets and Rosaries with the help of http://www.rosaryarmy.com and http://www.rosarymakersguide.org/chaplets.htm
Find a variety of good quality Rosary twine at http://www.number36twine.com/
Saint medals are available at http://www.totallycatholic.com
Copyright 2016 Charisse Tierney
All photos copyright 2016 Charisse Tierney. All rights reserved.
About the Author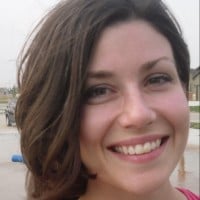 Charisse Tierney lives in Wichita, Kansas, with her husband Rob and seven children. Charisse is a stay-at-home mom, musician, NFP teacher, and a Catechesis of the Good Shepherd catechist in training. She is also a contributing author to The Catholic Mom's Prayer Companion and Family Foundations magazine. Charisse blogs at Paving the Path to Purity and can be found on Facebook.