You've finally done it. After month (years!) of dreaming of writing your first book, you've finished the last sentence. Every "I" is dotted, every "T" is crossed. You're ready to share it with the world - but do you go down the self-publish route or do you work with a publisher? This week we'll be looking at two different authors who went two different routes - Karee Santos of Can We Cana shares her experiences in working with a publisher, and I share my experiences in self publishing.
WORKING WITH A PUBLISHER (by Karee)
Now that you've dotted every "I" and crossed every "T" the hard part is over, right? Well, if you're looking for a publishing contract, your work is only about one-third done. You still need to build your network and write your proposal.
Although publishers have a lot of contacts with media outlets, trade shows, conferences, and customers, they still expect authors to bring a significant network to the table. Social media and blogging will give you a great start. When I got serious about publishing my Catholic marriage advice book, I started the Can We Cana? blog. To promote my posts, I set up accounts with Google+, Facebook, and Twitter. Totally by chance (and the grace of God!), Lisa Hendey of CatholicMom was the first person I met on social media. She introduced me to author Sarah Reinhard, and my n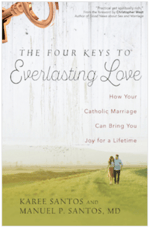 etwork started to grow exponentially. Lisa and Sarah, like a lot of Catholic women authors, do a stellar job of mentoring newcomers. Take advantage of the "old-girl network" (no offense, ladies, LOL!)
Publishers want to hear about your network in your proposal to publish your book. After seeing the book description on my LinkedIn profile, an Ave Maria Press acquisitions editor asked if I wanted to submit a proposal. When I said yes, she sent me explicit instructions on how to craft a winning proposal. Ideally, the marketing department wants to see contacts with 10 major newspaper, magazine, radio, or television outlets, plus 10 major websites, plus 20 blogs, plus 20 colleagues or potential endorsers. Yep, that's 60. When I stopped hyperventilating and discussed it further with the acquisitions editor, she said I could list 25 people by name in the proposal and indicate their connections to multiple media outlets.
Other elements of a winning proposal include:
a one-page summary of your book, like what you'd see on the back of a book jacket
your absolute best sample chapter
one-paragraph summaries of the other chapters
your qualifications and an explanation of why you are the best person to write this book
a description of other top-selling books in your category and a persuasive argument why your book offers something better, something new
Non-fiction publishers do not, I repeat, do not want to see an entire manuscript of your book. They only need to see enough to convince them that you can deliver what you promise. I followed the acquisition editor's instructions, submitted my proposal, got the contract, and The Four Keys to Everlasting Love: How Your Catholic Marriage Can Bring You Joy for a Lifetime will be published by Ave Maria Press this April. Best of luck to you if you choose to go this route as well!
SELF-PUBLISHING (by Jen)
When it came to publishing my two books, Family Activities for Lent and Easter and Our Family's Jesse Tree, I chose to self-publish vs. work with a publisher. For me, it was all driven by flexibility and speed. I was excited about each book, and doubled that excitement by knowing I could have it out in the market that same day, appearing exactly the way I wanted. Self publishing is easier than ever, and users can publish a book in a variety of ways. Here are just a few:
ETSY: Depending on the type of book you write, Etsy may be an avenue for you to sell. As both our books are focused on crafts (or, specifically, projects to share your faith with your children), offering both books on Etsy is a great solution.
GUMROAD: Another alternative is to use Gumroad, a platform that lets creators sell directly to consumers. Founded in 2011, it aims to make selling a product as easy as using social media...and it succeeded. With just a few clicks, you can upload your product and both direct consumers to the URL as well as tap into the site's existing customer base. Another perk? They offer an affiliate program, so you can easily set up accounts for anyone partnering with you on the sale of your book.
AMAZON: One of the biggest sites for purchasing books is (you guessed it) Amazon. Publishing a book to Amazon is a cinch; log into CreateSpace, check the box as to whether you are selling a paperback or Kindle version, upload your cover, upload your manuscript, and you're done! In a few days you'll receive a notice when your book is published and available for purchase.
Another perk of self-publishing is the ability to retain 100% control over the look, style, and content of the book. The amount of control you have varies by publisher, with some wanting specific styling/editing and others providing a bit more flexibility.
One drawback of self-publishing is that all marketing and promotion falls on you. It will be up to you to get the word out, share your work, find others to collaborate with and act as affiliates, etc. However, the control over this being yours does ensure that your book is pitched and shared exactly how you see fit.
Writing a book is a wonderful accomplishment, and one to be celebrated regardless of which route you choose!
Copyright 2016 Jen Frost
About the Author