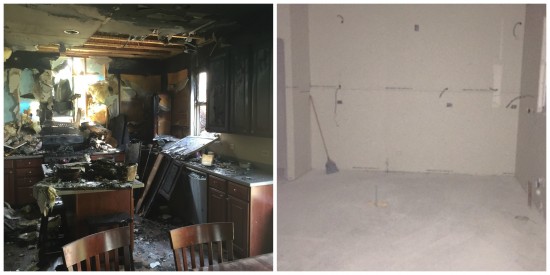 The weekend after our family experienced a devastating house fire this past summer, I remember sitting in church and sobbing. It was a church near the lake that our family would visit during summer weekends. After the fire, we traveled up to the lake because we wanted to provide a 'normal' for our children. They were used to the Grandma and Grandpa's condo up there and it was more comforting than the hotel, where we were currently living.
Our family of five just lost most of our belongings and the entire interior of our home. We were living in a hotel until insurance could find us a suitable home to live in while our home was being restored. We were looking at being displaced for the next 7-9 months. As I sat in this church, I felt greatly overwhelmed, anxious and distressed. We lost just about everything. Clothes, all furniture, kids' security items, their toys, books and clothes. How would we move on?
Our three small children were all adjusting as best they could. Our middle child was having the toughest time. I was worried about him. I could see he was struggling. Usually a prayerful child, a frown graced his face and his arms were folded for an hour during Mass. He wouldn't stand, kneel, talk or smile. How can I help him, Lord? I asked a million times. There are about 459 steps that lie before us in working through insurance. Demolition was looming and it was heartbreaking to think about all the memories in this house and how it's all gone now!
I remember vividly, as I sat in our pew, the music started and I started crying. That was all it took. My daughter kept asking why I was crying. I was moved. I felt God's presence and knew he had us in the palm of His hand. Yet, I was so very devastated and overwhelmed at the same time. The mix of those emotions just oozed out of my eyes in the form of tears. It was often that I would cry during Mass… the reasons varied but had everything to do with the spirit moving me as well as complete and utter sadness and overwhelm.
Fast forward six months, to just last weekend. We are getting closer to moving back into our home. It was demolished, cleaned and now the rebuilding has begun! We just completed the pre-drywall walkthrough and now my heart is so happy as I walk into this same church this past Sunday morning. We were now talking paint colors, appliances and move-in dates! I could not help but reflect on how my entire family has gotten through such a tough period in our lives. I think about how the worst is behind us. I also reflect on how very blessed we have been and how God's hand was all over this entire experience.
We are preparing to move home in just another two months. These upcoming weeks will be full of packing and preparing our old-now-new home for us to return. As overwhelmed as I felt, I felt immense peace during Mass. As soon as the music started, the tears began. I felt joy and relief that our fire journey is coming to an end. However, as I sat listening to the inspiring music, I also remembered the details of what I was thinking that first weekend after the fire. My heart burst with the contrast! All I kept hearing was, "See He really does make all things new." My God, my Father had me in the palm of his hand this whole time…whether I noticed it or not.
He really does make all things new. He promises this and though I intellectually knew this to be true, I had been through so many different emotions over this experience, I was just now starting to really feel this! This day, at Mass, comparing how I sobbed six months ago in this same pew, I now feel so relieved that we not only survived this experience but God's promise is being revealed in front of my eyes and I can feel it in my heart and soul now.
Revelations 21: 4-5

"He will wipe every tear from their eyes, and there shall be no more death or mourning, wailing or pain, for the old order has passed away. The one who sat on the throne said, "Behold, I make all things new." Then he said, "Write these words down, for they are trustworthy and true.""
No matter the stress, worry, overwhelm, loneliness anxiety, or depression, … God really does make all things new, in His time for His reasons.
Our fire was not the end of my marriage, my family's happiness or even my sanity. All of those things were taxed and worn down at some point. However, while sitting in church this past weekend, having flashbacks of the devastation the fire caused our family compared to now, I am a witness to yet another grace of God, by making things new.
What darkness are you going through now? Do you believe that you will not struggle, worry or experience pain forever? Can you trust that God will make all things new in your life, in His perfect timing?
Copyright 2016 Meg Bucaro
Photos copyright 2016 Meg Bucaro. All rights reserved.
About the Author

As a college instructor, wife to "the Hubs", Mom of three energetic children and a highly skilled PB&J sandwich maker, Meg shares the ups and downs of Motherhood in her candidly humorous writings and speaking programs. To learn more about how Moms can maintain a life with less stress and more peace by leaning on their Catholic faith, visit www.megbucaro.com.