To enjoy all of my Philippines Journal entries and travel with me and Unbound, click here.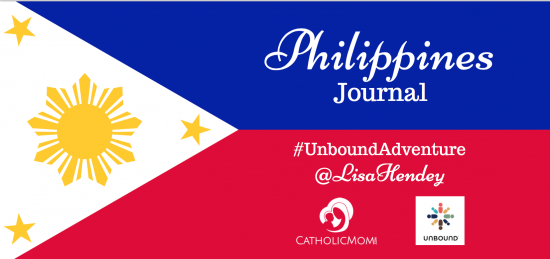 To see all of my photos from today, click here
My word for today was "Masarap!"--delicious!
A funny story from our venturing out into the field to visit Legazpi communities served by Unbound in this region... After being welcomed to our first venue with food, song, hugs, gifts and much love, I asked one of my more seasoned fellow travelers who seemed to have a good handle on Tagalog to teach me the word for "Thank you". In all of the excitement, the phrase "Salamat po!" had slipped my mind. He responded enthusiastically with the word "Masarap!" (I believe he misheard what I was asking...) and then I proceeded to go through a phonetic lesson for myself, adding "mass" and "rap" and assuring myself that I would not forget the word. I used "Masarap" enthusiastically all day, thanking the elders who had given me a basket weaving lesson, the volunteer moms who cooked us a fantastic lunch, the students who treated us to a dance demonstration, and even the kids who agreed to let me take their pictures. I stood with a microphone in my hand and started my small message of thanks to a hundred people gathered for an outreach program by saying, "Masarap!" with great joy. When they all giggled, I assumed it was at my pronunciation.
Well, it turns out that it was not the way I said the word, but rather the word itself. I was standing in front of them saying, "Delicious!"
"Delicious for the basket weaving!"
"Delicious for cooking me lunch!"
"Delicious for your beautiful dance!"
"Delicious for our selfie!"
"Delicious for welcoming us so warmly to your amazing community!"
Delicious!
Over dinner, when I finally learned about my day-long exercise in language-mangling, all I could do was laugh! I'm sure the people I met today are sharing my amusement! Oh well, I tried!
In truth, the day actually was "Masarap!" We woke bright and early and piled into different vehicles to set off in small groups for a multitude of destinations. Some of the sponsors with children in this region went to their homes. My group loaded into an awesome red Jeepney to visit three Unbound activities.
Scroll through the photos to see some of today's delicious fun!
[gss ids="101055,101054,101053,101052,101051,101050,101049,101048,101047,101046,101045,101041,101042,101043,101044,101040,101039,101038,101037"]
Aging Friends
Our first stop was at a center which serves Aging sponsored members. When we drove up to the small center, the entire community of over one hundred aging friends and children was gathered in the street to welcome us with love and signs. We entered into their very small gathering hall where a demonstration in livelihood services was being demonstrated. Women in their seventies were seated on the floor, weaving the baskets that they sell to earn money for their families. I immediately asked for permission to join them and curled up next to one of the weavers. The work was both entrancing and physical. I noticed that the women use both hands, but also one foot to hold their work in place. My resulting piece of basket weaving was nowhere near as lovely as their work! I doubt I will be hired as a basket weaver any time soon, but doing even a small bit of their work left me with great respect for their diligence.
Next we headed out to the simple set of bamboo benches the community has built for their gatherings. Beneath a woven bamboo canopy, we listened to testimonials from the sponsored aging members and volunteers about what Unbound has meant in their lives: financial support, health care, a chance to lift themselves up with meaningful work, exercise and wellness, prayer activities and friendship. More than one sponsored friend mentioned the dedication of the Unbound staff. Even in times of the calamity (such as the frequent typhoons that hit this region), staff will leave their own homes to check on the safety of their Unbound members. Most of the staff we met today have worked for Unbound for over fifteen years. To see the love with which they are welcomed by the members points to the fact that this work is more ministry and mission for them than job.
More than a Job
All too soon, it was time to say goodbye to our new friends (or in my case, to say "delicious" to them) and head to one of the Unbound offices. Over a traditional lunch of fish, rice, fruits and local delicacies (which we ate family style with our fingers), we listened to the staff teach us about policies and procedures for their day to day responsibilities serving the Unbound sponsored members. I was impressed by their high level of professionalism and accountability, but also by their obvious compassion for the families they serve.
After lunch, we were able to visit the lovely community church of St. James the Greater. In the few quiet moments we had inside the parish, I offered prayers for the mission of Unbound and for all those they serve. In this country, the connection between the faith and service feels so very tangible. Everywhere you turn, the faith of the Filipinos is on display. With Unbound, we see so beautifully a real-life living out of the teachings of Christ. The spiritual and corporal works of mercy are being offered here daily. Being a tiny part of this work is such joy. It is... delicious!
Flip Flops and Fun
Our final stop for the day was my favorite. The Unbound Service Scholarship program helps hard-working teens attend school and pursue their dreams. Our afternoon activity with the Service Scholars took us to a community outreach program where the Service Scholars put on a fun and interactive event for local non-sponsored, non-affiliated children. We played games, danced, watched performances, and best of all were able to distribute new shoes (flip flops) and lunch to the small children who came out for the event. We distributed fifty tiny pairs of shoes to young ones who received them as if we were handing them bars of gold.
Nearby, the young children's parents watch with gratitude. I had to wipe away more than a few tears as I looked at this particular neighborhood's simple housing structures and realized how very little it would take to vastly improve their standard of living. But in truth, these families have something to teach us that is perhaps even more important than a fancy house or the latest gadgets. I watch the parents here (most frequently the moms, because the dads are off working), and see their obvious devotion to their children. They will do anything to give their precious little ones hope for the future, most especially in the form of education. Every home I enter has obvious signs of fervent prayer lives: simple shrines, displays in memory of deceased loves ones, well-loved sacramentals that are more than icons on display. Faith, family and community are everywhere here. The hope that Unbound provides for these families, when combined with these essential values, is a formula for excellence in life. I find myself praying about what more I can do to be a part of this obviously winning equation.
At the outreach event, each of the sponsors were invited to say a few words to the gathered crowd. I don't remember exactly what I said, except--of course--that I began my remarks with a heartfelt "Delicious!" But as I sat listening to the other sponsors express their gratitude and emotion, it was obvious to me that they too are experiencing in a powerful way the same emotions and attitudes that are coursing through my heart each day. What we see impresses us, challenges us, motivates us, and feeds our souls.
What we are experiencing here in the Philippines is... masarap, delicious!
My patron saints for this adventure will be St. Lorenzo Ruiz of Manila and his companions, who gave their lives for their faith, and Nuestra Señora de Guia (Our Lady of Guidance). Please join me in praying for Our Lady's intercession in the work of Unbound and for the courage and conviction of St. Lorenzo to lovingly reach out to those most in need.
For More Information:
About the Author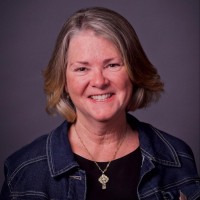 Lisa M. Hendey is the founder of CatholicMom.com, a bestselling author and an international speaker. A frequent radio and television guest, Hendey travels internationally giving workshops on faith, family, and communications. Visit Lisa at LisaHendey.com or on social media @LisaHendey for information on her speaking schedule or to invite her to visit your group, parish, school or organization. Visit Lisa's author page on Amazon.com.