To enjoy all of my Philippines Journal entries and travel with me and Unbound, click here.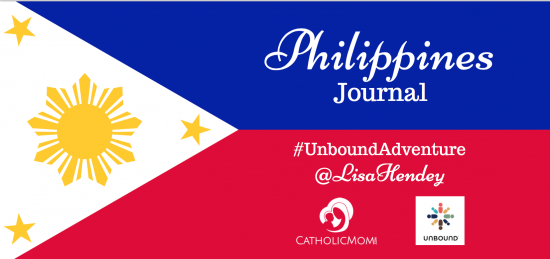 Become a sponsor with Unbound and change lives for $36 per month
Yesterday, in Quezon City, my life was forever changed. In a small but loving home under the shade of a mango tree, my heart grew beyond the capacity for love I'd ever thought possible. I met my beautiful sponsored child Jackilyn for the first time. I learned quickly that while my formal sponsorship may provide most directly for the needs of Jackilyn, I have truly gained a new family.
I will now be a partner and friend to Jackilyn's parents Diego and Loregene. I am now "Tita" (auntie) to not only Jackilyn but to her precious sisters Dainalyn (14) and Jadeline (4). I have new friendships with Ate (big sister) Emma and Ate Jo and all of the other Unbound community volunteers living in Jackilyn's little part of Quezon City. And I have an angel named Dianne, herself a former Unbound child and now an Unbound staffer who works tirelessly for children just like herself so that they might know futures which are bright, faith-filled and joyful.
One thing I learned in a profound way yesterday is that sponsorship of an Unbound child is not simply going to be a "drop a check in the month" proposition for me. While it can and definitely does make an impact that way, as one of the very small percentage of very fortunate sponsors who can actually meet her family, I know my involvement in Jackilyn's life and her family's life can be more, for all of us. I originally chose to sponsor Jackilyn because the Unbound staff told me she had been waiting a very long time for a sponsor. Her picture tugged at my heart. I longed to see a smile on her face. But now I know that my sponsorship of Jackilyn will involved not only this precious little eight year old, but her whole family... and in a way, her whole community. When I hugged Jackilyn's older sister Dainalyn, I dreamt of attending to her college graduation in a few years. When I held precious little Jadeline, Jackilyn's little sister, I counted the fourteen years until she will graduate from high school. I'm in this for the long haul. My small financial contributions will go toward health care, education, spiritual formation, and more for Jackilyn. I hope that they are only a part of what I am able to share with her and this whole family over the years to come.
I also have the very strong sense that I will receive much more than I ever give... I know that was true yesterday when we shared a meal in Loregene and Diego's home, when we strolled the streets of their community, when we visited Jackilyn's school and when we shared an outing to the playground. To be involved in such a small way in this family's life is a true blessing. I hope over the years to come that they will meet their "uncle" Greg and their "cousins" Eric and Adam. Regardless of when this happens, they are now a part of our life. And for this, I feel so very blessed.
Today, I wanted to share a little part of the letter I'm sending to precious Jackilyn. If it touches your heart, I pray that you might consider gifting yourself and a child or aging friend the partnership of becoming a sponsor with Unbound.
Dear Jackilyn,

My heart is filled with joy today as I remember the time we shared in your home and community yesterday. I loved meeting your parents and sisters, sharing a meal with you (masarap!) and visiting your school! I loved playing with you in the playground, riding in the tricycle with you and watching you color and play games. I loved holding your hand and brushing your hair. I loved seeing your smile grow bigger as we got to know one another.

I know we were both nervous about meeting in person. Believe it or not, I'm shy too! I prayed for your Tatay and Nanay as they prepared for my visit. Please thank them for me. The home your Tatay and Nanay built you is so warm and beautiful. I felt so very welcome!

You are a wonderful sister, Jackilyn. I loved watching how you took the little gifts I brought you and shared them so lovingly with your sisters. Please watch the example of your Ate Dainalin. She is so very smart, patient and generous. And with little Jadeline, it's your job to be a loving big sister--to take care of her and love her the way Dainalin does with you!

Jackilyn, I'm so proud of what a good student you are! I loved meeting your teacher and your classmates. Keep studying hard in school so that you will be able to go to a good college and have a bright future! I can't wait to see what you will become when you grow up, but I already know that whatever you do will be something wonderful, something that will make our world a better place! I want you to watch and learn from Ate Emma and your Unbound teacher Dianne. They are both strong, beautiful women who will teach you so much about life!

I thank you Jackilyn for coming into my life. For a very long time, I prayed that God would send me a daughter. I love my sons, but I have more love to give... and while I can never take the place of your Tatay and Nanay, I want you to know that you have a new Tita in California who will be praying for you every day. Keep Jesus close to your heart Jackilyn... Jesus loves you very much. And I know that I am now closer to Jesus too, because I saw his love in your face when we spent time together yesterday! I thank you for your smiles, your friendship and for all of the joy we will find together in the years to come.

You will be in my prayers every day!

Mahal kita!

Tita Lisa
Become a sponsor with Unbound and change lives for $36 per month
My patron saints for this adventure will be St. Lorenzo Ruiz of Manila and his companions, who gave their lives for their faith, and Nuestra Señora de Guia (Our Lady of Guidance). Please join me in praying for Our Lady's intercession in the work of Unbound and for the courage and conviction of St. Lorenzo to lovingly reach out to those most in need.
For More Information:
About the Author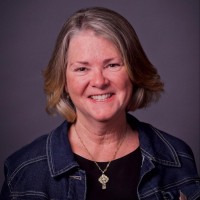 Lisa M. Hendey is the founder of CatholicMom.com, a bestselling author and an international speaker. A frequent radio and television guest, Hendey travels internationally giving workshops on faith, family, and communications. Visit Lisa at LisaHendey.com or on social media @LisaHendey for information on her speaking schedule or to invite her to visit your group, parish, school or organization. Visit Lisa's author page on Amazon.com.