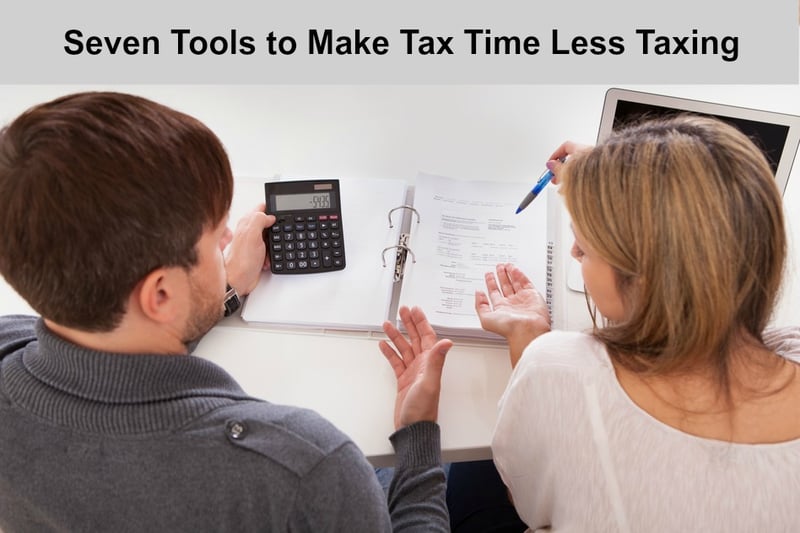 Every year I promise to be more organized. I tell myself that I'll start on my taxes sooner and I'll have everything I need at my fingertips before April 15 rolls around.
While I can't say I look forward to doing my taxes, I have to admit they are so much easier than they used to be. Gone are the days when I immersed myself in shoeboxes full of receipts and scoured IRS publications trying to figure out what I was doing. I remember hiring a babysitter on a Saturday afternoon in February each year so my husband and I could work on our taxes for a few hours. (To tell the truth, we spent most of the time arguing because neither one of us had done our part to prepare for our little tax retreat.) That was our routine every year…procrastinate…argue…scramble…and then try to forget.
But with each return we've filed, I've learned something new. And with each passing year, I've accumulated tools to help make tax time less stressful. Here are a few of my favorites:
Evernote. If you've been around here a while, you've probably heard me sing the praises of Evernote. I'm fairly certain you can do everything you need with Evernote – possibly even file your return directly from the app somehow! But here's how I use Evernote for taxes: I have a notebook containing tax information and documents. I share it with my husband as we prepare for taxes so we don't duplicate efforts and we both know where we are in the process. We attach pertinent files to the notebook and save websites or screenshots directly in the file. We use the tagging feature to search easily for relevant notes we may have created throughout the year. It's our "home base" for tax prep.
Mint. We use this app to manage our budget and monitor our accounts on a regular basis. What we just realized recently is that Mint allows you to download your data to a CSV file you can manipulate and use to collect tax information. It's perfect for those of us who pay for certain tax-related expenses from multiple accounts. For example, if you pay some of your utilities via credit and other utilities via automated debit from your checking account, Mint enables you to easily calculate a total.
Genius Scan. I know you can scan with Evernote and probably a billion other apps, but I've been using Genius Scan and find it simple to use. I like the fact that I can scan a receipt or document and quickly save it to Evernote or Dropbox, depending on what it is. Plus, I can save the document as a PDF or jpeg. It's a thousand times easier than using the scanner on my printer and it's portable which means I don't even need to bring paper receipts home with me.
Dropbox. My husband and I use Evernote to share tax information but we send everything to our accountant via Dropbox. I can't even remember what life was like before Dropbox. I have vague memories of taking flashdrives to my accountant in person. Now I transfer all our files easily and securely using Dropbox. The best part – Dropbox is free!
QuickBooks. We made the switch to QuickBooks in 2009 and it simplified my life and reduced stress not only at tax time but all year round. Yes, there was a learning curve, but it was worth the investment. Data that used to take me a whole week to collect is now available by running a simple report in QuickBooks. Plus, it's easier to create estimates and invoices.
It's Deductible. Every few months I go on an organizing spree in the house. I get rid of bags and bags of clothes, toys, books and household items. I used to take photos of the bags and itemize each donation in a spiral bound notebook. Now, I use Intuit's It's Deductible app. It's a free donation tracker that helps you determine the value of in kind donations and track contributions to charitable organizations. (If you use Mint, it will automatically import your charitable contributions.)
Professional Help. This is probably the most important tool in my tax time toolbox. In fact, hiring a bookkeeper and CPA not only saved me a ton of time, but it probably saved my marriage. We no longer argue about taxes or get frustrated with one another as we struggle to interpret rules and requirements. It is a tremendous relief to have someone reconcile our accounts and run clean reports, and to have a tax professional prepare and file our return. The money we spend on these professional services is worth every penny. (Think of all the money we save on hiring a babysitter so we could do it ourselves!)
What about you? What are your favorite tools for reducing stress at tax time?
© 2016, Theresa Ceniccola. All rights reserved.
Image source: PhotoDune. Licensed by author. Text added by author.
About the Author