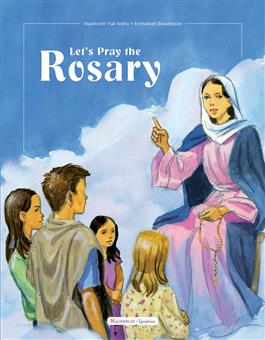 Let's Pray the Rosary is a 12" x 9" dust-jacketed hardcover for children from Ignatius Press. The book begins with a section on praying the Rosary a family and provides us with an example of a loving family with four children who pray at least one decade of the Rosary a day. We then move on to a section, which talks about the Virgin Mary as our Mother and Queen in Heaven. It also talks about the origin of the Rosary from rose garlands that were referred to as chaplets. Next, we read a little history about the Rosary and St. Dominic.
Subsequent chapters tell us about saints and their devotion to Mary and the Rosary. We see the obvious examples of Lourdes and Fatima, but there are also lesser known ones like Pompeii and "The Living Rosary" of Pauline Jaricot.
The book ends with instructions on how to pray the Rosary and all the prayers of the Rosary, except for the Hail Holy Queen, which I found odd. That lapse aside, this a great book with beautiful illustrations. The Rosary miracles you find in this book will inspire both your children and you, and be a good impetus for you to take up the habit of praying the Rosary.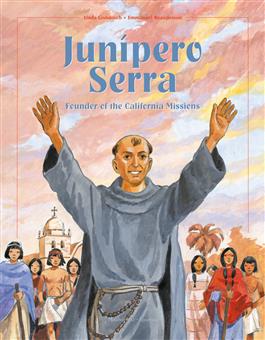 Junípero Serra is also a 12" x 9" hardcover for children from Ignatius Press. In fact, it shares the same illustrator (Emmanuel Beaudesson) as Let's Pray the Rosary, so you know right off the bat that the book is going to have lovely artwork inside. The book begins with a homily by Pope Francis on Junípero Serra in May 2015 preparation for his canonization in September 2015.
Then we start with Serra's early life, his tiny stature, and the fear that he would not live long after birth. However, he grew up and was a hard worker. He was also a quick learner and impressed his Franciscan teachers. He later became a priest and a teacher, but he dreamed of being a missionary. He eventually realizes that dream and he travels to the Americas. The book traces out his history and mission success in Upper California, San Diego, and San Carlos.
The book concludes by speaking of Serra's statue being in Washington D.C., John Paul II making him Blessed, and Pope Francis making him a saint. This is a fascinating book about a saint who had an impact on the United States, so it is definitely worth checking out. However, due to the sheer volume of words in this book, I'd recommend it for ages 8 to 9 and up!
Buy these books through our Amazon links and support CatholicMom.com with your purchase!
Be sure to check out our Book Notes archive.
Copyright 2016 Stuart Dunn
About the Author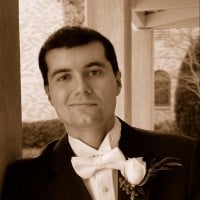 Stuart Dunn was born and raised in Mobile, AL and received a Bachelor of Arts in Psychology and a Master of Business Administration from the University of South Alabama. Stuart reviews all things Catholic including adult books, children's books, Bible Study series, Catholic Courses, CDs, and DVDs in addition to board games at his blog Stuart's Study at StuartsStudy.blogspot.com.