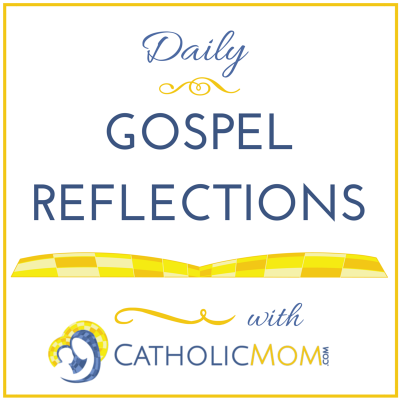 Today's Gospel: John 7, 40-53
Have you ever been surprised when someone close to you disagrees with you on an important topic? While it is sometimes difficult to avoid arguments when discussing matters of politics and religion, I like to think that I can, and will, admit when any individual makes a genuinely honest and true statement—even when he or she doesn't belong to my party, follow my philosophy, or attend my Church.
A number of years ago, a young priest came to my parish and preached vigorously on the difficulties faced by the rich man trying to get into heaven. He was charismatic and sincere, but many parishioners spoke out against him. They clearly felt threatened by his challenging interpretation of God's word. Within weeks the young priest left the parish.
I still think of that priest each time I meet someone who is filled with the light of enthusiasm. I absolutely know that zeal does not equal rightness, but I do not want to close my heart to the possible presence of Christ in others because the message presented does not agree with my personal paradigm.
God doesn't always appear in our lives in the ways that we expect. I believe that God manifests in ways that often challenge our preconceived notions. We all want to see God in our lives and know God in our hearts, but could it be possible that we ignore—or even oppose—Him when He speaks through persons that don't subscribe to our closely held opinions?
I hope that I will always ask, as Nicodemus did in today's Gospel "Does our law condemn a man before it first hears him and finds out what he is doing?" And I pray that, in doing so, I will keep my heart open to Christ's presence in my life.
Ponder:
Is there someone in my life whom I avoid because they challenge me to be a better person?
Pray:
Dear Jesus, help me to see your face in the people that I meet each day. Let the Holy Spirit guide my heart and mind toward the recognition of your truth in others. The more unlikely the messenger, the more I wish to be open to your presence in my life.
Copyright 2016 Leanne Fanning Pankuch
Leanne Pankuch is a cradle Catholic, former catechist, accomplished church vocalist, children's writer and SCBWI member living in the New York Hudson Valley. She has two crazy dogs, an amazing husband, children, and family, and a degree in English. Her writing has appeared in a variety of media—including the Chicken Soup for the Soul series. Contact her at leannepankuch.com.
About the Author