From the passages in last Sunday's Gospel reading (John 20:19-31) come the expression "a doubting Thomas." Thomas said he would not believe the story being told unless he saw with his own eyes and touched with his own hands.
Thomas is pretty relatable, huh? At times, I am guilty of being skeptical towards that which I have not personally experienced. I become cynical or judgmental about that which I do not understand. I doubt.
When I refuse to believe in that which I cannot see or understand, I am subtly choosing control over faith. If it doesn't make sense to me, I won't believe it. If I haven't seen it or experienced it personally, then I will not relate to it. And there I stay, in my comfortable and predictable existence.
Only, comfortable, predictable, and in contol is NOT the way God calls me to live!
How about Thomas' response to Jesus in the passage: "My Lord and my God!" (I get chills every time). The significance of those five words is inexhaustible. Can you imagine being Thomas in that moment?? I imagine that I would drop to my knees, immediately convicted and remorseful. Entirely filled with reverence and humility. Overwhelmed by His mercy and love, never wanting the moment to end, wishing I could stay at His feet forever.
And then it hits me! I can stay at His feet forever! I can continually be filled with His mercy and His love! His presence, mercy, love, and compassion are all available to me, and to you, in every moment. My Lord and my God!
So how about right here, right now? What would it take for me (or you) right in this moment to fall to our knees and place our head on His feet? To surrender to Him once again? And to allow ourselves to receive His tender mercy?
A closing prayer:
Father God, please break our hearts and minds wide open, flooding us with full, rich, deep faith in the risen Christ. We pray for the strength and the courage to look at each and every circumstance of our day through the eyes of faith. Show us how to do this. Show us how to look at life in such a way that we shall see what it is You wish for us see. Please remove our unbelief. Remove our doubts and our fears so that we may experience You more fully and trust in You without hesitation. We pray in Jesus' name, AMEN.
Copyright 2016 De Yarrison
About the Author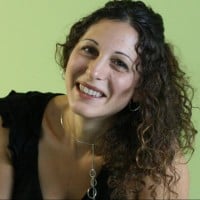 De is a wife, mother, professional coach and women's retreat facilitator. She is super excited about guiding women to discover the Truth of who they are – God's chosen and beloved ones! Through her coaching practice and women's ministry, YouAreMadeNew.com, De guides women to live life led by the Holy Spirit, and to cultivate resilience, self-compassion, and an unwavering trust in our incredible God.