Efficiency is not a virtue.
Efficiency is not a sign of holiness.
Every morning
when I wake up
I realize I am
An inefficient square.
But
I force myself to rush.
I strain to be productive
As I face mounds of laundry and
An ending cycle of work.
I mother nine messy, little people.
I brutally hack off the all my creative corners,
So I can roll through my chores
Like an efficient circle.
Despite my best efforts
When I wake up the next morning
I am a square again.
I stop to read a few pages of a beloved book with my son,
Decorate the dollhouse for my girls,
Sit to create a figure from play dough with a toddler,
Stop to search for ladybugs,
Delight in building a magical play tent from sheets for my little people....
Recently I have begun to
Rejoice in my
Inefficiency.
Creativity is more fun than efficiency.
I do not think Jesus was efficient;
He was not a modern man.
He was an Eastern sort of man
Who delighted in long meals, conversations
And long, inefficient times of silence listening to His Father
Yes, the world needs more happy squares
To slow society
Down.
Efficiency is not a virtue.
Efficiency is not a sign of holiness.
Copyright 2016 Melanie Jean Juneau
About the Author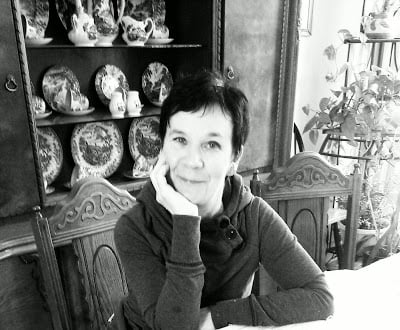 Melanie Jean Juneau is a mother of nine children who blogs at joy of nine9. Her writing is humorous and heart-warming; thoughtful and thought-provoking. Part of her call and her witness is to write the truth about children, family, marriage and the sacredness of life. Melanie is the administrator of ACWB, the Editor in Chief at CatholicLane, CatholicStand, Catholic365 , CAPC & author of Echoes of the Divine.