Thanks for joining us for CatholicMom's first installment of #TOBtalk, where we're discussing the impact John Paul II's Theology of the Body has had on us. Today, Cindy Costello shares how Theology of the Body pointed her to redemptive healing.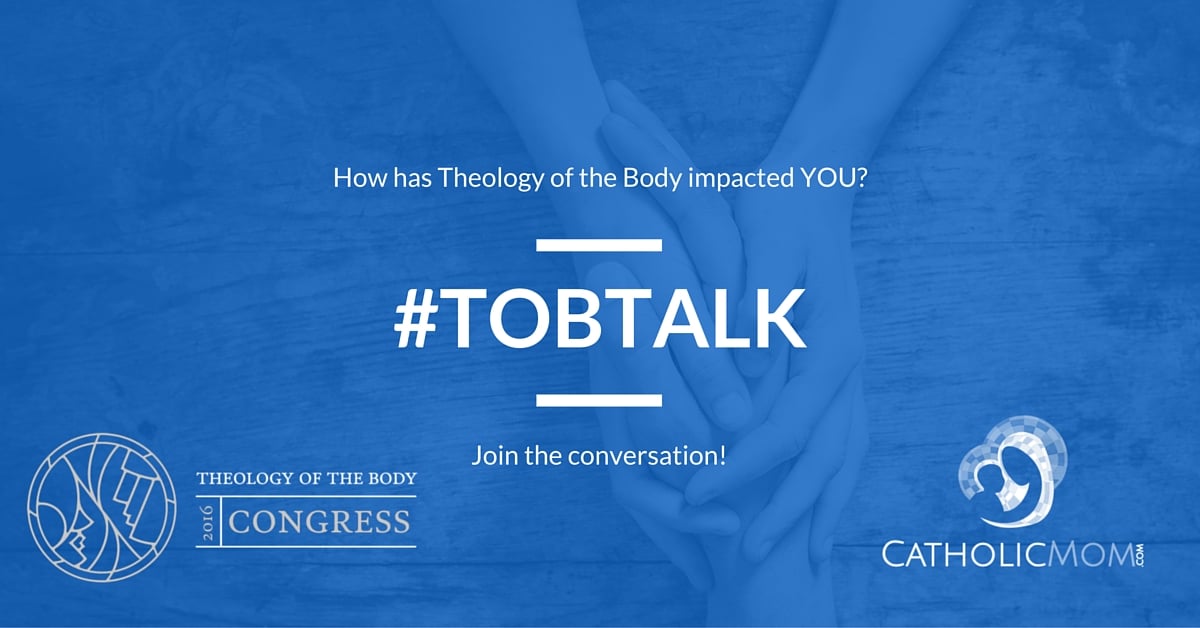 As I shared my broken heart, my best friend put the book in my hands...Theology of the Body for Beginners by Christopher West. She told me I needed to read it.
I can count on one hand the number of times in life that I have known something with complete and utter certainty. When I read the healing truths outlined in this book on St John Paul II's Theology of the Body, I knew it was going to change my life. I didn't know how, but I knew it with certainty. This was going to be a journey of redemptive healing.
That was 11 years ago. It's both amazing and amusing how we journey through life, never contemplating who we are and what we were made for. I just didn't-- know who I was, who God was for me really, and that He had a marvelously divine plan for our union, and His glory.
From baby steps to giant leaps, the journey has been long and arduous at times, and grand and ecstatic at others. It has involved immersing, studying, praying, converting and integrating, and then repeating that process over and over again. Even as I graduated from the certification program at the Theology of the Body Institute in Downingtown, PA, I realized it will not end until I take my last breath. In fact, it's a lot like that, as are all things in the spiritual life. We labor and swim (immerse and study), then come up for air (prayer and the sacraments which bring conversion), then dive back down to integrate again.
Theology of the Body is important to me because I believe it is based on the message of the gospel. Why am I here? Why has God created me? What plan does He have for my life as lived out in my vocation as a wife and a mother? And where am I going? All these questions have been pondered and answered through the Theology of the Body. I have a body, and it tells a story....my story. It's the Theology of My Body.
As alluded to earlier, it was brokenness, particularly sexual brokenness, that brought me to the message. Jesus has come to heal my wounds. He has shown me the great dignity I have in His sight. I am not the sum of my weaknesses and sins, but more precisely He wants to use those very same pains and transform them into His glory.
I see the world and everything in it, differently now.
I pray differently, knowing I am gift. I love my husband differently, knowing we are self-gift to each other. I parent differently, knowing my children to be the beautiful fruit of the sacrament, and spiritually laboring for their souls. I see all others as gift, people who God gives me so I can learn the meaning of real love. In a special way I see my teachers in Theology of the Body as having given of their whole lives to bless others with this teaching! And I see all of creation as part of the whole gift, and give Him glory for every rain shower and moonlit night. And God has even seen fit to give me a ministry in sharing and evangelizing the Theology of the Body where I live.
All is gift. My Father loves me. He is planning a place in His Kingdom just for me. And perhaps the hardest truth to accept, but the one that has given me the most joy, is that He thinks I am beautiful--even right now because I'm His daughter, I'm under His Fatherly Gaze and I'm in His loving embrace.
This journey of redemptive healing changed my heart through the Theology of the Body, and I will be forever grateful for this gift.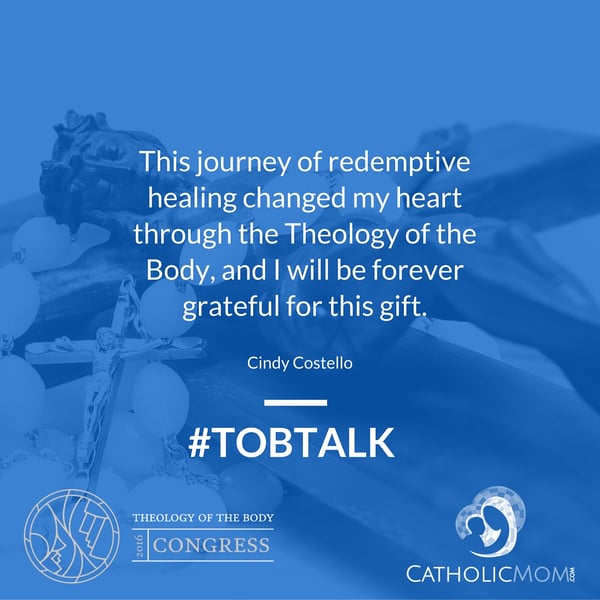 How has Theology of the Body impacted YOU?
Be part of our #TOBtalk discussion! Leave your comments here and on social media, using #TOBtalk.
Join the discussion in person:
Inspired by the Jubilee Year of Mercy and last year's Synod on the Family, the 2016 Theology of the Body Congress – an expansive gathering of top experts – will focus on how Theology of the Body and mercy play a vital role in how we live out family life. It will take place September 22-25, 2016 in southern California. Register here.
Sponsored by the Theology of the Body Institute, the 2016 International Theology of the Body Congress: Love, Mercy and the Gift of the Family will take place September 22-25 in Ontario, California at the Ontario Convention Center.
The Congress features an elite line up of speakers including Archbishop Jose Gomez, Christopher West, Dr. Edward Sri, Sr. Regina Marie Gorman, Jason Evert and Matt Fradd, and many more. Don't miss the in person discussions!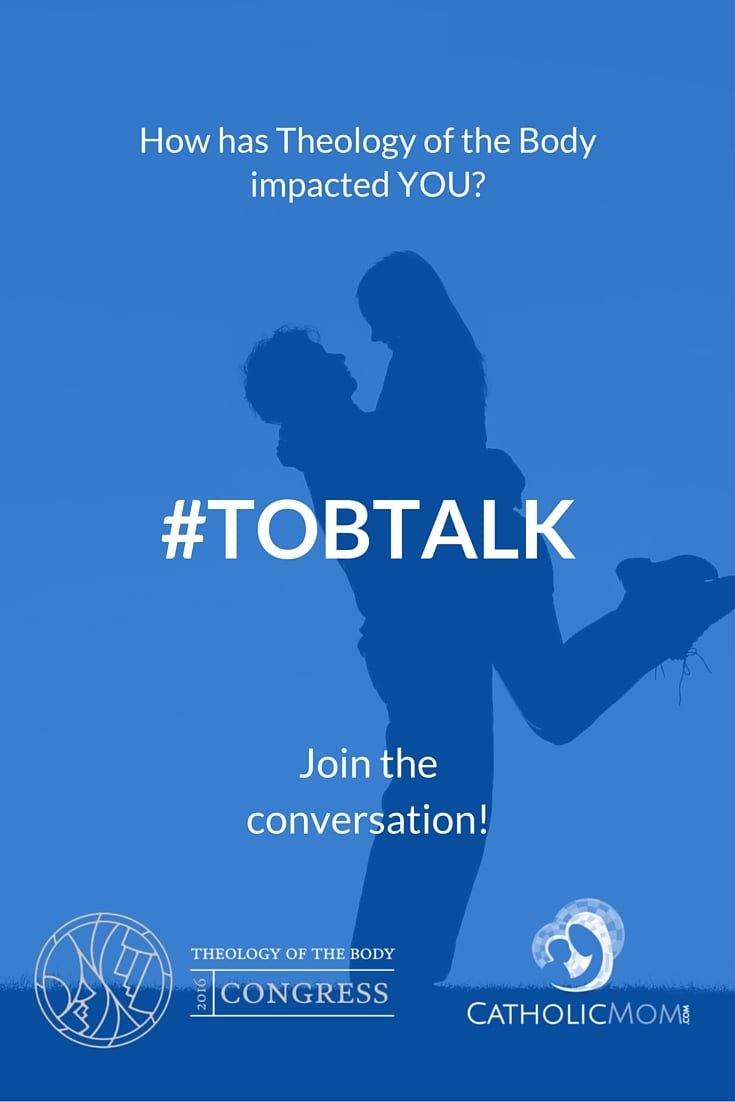 Copyright 2016 Cindy Costello
About the Author

Cindy Costello is a praying wife and mom who is settling into her empty nest. More than fall trees and caramel lattes, she loves a pen hitting paper to create something unique and beautiful for God. Cindy is challenging herself intellectually and getting ready for Career #2 by pursuing a MA in Theology. And on the side she gives parish talks and retreats , specializing in Theology of the Body and all things Catholic! Visit her website at CindyACostello.com.