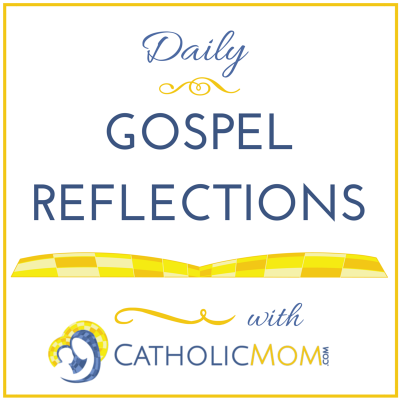 Today's Gospel: John 15, 9-11
The kids have waved to me from the school bus; my husband is off to work with a kiss goodbye. I close the door with a sigh as I set about my day. Mentally rehearsing my to do list, I am already feeling overwhelmed, but suddenly I stop myself short.
Today's Scripture reading reminds me that my "job" today, above all others, is to abide in Christ by following His commandments, as Our Lord himself tells us. Keeping the Lord's commandments is not another endless to do list. It is the means given us to abide in Him and His Perfect Love. It is spending time with the Real Presence of our Savior, talking with Him, listening for His voice in our hearts. It is living out our lives in a way that pleases Him. It is seeking Him and His will in every circumstance, every person we encounter each day.
As we fall into step behind those Pierced Feet, our joy is complete, because we walk along the way with the Master! We journey with Jesus just as the Apostles did long ago, as the saints have done, and as we are called to this and every day. Back to my to do list, I smile a smile full of joy, the joy only Jesus gives, and I know He will be with me every step of the way!
Ponder:
What is holding me back from being joyful today?
Pray:
Dear Lord, grant us the grace to joyfully serve You today, by following the commandments You gave us.
Copyright 2016 Vicki Geslak
I am a wife, mother of 3 daughters, and grandmother of 5. I homeschooled my youngest 2 daughters. I am a Catholic convert, having come into the Church in 2013 into what I believe to be the fullness of my faith. I grew up in the Presbyterian church and have always loved Our Lord, but have never known a relationship with Him like the one I have now that I am Catholic. I love being part of our active parish and help with our Respect Life group and women's ministries, and was privileged to attend the March for Life in Washington, DC, the year before last.
About the Author