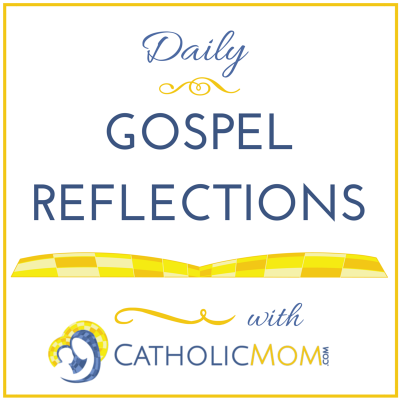 Today's Gospel: John 16, 20-23
I wasn't always a stay at home mother. I went back to work in corporate a little over three years ago to help out with family expenses, especially after converting and wanting my children to go to Catholic school.
I initially stayed home to be with my children. After having worked 14 hour days, my children hardly recognized me. My then 2 year old didn't want to come home with me when I went to bring them home from the babysitters. I struggled long and hard with the decision to go back to work, but I prayed. I prayed hard, and went to Eucharistic Adoration regularly and asked for a way to get back home. I can't count how many 54 day rosary novenas I prayed, or how many times I offered up basket after basket of laundry on Sunday nights before having to go back to the office on Monday. All I wanted was to be home with my boys, to be a wife and mother. While not everyone is called to this vocation, I know that I am, with every fiber of my being, I am.
The time came for me to come back home late September 2015. My husband got a new job 2 hours away, and we needed one full time parent at home with our children. My husband found out about his new job on a Thursday. The Tuesday prior, we were told that our youngest son had Chronic Tic Syndrome and Generalized Anxiety Disorder. He's only 8, 7 at the time. In the instant we were told, my husband and I both knew why it took so long for me to come home. God gave us what we asked for in His timing; His perfect, perfect timing. Now I can be home and care for my youngest the way that he needs to and work with him on his anxieties and be the wife and mother I am called to be.
Ponder:
As mothers, we tend to ask for God's help for others. Can we remember to ask God for the graces we need specifically? He delights so much in us and knows how hard we try to kiss the boo boo's away. Let Him do the same for us.
Pray:
God, please give us the grace to rely on you and your perfect timing. To ask you what we need and truly know in our hearts that you will grant it if it is your will. Amen.
Copyright 2016 Cristina Trinidad
Cristina Trinidad is a wife and mother of two boys. Cristina also hand embroiders inspirational and faith-based designs with a Catholic twist at Handmaid Embroidery.
About the Author