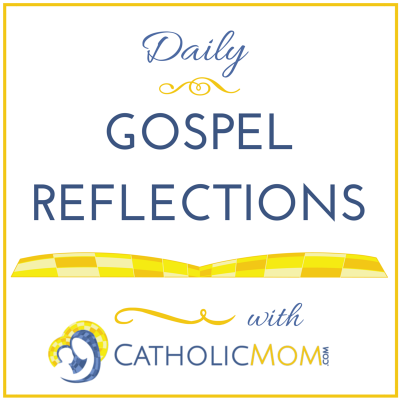 Today's Gospel: Mark 10:17-27
When our third child, Clare, was about 15 months old, she discovered how to climb on our kitchen chairs, which quickly led to the table. Her two older siblings, only 2 and 3 years older than her, spent a lot of time at the table doing homeschool work, coloring, puzzles, eating all our meals, etc. She just wanted to be part of the action. Unfortunately, the backs of our chairs are ladder-like. Whenever Clare believes I'm not paying enough attention to her, she steps up on the first rung until I come flying over, frantic she is going to tip the chair backward. I immediately take her off the chair, correct her, and try to get her engaged in something else. Usually, she ends up throwing a tantrum for being removed from the chair.
Part of my job as a parent is loving my children enough to correct them when they aren't behaving properly or using items as they should. I love Clare, which is why I won't allow her to put herself in danger by misusing the chair. When Jesus speaks to the rich man in today's Gospel reading, he is teaching him how to live life fully. The rich man observed the commandments, but he lacked a generous spirit which would have allowed him to freely follow Christ. Mark says that "Jesus, looking at him, loved him" and then challenged him consider how he was using his life and possessions.
Jesus' love is warm, beautiful, all-encompassing, all-forgiving and divinely merciful. But is also challenging, life-changing, purifying and cleansing. Jesus loves us enough to correct us when we mess up. He doesn't yell, He doesn't get frustrated, He doesn't deny us anything. He loves us. If we let Him, His love will transform us.
Ponder:
How is Jesus loving you today? How is His love challenging you to conform your life even more fully to His will?
Pray:
Dear Jesus, thank you for loving me today. Help me to see the places where You are loving me to change, reconsider and transform. Give me the strength to embrace Your love and allow it to remake me in Your image. Amen.
Copyright 2016 Kate Taliaferro
Kate Taliaferro is an Air Force wife, mom of 3 under 4. She enjoys homeschooling her two oldest while chasing her early-walking, food-scattering-loving baby. She has a Masters in Religious Education and tries to find God's presence in all parts of her day, be it cooking, cleaning or just the everyday ordinary. Follow her blog, Daily Graces, to join her crazy, adventurous, God-filled family.
About the Author