Every day for a week I drove past a cul-de-sac in my neighborhood and strained my eyes to read the tiny print above the For Sale sign on the bright yellow house. My eyes aren't what they used to be! Finally, one day curiosity got the best of me and I pulled in to get a closer look.
I'm beautiful inside.
It's not the first time that I've seen that marketing technique for real estate, but this time something about those words, written in that particular narrative, struck me.
This house has a nice lawn, pretty paint that pops and a clean look, but that's all we can see from the outside. The sign welcomes potential buyers to see more than what's visible from the end of the driveway.
We all try very hard to be as appealing as possible from the outside. We pay gym memberships, get our hair cut and colored, eat a healthy (ish) diet and maybe iron our clothes now and again. But what if we used the 24 hours in a day to beautify the inside first and then save the extra time for the exterior? How different would the day look? What if our children saw us praying, reading and journaling about scripture, and serving others as much as they saw us working on the features that are outside our hearts and souls? Truth be told, I know my kids see me putting a lot more into my curb appeal than I devote to God.
[Tweet "My kids see me putting a lot more into my curb appeal than I devote to God."]
If we know better, why do we still struggle? I guess it's a combination of pressure from "the world" and my own ideas that if the outside looks better people will be more interested in finding out what's on the inside. Ah, but therein lies the difference between real estate and real life.
The joy, peace and grace of God has a way of posting that sign that we are beautiful without us even realizing it. We shouldn't feel bad about working on what people see on the surface, but let us always remember that it is God's beauty that invites people in to see and experience more.

Copyright 2016 Abby Brundage
About the Author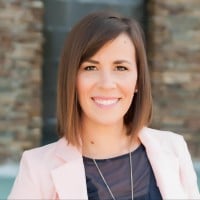 Abby Brundage Watts is a mother of two little boys. Since January of 2008 she has hosted The Big, Big House Morning Show on Spirit FM 90.5, the radio ministry of the Catholic Diocese of St. Petersburg in Florida. The show mixes inspiration, humor and family fun (and great music of course)! You can hear Abby every weekday 6-10am, EST and online at www.myspiritfm.com. She also is the co-creator of the podcast, Perhaps This Is the Moment. You can find it on all the podcast platforms.