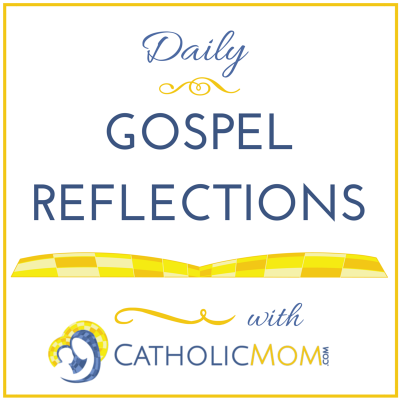 Today's Gospel: Luke 1, 39-56 - Feast of the Visitation of the Blessed Virgin Mary
I don't take compliments well. Sometimes I quickly change the subject, sometimes I start putting myself down and sometimes I just ignore it all together. This drives my husband crazy. A mix of lowered self-confidence and embarrassment play into these reactions but, most of all, it's that I just don't believe that I am worthy of such words. Who am I, anyway?
So, when I put myself in today's Gospel, most of these feelings envelope me from the beginning. "Ahhh!! I'm not blessed! I'm not even married yet and I'm pregnant! Don't look at me!" But thankfully for me, and the entire world, I am not the Blessed Virgin Mary. Mary answers the words of her cousin with gratitude, grace and poise.
But, most importantly, her answer is a prayer that reflects the love of God and the trust she places in Him. She is acutely aware that everything she has comes from the Father and that the true praise is for Him. No nervousness, no false humility, no fear. She owns the fact that she is the Mother of God, as wonderful and terrifying as that could seem in her current situation, and sends the praise to God who is working miracles in her life. Oh to have her wisdom and humility!
The more I sit with it, I can see that each compliment I receive should be met with the same heart. I am who I am because of the Father's love. And so are you! Because, as the Psalmist tells us, we are all "fearfully and wonderfully made" by a God who knows and loves us more than anything. All glory and praise belongs to Him, even if in the moment I feel unworthy. And to God, and also to you, random compliment-giver, I say "Thank you".
Ponder:
How does expressing gratitude (whether through compliments or other means), to yourself and to others, change the outlook of your day?
Pray:
Generous Father, thank you for every kind word, gift and act of love I receive, whether I feel worthy or not. Help me to realize that all I have comes for you and, in that mindset, to appreciate it all the more. Amen.
Copyright 2016 Jennifer Durney
Jennifer Durney is the Social Media Developer for the Roman Catholic Diocese of Erie, PA. She comes from a background of college campus ministry and is in the process of earning her Masters in Pastoral Ministry. She and her husband, Matt, share a passion for ministry to youth, community and active modeling of the faith in daily life.
About the Author