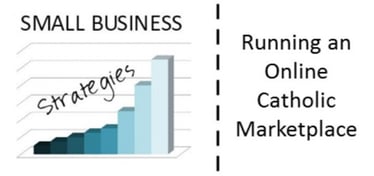 Welcome to this month's edition of Small Business Strategies! This month, I'm excited to sit with David Rummelhoff of Peter's Square, a new online Catholic marketplace. David is a trail blazer in creating a new opportunity for Catholic-owned stores and shoppers alike, and shares his experience in starting this venture. (I'm also thrilled to be a vendor, too!)

How did the idea for Peter's Square come about?
<DR> I started an apostolate last year called Peter's Mark, and it's purpose was twofold: I wanted to foster a sense of Catholic solidarity and, in the process, help great Catholic ministries raise some money. There are so many fantastic charities and apostolates out there; they need financial support, and they really shouldn't have to put so much effort into fundraising. Anyhow, Peter's Mark partnered with a couple ministries; we designed and sold a product, and the ministry received the bulk of the proceeds. In the process of running Peter's Mark, I began to discover a wide variety of Catholics selling a really cool array of products, but they were all over the internet. There didn't exist a way to find the Catholic makers online, and there definitely was nowhere to browse all their products. So, early this year, as a Peter's Mark project, I started work on Peter's Square.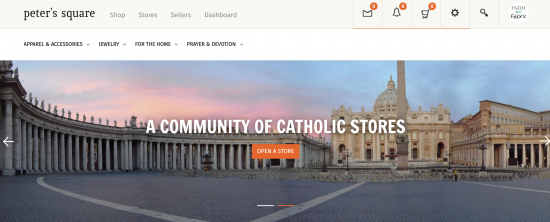 Tell me about Peter's Square.
<DR> Peter's Square is an online marketplace for Catholic vendors. We provide a venue for Catholic sellers to setup shop and list their creations. The vendors on Peter's Square produce all sorts of goods, both religious and not, from rosaries and oratories to earrings and t-shirts, and all of them have committed to giving a portion of their profits to Catholic ministries, charities, and parishes.

Do you have a background in running online shops? If no, how did you work to fill the learning gap?
<DR> Prior to starting Peter's Mark, no, I had no experience with online shops. However, with my prior experience developing websites, which had included payment integration and security, it was just a matter of time and effort. On the non-technical side, I tried a variety of things with Peter's Mark, and I learned a lot. Actually doing all of the development, maintenance, and fulfillment teaches you a lot in a short period, but I also read a lot about the experiences of other people. A lot of the challenges in running an online shop constitute the big reasons why people choose to sell on sites like Etsy. With Peter's Square, we're providing an alternative platform, one that's run and sourced by Catholics. It's exciting.
What are your top challenges in creating a concept (Catholic marketplace) that doesn't exist today?
<DR> Well, thank God, finding people who would like to be part of this endeavor hasn't been too challenging. I've been incredibly encouraged by the support and enthusiasm of the many vendors who are now on Peter's Square. I think the most challenging aspect has been in creating awareness. Of course, that's a pretty universal challenge in any business. So, the other challenging aspect has been addressing the learning curve for vendors. I have found that putting how-to videos on our YouTube channel has really helped though.
What role does your family play in the business?
<DR> Back before the launch of Peter's Square, my little girls helped with fulfilling orders. They would put postage on envelopes and would stamp items. My wife is a great sounding board. Somehow, she's my harshest critic and my biggest fan. :) She helps me with aesthetics and frequently comes up with ideas for improving the website. And since I am a stay-at-home father, my three girls are always around keeping me on my toes.
What vision do you have for Peter's Square?
<DR> I hope that Peter's Square will be the first place people think to go for Catholic goods online, and the first place Catholics go to find handmade products. Shopping at Peter's Square helps Catholic families and Catholic ministries; it's still about solidarity.

If others are interested in opening up a store on Peter's Square, how can they reach you?
<DR> Anyone interested in opening a shop can apply right on the site; click on "Open a Shop" in the top menu, and proceed from there. I can be reached directly by sending a message to the Peter's Square Facebook page. I usually respond within minutes, and I'd love to hear from your readers.
Copyright 2016 Jen Frost
About the Author