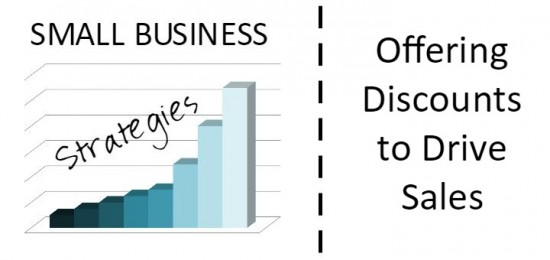 We're back for December to share an important small business strategy: offering holiday sales. With so many types of sales, discounts, incentives, freebies, and more - how's a business owner to choose? Partnering with us this month to share their sales strategies is Shannon Wendt of Organic Mama's Shop.
Black Friday and Cyber Monday may have passed, but sales for Christmas still abound. When it comes to offering sales for your small business, the spectrum for the type of discounts you can offer is wide. Today we'll be taking a look at some of the most common sale strategies – but first, why offer discounts in the first place?
Offering sales not only helps to move product but to build brand loyalty and create product awareness. Prior to offering a sale, you will want to determine the goal of that sale; is it to get your name out there? Is it to support a new product launch? Having a reason behind the sale helps ensure your sale both generates revenue but accomplishes a secondary business goal.
Let's take a look at some of the most common types of sales:
Coupons/Discount Codes: one of the most common sales is offering a coupon or discount code. Purchasers are incentivized to buy a product and redeem a code or coupon at the time of payment. Coupons help to offer a competitive advantage over other shops with similar products and pricing, as well as steer customers to specific products if the coupon code is limited to just a few items in the store.Shannon recommends using your coupon codes to help you see which advertising venues are producing the most results. When you have a sale, use a different code for both Facebook and Instagram, and see which one drives more sales!
Loyalty Program: discounts can be offered to customers after the initial purchase is made with the goal of making that customer a repeat customer. Even if the second purchase is less than the first (as a discount code was used), this second purchase helps solidify your company in the customer's mind as a place they like to do business.
New Product Promotions: when a new product is offered, promotions are often offered to entice consumers to give it a try. If a customer purchases the product at a discount as part of the promotion, the hope is that the customer will like the product enough to buy it again in the future at full price or share it with others, who will then purchase at full price.When we launched our new Jesse Tree book, a promotion was offered during the first week to attract sales. The promotion was successful at both driving sales, spreading the word about the product, and bringing positive product reviews to the shop.

Timing of Sales: with Christmas just right around the corner, offer a sale the week before Christmas (but ONLY if you can guarantee shipping in time). Instead of offering a percent discount, offer a little gift or some other incentive to entice the shopper like these offered by Organic Mama's Shop:

Contests and Sweepstakes: customers love a chance to win something for free, and sellers appreciate the free PR that contests often generate. Offering contests is a way to reach customers who – even with a coupon code – may not have reached out to make a purchase. It also brings the potential of new customers who may not have otherwise heard of your brand had it not been for the excitement that the contest brings.Sites like Rafflecopter, Promosimple, GiveawayFrenzy, and Woobox (just to name a few) provide opportunities to win an item by taking actionable steps. Individuals can take steps – like following you on Facebook, sharing a photo on Instagram, reposting a tweet to Twitter, etc. – to earn entries.Shannon offers a tip and word of caution about freebies and giveaways: "Giveaways are certainly a good way to get some attention! Especially if you team up with a blogger who is willing to help promote you! I have been blessed by quite a few bloggers who are willing to review a Rosary Bracelet or a Chews Life Rosary for me! But I always give the blogger something to review and instead of a giveaway, offer a discount code. The problem with a giveaway is that we are all optimists at heart! Everyone hopes that they'll win, so will hold off on making a purchase until after the winner has been chosen. And they're likely to forget to come back to your shop after the giveaway! But if you offer a discount for everyone instead, you will drive much more traffic to your shop! "
Scarcity Creates Demand:


Shannon recommends offering a sale (or added freebie) on an item with a limited quantity...or put a limited supply on your coupon code. "By only offering a certain number of either products or coupons, you've created scarcity, and we all have a "FOMO" (fear of missing out)! You can also create a scarcity of time, by offering a discount that gets smaller over time. Last Cyber Monday, I offered this sale [see image at right]. It created a flood of sales in the morning!"
Each of these strategies can be used alone or in conjunction with another. For example, you can offer a promotion on a new product to get customers into your store, and then include a loyalty program code with the receipt to drive secondary sales. Or you can offer a contest (where a requirement of entry is to subscribe to a list) and then send a coupon code to the list once the contest ends.
Determining the goal of the discount – and then selecting the correct discount to help you achieve that goal – will ensure your sale not only sell products but share your brand and bring repeat customers to your shop!
Copyright 2015 Jen Frost.
About the Author