By Unknown writer/illuminator from the 11th or 12th c. (Internet) [Public domain], via Wikimedia Commons

"Behold I have set before thee an open door, which no one can shut" (Rev. 3:8).
Jesus' invitation to enter our room, close the door and pray in secret is a two-fold invitation (Mt. 6:6). First, Jesus encourages us to set apart a physical space for prayer. This may be a spare room, a walk-in closet, or a simple prayer corner. Second, every space you occupy becomes a sacred space be it the kitchen, the back porch, the laundry room, while folding clothes, or when answering a child's question. God sits where you sit and stands where you stand (Eph. 2:6; Psalm 139.2). For this reason we enhance our Christian home with icons, statues, sacred paintings, and candles. These sacred reminders become doorways to our inner-room of prayer. The most important open "door" to our interior room is the Bible. Blessed James Alberione compares an open enthroned Bible in the home to the Eucharistic presence in Church.
"Just as Jesus-Host, clothed in bread, comes to our hearts, so Jesus-Word clothed in paper comes into our home; let it be in the hands of every Christian. Holiness is and always consists in, living Jesus Christ as He is presented in the Gospel, the Way, Truth and Life. The entire Bible is a real presence of Christ…the Word assimilates us and we assimilate the Word."
[Tweet "Rest in God's Word so as to shape the world around you."]
Origin (2nd century) observed that the Word of God transforms our daily life. Our every moment becomes the place where the Word speaks to us. We are called to rise to the pattern of Christ in all things and at all times. We find the pattern of Christ's mind, will and heart in the Gospels and in the letters written by St. Paul and the first disciples. We need the Word to dwell within us, to take on flesh in us, so as to transfigure every reality with the Gospel. "The Bible, like the Blessed Sacrament, is a font of benediction and blessing," says Sr. Mary Margaret Tapang, "The divine Word is the Eucharistic Master. Our God dwells among us through the Word and the Eucharist." During the day, allow yourself to be shaped by the God's Word. Rest in his Word so as to shape the world around you. "All the saints are the application and the incarnation of a verse of the Gospel" (Alberione).
"The church has always venerated the divine scriptures just as she venerates the body of the Lord; since from the table of both the word of God and of the body of Christ, she unceasingly receives and offers to the faithful the bread of life, especially in the sacred liturgy." Dei Verbum, 21
Learn more about a Bible Enthronement Ceremony here.
Copyright 2016 Sister Margaret Kerry, fsp
About the Author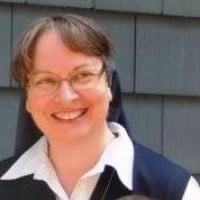 A Daughter of St. Paul for 40 years Sr. Margaret continues to pursue new ways to proclaim the Gospel: sharing the Pauline Charism with the laity, writing books (St. Anthony of Padua: Fire & Light; Strength in Darkness: John of the Cross; Prayers for the New Evangelization), & through direct evangelization. She is available for workshops on the Vocation & Mission of the Laity, Media Literacy, and The New Evangelization. mkerry@paulinemedia.com