It seems unfair sometimes. I'm sure you've noticed it. When we look around and see that God gives some people so many more challenges to cope with in life then others. Then at the same time we make the observation that others appear to go through life with such ease.
To be honest, many of our difficulties in our lives are there because we make poor choices. So be it. We need to own those choices and move forward.
Still, why do some people have more then their share of difficulties? I'm sure you've noticed disparities. Certainly, you've said it to yourself; why does it seem unfairly distributed? For example, why did that family win the lottery and I barely make it from week to week?
OK, let's be clear; I believe everyone has difficulties in life. Certainly, those difficulties appear to vary by individual.
When we were young, life was about following directions. We listened to our parents and families, our teachers, our church leaders, and our schools. All were there to help us find our own direction. As we grew older we began making our own choices and sometimes those choices were in the wrong direction.
My sister, Mary, loves to remind me that life with all its good and bad is about coming to our knees. It seems to come down to this, ultimately, we all have good and bad things happen in our lives; that is life! We need to reach out to God when all of life happens. He will be there through the good and bad.
I was fascinated when I began writing this essay how the Bible speaks to us in so many places about this very thing.
Romans 8:18: "I consider that our present sufferings are not worth comparing with the glory that will be revealed in us."
Psalm 27:1: "The Lord is my light and my salvation – whom shall I fear?
Isaiah 41:10 "So do not fear, for I am with you; do not be dismayed, for I am your God. I will strengthen you and help you; I will uphold you with my righteous right hand."
There are so many passages in the Bible that speak to people reaching out to God when times are difficult. After a quick review, I found over twenty alone. This spoke volumes to me.
The list of a person's struggles include, financial burdens, health, loss of a job, divorce, abuse, the death of a loved one; the loss of a child and even loss of a pet. Obviously, everyone is touched in their journey we called life by something. No one is immune because this is life.
My mother would explain it by bringing up the old adage "I used to complain that I had no shoes until I met a man who had no feet!"
I personally marvel at how many times I have been reminded of the importance of going through difficulties and reaching inside myself towards faith. One of my worst times was eight years ago when I was laid off from my job. This was not expected. I worked for AIG and they decided to eliminate a large % of their staff and outsource several positions to other countries since it was a huge financial commitment to pay benefits and salaries here in the US. This layoff happened to me on a Thursday. The following Sunday I was preparing for 8:00 Mass and I was overwhelmed with a sudden but severe pain. I called my Doctor and he suggested I go to the Emergency Room quickly. He ordered a CAT Scan. When the Doctor returned from reviewing the XRays he said; "I have very bad news for you. You have a very large tumor on your kidney. It seems to have been there a long time." I realized at that moment that getting cancer trumps losing your job. I won't lie to you; it was hard getting through all of this.
Two years after surviving cancer, I received a phone call that my son suffered a massive heart attack and needed emergency surgery. Almost losing one of your children trumps every bad thing that happens in your life.
With the help of good medical care and the grace of God and the love of our family, and the many prayers offered up, my son and I both survived.
Jesus had upset in His life including temptation, loss, persecution and suffering at the hands of his tormentors leading up to his being nailed to the cross. He knew that life would have difficult times, but through scriptures He repeatedly reminded us that all of us will face challenges, and in the end everything will lead to Him.
[Tweet "Jesus repeatedly reminds us that all of us will face challenges, and in the end everything will lead to Him."]
Psalm 23: 1-6 "The Lord is my shepherd; I shall not want. He makes me to lie down in green pastures; he leads me beside the still waters. He restores my soul: he leads me in the paths of righteousness for his names sake. Yea, though I walk through the valley of the shadow of death, I will fear no evil: for thou art with me…."
Being happy in life will involve rising above the difficulties through prayer and perseverance. It is Jesus who holds the answers. I do wonder if He puts people in our lives to show others by example the importance of perseverance since coping can be difficult for some. We are all who we are based on our life story. Maybe we were taught to learn cope better than someone else. Even though it may appear that no one has as many challenges to face as you, I however believe the answer lies in the wisdom of Mary's comment; every day is about bringing us to our knees!
Copyright 2016 Catherine Baugh
About the Author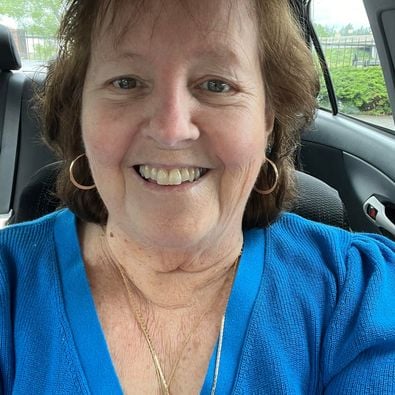 Catherine Mendenhall-Baugh (Cathy) completed her education in Special Education and English and now works as an Agent in the Insurance Industry. A mother and Grandmother, Cathy grew up in a large Catholic family and has spent the last 30 years as a caregiver for her husband, Jack. She is a cancer survivor, which inspired her to begin writing.